vScan virus detection and deletion
Posted on June 2, 2001
Information
Notice from Developers!! Due to a decline in registrations and general interest in vScan throughout the late summer and fall of 2001 along with the overall slowdown in the computer industry, vScan was discontinued on November 5th, 2001.
We will continue offering technical to existing registered users until March 31st, 2002. Regular pattern file updates will be issued until March 31st, 2002 through vScan's internal update system.
Mountain Ridge Dataworks will no longer be developing freeware and shareware for the Macintosh platform and will instead, be focusing on the authorized Apple sales, service and consulting side of our business. We sincerely regret any inconvenience this may cause. Thank you for your support over the years.
vScan is a Macintosh anti-virus utility which scans all types of Macintosh volumes for infected files, trojan horses and traditional viruses. vScan will detect all strains of the AutoStart 9805 Worm plus all strains of the SevenDust virus as well as the most current trojan horse files circulating in the Mac community. All versions of vScan from version 1.5 upward contain a database of PC-specific e-mail viruses, worms and macro viruses used to locate and eliminate these files.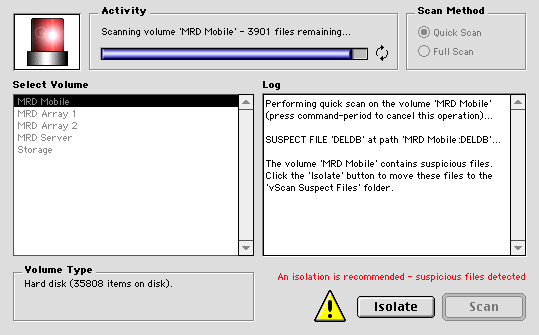 Views
vScan quickly detects and removes viruses from your Macintosh. This application has been highly acclaimed by tucows and macworld magazine. SecureMac.com feels that this is one of the best shareware applications of the year. Fast, Simple, Elegant.
In version 1.8.8 vScan has pattern files containing the latest virus definitions which are available for download. The program also has a auto-update feature that will check for updates every 10 days to keep you on top of the latest virus definition files.
This program has excellent potential against its competitors, the price is low and the programming team is eager to please the people. Plus! Pattern files are released in a timely manner!
Shareware Version
Download vScan 1.8.8 (1.8 MB) – Discontinued
Latest Pattern File:
Pattern 0306
Features
Scans for Macro Viruses
Scans for PC viruses in e-mail.
Scans for Worms
Scans for Macro Viruses
Detects Autostart
Detects Sevendust
Detects current trojan horses
Auto Updates
Separate Pattern Files (Virus Definitions)