VirusBarrier by Intego is the AntiVirus software for the Macintosh
Posted on June 2, 2001
The Internet will seem like a calm environment until you get hit by one of those nasty viruses. If your not using anti virus software then you wont know your computer is infected until it is too late. So many people are POSITIVE they do not need virus protection software because they only download shareware from sites like download.com or large companies and they only open attachments from their friends or family.
Those who already have experience with a virus know that this is one of the most common ways viruses are spread. Everybody makes mistakes and viruses get spread, SecureMac wants you to be prepared for anything.
VirusBarrier created by Intego the makers of NetBarrier, has been on the market since July 2000 making it a strong leader in antivirus solutions for the Macintosh platform.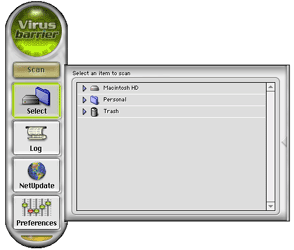 VirusBarrier will fully protect your computer from viruses and trojan horses making you and your Mac feel safe once again. After the installation VirusBarrier is already protecting your Mac, and it works automatically and independently. Each time a file is written, used or opened, VirusBarrier checks the file to make sure it is safe.
Scan Files, Folders, Disks
Download a file from work, home, or a friend? You don't know what kind of viruses may be attached to the file. You can wait to see if VirusBarrier picks up the virus when you open it, or you can run a virus scan on the target. Turbo mode speeds up scanning, so you can check your files on a regular basis without taking all your time.
Secure VirusBarrier!
Password protect VirusBarrier so kids or co-workers can not just switch off the protection, yes VirusBarrier does offer password protection. You want your computer to be secure at all times from viruses, simple mistakes can make huge problems.
VIRUS FOUND
If VirusBarrier is running in automatic mode, it will repair infected files by eliminating the viruses. If infected files are damaged and cannot be repaired, VirusBarrier indicates this in its log so you may determine the appropiate action.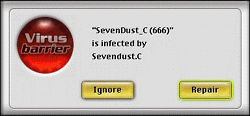 Be Notified
Have records and logs when viruses are found on your computer. VirusBarrier can e-mail you when a virus is detected or track it to text files. Other people access your computer? What if they see the virus alert and hit cancel and the virus infects your machine. You will know later by checking your e-mail or logs that you have a virus on your machine. Whether or not the file was loaded with a virus on purpose or on accident you will want to resolve the situation right away!
Downloading is safe?
VirusBarrier searches your downloads (.sit format) for viruses even before unstuffed so you can detect viruses early without the computer being infected.
TRY FIRST – DOWNLOAD
Looking for a demo? Download a 10 day trial version of VirusBarrier, Files or volumes may be scanned to detect viruses, but the repair function has been de-activated. When your trial period is up you may decide to purchase VirusBarrier. Download 10 day DEMO Version now!
Purchase VirusBarrier!
Download for $49.95 Intego Secure Server
Purchase for $59.00 Apple Store – CD-Rom+Box
Or find a local retailer
System requirements
Mac OS 8.1 or later
PowerPC
Open Transport
16 MB memory
8 MB free disk space
Internet Config.
Screen resolution 800 x 600 or higher
Contact Info
Intego
6301 Collins Avenue, #1806
Miami, FL 33141
Tel: (305)868-7920
Fax: (305)868-7938
Email: info@intego.com