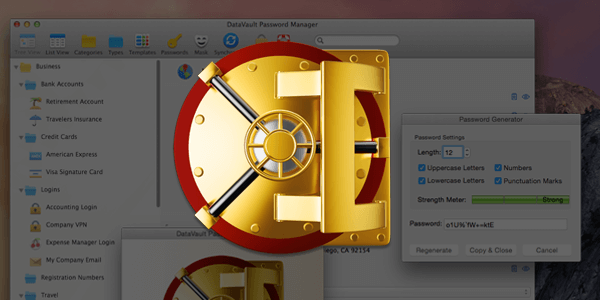 The DataVault Password Manager: A Review and Basic How-To Guide
Available for $9.99 from the Mac App Store, the DataVault Password Manager from Ascendo is a robust password management application that is worth the modest price of admission. The program allows you to store passwords, login details, credit card information, membership information, insurance details, vehicle information, and more—all in one secure spot on your computer.
The program uses 256-bit AES encryption to protect your passwords and other sensitive information and has a range of other security features that will help you feel safe, as well. You can even use plugins to integrate DataVault with your browser and use it to autofill forms or log you into different pages. DataVault is a user-friendly and feature-rich password manager that will keep your information safe and accessible without hitting your wallet too hard.
A Basic Guide to Getting Started with DataVault
If you've been shopping around for password managers and have decided that DataVault is the place to start, you will probably figure out the basics of the program very quickly. DataVault has a not-so-steep learning curve, which makes it an especially great option if you've never used a password manager before. With that said, here are a few pointers to help you get started and to familiarize you with the definitive features of the program.
1. Choose Your Master Password and Security Question: Once you've downloaded the DataVault app, you will be asked to set up two items before moving forward with the app. The first is your master password, which will lock the application and all of the sensitive data you choose to store inside it. Needless to say, choosing a strong password—one that uses more than eight characters and is made up of numbers, punctuation marks, and uppercase and lowercase letters—is paramount for this step.
You will also be asked to provide a security question and answer, should you ever forget your password and need to recover it. The app gives you the freedom to customize the question, instead of choosing from a number of pre-written options like some other security question programs will do. Use that freedom to ask an unusual security question—one you'll never forget the answer to, but that no one else knows.
One of the big draws behind DataVault is that your master password isn't stored anywhere in the program or in the Ascendo database, which means that you are the only one who can access it. Your security question can help you recover your password if you forget it, so it's worth it to set one up—even if the security hint question is optional.
2. Familiarize Yourself with the Interface: As mentioned previously, DataVault is more than just a password manager, but can be used as a secure spot to store a range of personal data. By default, DataVault offers different sample accounts, items, or logins that you might want to save with the program. These items include checking account information (account number, routing number, etc.), credit card information (number, expiration date, security code, etc.), your email login information (URL, username, password, etc.), and more. You can choose to use or not use these sample setups to start customizing your DataVault, but they are there first and foremost to give you an idea of all the various things the program can do. You can select "Tree View" to look at your items based on a folder structure instead of seeing them in a list view. This option will be helpful as you add more and more information into DataVault and need to be able to look at, say, all of your credit cards in one place.
3. Add Your Information: If you wish to add information to the sample items, just start going through and filling out the requested fields. Say you want to save your driver's license information on your computer. The sample item offers fields for your state, your license number, the expiration date, your license class, the DMV telephone number, and any other "notes" you might wish to add. DataVault is built around adding information to these various "fields"—whether you are saving your MasterCard information or login details to your favorite online forum.
4. Customize Your Items: If there is information you want to store in DataVault, but don't see an applicable sample item, you can create one from scratch. Just select the "Edit" tab from the top of the screen and click "Add Item." You'll be able to customize the different fields that you will use to fill in information later. For instance, if there's a type of online form that you have to fill out frequently for your job, you might design a DataVault form with fields that match up perfectly with that form. Then, you will be able to use one of DataVault's web extensions to autofill forms—and save yourself a lot of time in the future.
5. Install Web Extensions: Speaking of web extensions, the Chrome, Firefox, and Safari integration included with DataVault is perhaps the app's key feature. Users might come to DataVault because the program can be used for securely storing a broad range of personal information, but with plugins; you can access that information in your browser and use it to autofill forms or automate logins. No more playing "guess the password," trying to remember which login matches up with which site: with DataVault's web extensions, you can seamlessly meld password security with enhanced productivity. Click here for links to the browser plugin downloads and extra details on how to install a DataVault extension on your browser of choice.
If you are interested in giving DataVault a try, click here to read more about the program and what it can do—as well as to find a link to the Mac App Store download page. If you are already using the program and need a more complete tutorial about how to access all of its various features, Ascendo has prepared a relatively in-depth run-through right here. In any case, happy password managing!