Symnatec Norton Anti Virus (NAV) 7 for Macintosh
Posted on June 2, 2001
Symantecs' Norton AntiVirus (NAV) 7 has become a trusted name amongst Macintosh users for virus protection over the past few years. SecureMac put this program through our five lock testing and the results came out rather interesting.
During installation we were greeted with a screen asking us what type of protection we wanted, none, moderate, most, and too much. After install we rebooted and started the application. The program is easy to follow with a nice classic navigation.
After installation it is recommended you run the LiveUpdate feature that will download the latest virus definitions and patches which requires you to be connected to the Internet.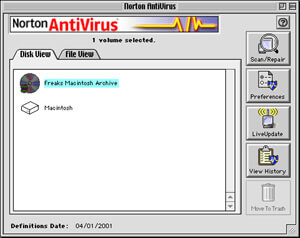 Scan specific files, folders or hard disks. After installation your computer is automatically protected from viruses when files or programs are opened. Running full scans on regular schedule is a must especially when you are connected to a network or the Internet. NAV has the functionality to scan most ALL compressed files so you can be rest assured that file you downloaded does not have a virus infected file within the compression.

Norton AntiVirus protects against viruses, macro viruses, boot block infections odd activities that may occur from trojans or installations.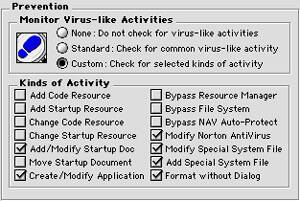 As you can see from the snapshot above you can feel secure with as much or as little protection you desire. In the past Macintosh users have not had this much customization freedom with a antivirus program.
For many people they choose to download virus definitions directly from Symantecs website insuring they are getting exactly what they want. New virus definitions are put out monthly or whenever high risk viruses are found. Always check for new virus definitions at a regular basis. Using the LiveUpdate makes the task much easier as you can set dates when you want updates done, all downloads will be taken from Symantecs web site.
When a virus is found you will be greeted with a dialog box (or other method) warning you of the activity. We choose to have Norton AntiVirus automatically remove the virus from the infected file.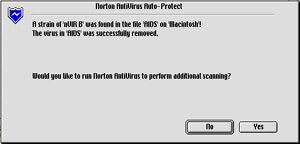 Am I really protected?
Your protection is as good as you want it. NAV has a virus browser that will let you browse through the current virus that you are protected against, specified in the definition file. By reading through all the viruses you will become more aware of what the virus intended to infect. The SafeZone feature will constantly monitor and protect specified directories, this is a excellent idea for your download and email folder!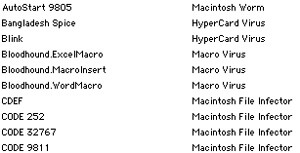 We ran Norton AntiVirus against all of our viruses and the program detected and cleaned the files successfully. It protects your E-Mail from viruses, compressed files, cd-roms, dvds, floppy and hard disks. Plus the Macintosh version of Norton AntiVirus can interact with Microsoft NT networks alerting the Norton NT server or NLM of virus activity on the network.
Requirements
PPC
Mac OS 8.1 or higher
24 MB RAM
10 MB Hard Disk space
CD-ROM drive