Symantec Norton Personal Firewall for the Macintosh
Posted on June 2, 2001
Norton Personal Firewall is a excellent solution for stopping hackers from gaining unauthorized access to your computer. Setting up and configuring your firewall in the past has been a ugly time consuming task. Personal Firewall offers a simple out of the box installation protecting your Mac in minutes!
Why use a firewall?
SecureMac.com has reviewed many firewall solutions for your Macs. Many people ask us why should I use a firewall all I do on my computer is chat, email and go on the web. Every computer that has a network connection is a target for any hacker. Hackers can do a IP sweep and check for every active computer on your Internet service provider then preform security checks to see if your operating system is vulnerable. You may have just downloaded a file attachment from a relative or co-worker not realizing that the file they included has a trojan attached to it. If you run firewall software that restricts access from incoming connections the intruder will have a hard time getting in. Trust us, every computer anywhere in the world should have some sort of firewall protection if it's connected to the 'Net.
NPF
A noted key feature is that Norton Personal Firewall warns when AppleTalk® is active and the computer is accessible over a cable modem or local area network so that you may decide if having it active is a security risk for you.
From the interface you see below (click to enlarge) you see the main functions of the application. Some situations might require all firewall protection to be turned off, by going into the application you can toggle (switch) on and off firewall protection without restarting your Mac.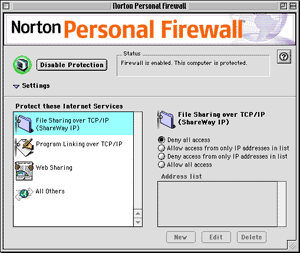 For each service you are protecting you can add IP addresses to be allowed to access the port or to deny access to it. When you close the application all changes are saved instantly protecting you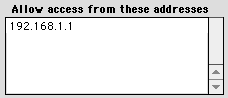 Norton Personal Firewall comes pre-installed with many different filters for various Internet savvy applications. You can add your own filters and decide what kind of access to allow, give your filter a name, icon, and port number and description!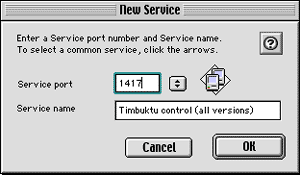 Above Timbuktu is listed as the service filter we want to add. At home or in a work environment you do not want just anyone to be able to access remote administration software, a hacker could take full control of your system if the service isn't secured.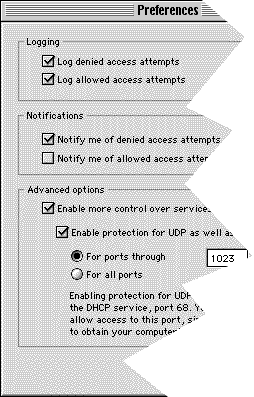 The settings show many options the product is capable of; Including logging access attempts:
Notification methods for intrusions
Basic and administration mode
Allowing specified port ranges for both UDP and TCP
For Internet gamers and end users sometimes you just do not know what ports games use to communicate with other players on the net. Turning off and reactivating the firewall to allow access for a short period of time can be accessed from the Control Strip. SecureMac.com suggests if you use Internet games and other Internet based applications you set up your firewall to work specifically with those applications so a intruder can not gain unauthorized materials from your computer or network.
Setting up a firewall can save you a million dollars and days worth of rehabilitation.
SecureMac.com Opinions & Review
Norton Personal Firewalls' interface looks rather familiar. December 15th 2000 Open Door Networks Inc. licenced its personal firewall software DoorStop to Symantec. From our reviews and evaluations of DoorStop we have recognized the product to be a fully functional firewall suite. Symantec has taken a excellent product, made advances and changes to offer Norton Personal Firewall.
SecureMac.com was very excited to see Norton Personal Firewall block access attempts and add the IP to the deny list. When a outsider is scanning your network for open ports or services a simple message comes out explaining what happened and what the program is doing. No intrusive full screen messages that force their way in front of you making you press OK. The messages come up in a nice box to the side and let you keep on working.
Updating software can be a hassle, when your busy or the software becomes inherent due to the often use of it you forget to update. Norton Personal Firewall offers LiveUpdate so you can easily check for product updates and download immediatly without scouring a huge website.
The only bug that SecureMac found in the product is when we were adding a new filter, we clicked on the icon space then clicked on the pull down menu and then tried to change the port number, the dialog box became unfuctional and we could not close the window or add the filter making us force quit the application. We could add filters fine after that but we did not do the extra clicking to get ourselves into trouble (: We know Symantec will take a look into that.
jp39
writes in saying "I've been using NPF for a few weeks. My only wish is that it had an option (like ZoneAlarm for Windows) to allow a connection to a particular app on that port. (i.e. when I connect to an IRC server, the authentication request is denied. I'd like to tell NPF, "Let ircle get authorizations from this server" without having to open NPF and doing it manually.) "
Let us know what you would like to see added to this product or if you purchase it and give us your feedback at the bottom of the page
Purchasing
$69.95 – Norton Personal Firewall PURCHASE ONLINE
You may ether download online or have it shipped to your physical address. At this time there is not a try before you buy version of this product.
Requirements
PowerPC processor
Mac OS 8.1 or higher
24 MB of RAM
3 MB of available hard disk space
CD-ROM drive
Internet connection