SuperLock Pro reviewed and rated on SecureMac.com
Posted on June 2, 2001
Information
SuperLock Pro is the most secure and full-featured version of SuperLock. Unlike SuperLock Lite, which is designed primarily for single-user machines, SuperLock Pro was designed specifically for machines with multiple users, such as those in labs, computer stores, and many offices.
SuperLock Pro is split into three parts. Admin is where all administrative functions are performed, including editing the user list, setting client preferences, and setting security preferences. Client is what users use to log in. Overseer is a background application that runs all the time and performs various tasks for SuperLock such as handling hot key activations.
There are three levels of users in SuperLock Pro: normal, admin, and super-admin.
Normal users are the lowest-level users in SuperLock Pro. They can only log into Client; they cannot get into Admin. An example of users appropriate for normal status are the students in a school lab.
Admin users, in contrast to normal users, can use Admin. They are permitted to add, remove, and edit normal users at will, but they cannot add, remove, or edit other admin users. Admin users have full access to all of SuperLock Pro's preferences. In a school lab, the teachers would be appropriately given admin status.
The highest-level user is the super-admin user. This user can do anything, including adding, removing, and editing admin users. There is only one super-admin user at any time. The first time Admin is run, a super-admin user named "Master" is created. The name and password for this user may be edited, but the user may not be deleted. In a school lab setting, the super-admin user would be the technology coordinator or system administrator.
Views
SuperLock Pro is the best desktop security program of the year in the opinion of SecureMac.com!
SuperLock Pro offers so many features making it a full blown secure security suite. In the screenshots below you will see first hand some of the features offered. Besides the companies outstanding efforts to help make this program secure by making it possible to stop the common and less commonly known security issues there is a full user manager with TIME Functions. For instance if you have a child or a parent who should not be using the computer on certain days or between certain times you can specify all that data to stop the user from being able to login!
This program is ideal for larger networks and for anyone needing more security than the standard users. SuperLock Pro has been seen on corporate networks and school computers alike! Check out this fully functional Shareware program for 30 days after that if you like it please support the author and register the program!
Below are some of the features that SuperLock Pro offers for your security needs:
Supports unlimited users with three levels of access
Supports the temporary suspension of user accounts and controlled time-based login
Each user can have his or her own startup items
Supports hot key activation
Supports automatic inactivity activation
Includes a screen saver used when login dialog is activated
Can auto-activated at wakeup
Protects the system disk even when a CD or floppy is used to start up
Supports file- and folder-level protection privileges
Disables force-quit of itself
Cannot be bypassed by the shift key on startup
Disables MacsBug in itself, and optionally, globally
Can maintain an activity log
Hides the desktop and all other application's windows in the background
Can display customizable text in the login dialog
And much, much more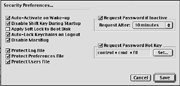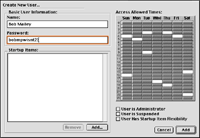 Registering
SuperLock PRO is a $35.00 US Registration Fee for each client, for larger networks who need multiple clients follow the link below for pricing. This program works fully for the first 30 days.
About the company
TriVectus is the creator of many Macintosh shareware and freeware applications. SuperLock PRO is only one of their great applications. To learn more about any TriVectus programs visit their website
You can reach TriVectus by phone (1 978.428.8298) or by fax (1 978.428.8298), email or postal:
TriVectus
13041 N 28th St.
Phoenix, AZ 85032-5908
U.S.A.