StaticUsers.net – LockOut
Posted on June 2, 2001
Information
Lockout is a excellent desktop security application with many valuable features. This program will keep intruders out of your computer system when you are away. Multiple user management in this program is excellent. This program also makes it possible where a user can leave a message on your computer if you are away.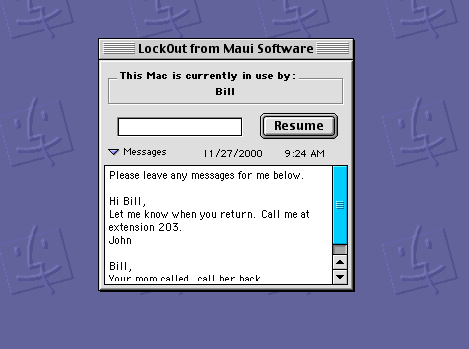 Views
This program is new. Unlike AfterDark (aka the Ram Hog) this program will lock your screen where you are away. A handy utility to have at the office, home, or school if you dont want people to mess with what you are working on while you restroom or coffee fill. OS X version is available for download.
Features
A Mac application that helps keep people from using your Mac while you're away. Helps keep your Mac safe from your co-workers while at the office, and from your kids while at home. (Note: LockOut is not meant to be a full-fledged security program)
Messages can now be saved.
Multiple users
Intrusion Logs and message logs can be sent to e-mail.
LockOut has really come a long way since the first release. With the HotKey feature you can easily activate the security on the computer within a second, no fooling around with opening the application!
LockOut Admin is a special application used by system administrators when there are multiple LockOut applications installed and the administrator wants to disable/enable certain LockOut functions.
With the LockOut Admin application you can disable multiple LockOut functions, as well as reset the user and admin password.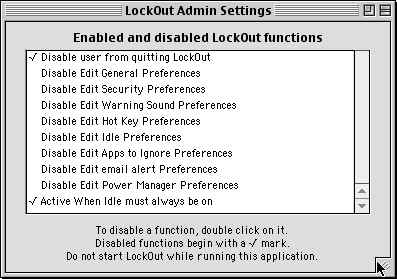 Insecurity
LockOut Security Advisory 1.1: LockOut v1.1.1 stores user passwords in plaintext in a data file where other users can use a simple hex editing program to recover passwords advisory created by Epic of mSec The Author fixed this encryption problen in version 1.1.3
In Version 1.0 on MacOS 8.x you can hit Control-Tab to click back to the finder. Fixed in current version
Read the Email sent in to us, another way to bypass the lockout security. Fixed in current version
There are many more ways then listed here, if you know of one please email us. We are more than happy to research and post it here!