StaticUsers.net – File Twister
Posted on June 2, 2001
Information
FileTwister is a simple, easy to use file encryption tool that allows you to encrypt any files on your computer. The encrypted files are completely Internet safe and are only about 100 bytes longer than the original file. This means you can send them via e-mail or upload them to servers without losing any information, which makes them ideal for storing sensitive data on the net. By setting up FileTwister as a helper to Netscape (or Internet Explorer) you can make Internet transfers even smoother.
Views
This program is pretty nifty, i enjoyed talking with the author and they are a good support team. Really easy to use, check out the screenshots: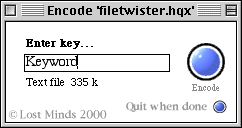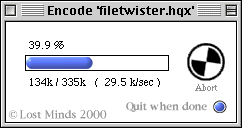 Features
Encryption information: Whenever you encrypt a file you get to choose an encryption key that will work as both an encryption key and as a password when you want to decrypt the file. This makes the encryption different for each file. So, please, do remember the encryption key, without it there is no way to decrypt the file!!!