StaticUsers.net – DoorStep Firewall
Posted on June 2, 2001
Information
DoorStop, from Open Door Networks, Inc., is a software-based "firewall" product for Macintosh servers. DoorStop is software that you install directly on the servers which you wish to protect. DoorStop is significantly easier to set up and use than a hardware firewall and provides the same capabilities at lower cost.
With DoorStop, you can specify precisely which machines should have access to which services, and you can keep track of both allowed and denied access attempts to those services. DoorStop works well with a wide range of Macintosh-based Internet servers, including AppleShare IP, WebSTAR, and Open Door's ShareWay IP product line. And with LogDoor 2.2, DoorStop logs can be analyzed in real time, to help you be aware of security issues in a timely manner
DoorStop Does REQUIRE: a PowerPC processor, Mac OS 8.1 and Open Transport 1.3 or later.
Views
Excellent program, easy to setup and use. Nice logging features. See the screen shot provided below. And goto the DoorStop web site for more faqs and info.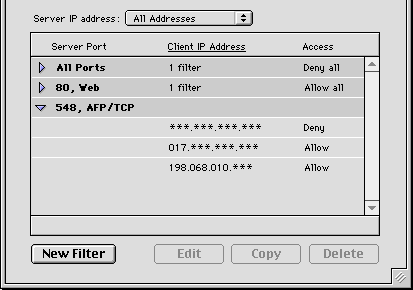 Download Version
Personal Edition Beta – download
This file is not available on SecureMac.com, Open Door Network requires you fill out a 3 question form at their Download Page. Quick and Easy.
Features
With DoorStop installed on your server you can:
Both Version are OS 9 ready!
.block access to any TCP service on the server from any address or range of addresses
.block accesses to all TCP services on the server
.block accesses to particular IP addresses within a multihomed server
.keep a log of all denied and allowed accesses
DoorStop has been specifically tuned to work well with Open Door's ShareWay IP product line. You can use DoorStop with ShareWay IP to:
.enhance the built-in security of AFP servers
.eliminate worries about "guest" access being turned on with personal file sharing
.provide different levels of security for each server supported by ShareWay IP Pro