SKS The Shift Key Suite – Disable Shift Key During Startup
Posted on August 5, 2001
Information
SKS or The Shift Key Suite 1.0.6 is an extension for your Macintosh to stop users from being able to hold down the shift key during startup to disable the extensions.
"Holding down the Shift key while booting your Macintosh prevents all extensions to load – an important feature when you have start-up crashes from incompatible extensions."
Many Macintosh computers have simple security programs setup that are supposed to keep users out, if you do not see options in the preferences to disable the shift key during startup the user may be able hold down the key and bypass the loading of the security programs.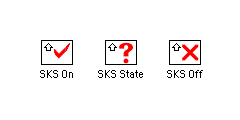 The image above is what you will see during the startup process when SKS is loaded.
This program is excellent for users who do not want to purchase high cost security software yet want to stop some users from hacking the computer. This is not a program to keep your computer safe from hackers, but it is a start. Programs such as screensavers with security protection during startup may be able to be bypassed by holding down the shift key during startup, from there the user would have full control of the operating system and could cause damage.
Registration
This program is shareware, you have the ability to download, and use this software free of charge, if you deem this software useful and you continue to use it there is a $5.00 shareware fee to support the author for the work. You may register via KAGI (secure purchase)
Download
SKS – The Shift Key Suite 1.0.6 via burning-bytes.com
SKS – The Shift Key Suite 1.0.6 via SecureMac.com