Monitorer – Macintosh KeyStroke Key Logger Log Keystrokes
Posted on July 5, 2001
Information
Monitorer is a extension to record keystrokes as they are typed. Monitorer records everything you type with your keyboard and saves it. That can be very useful if you just wrote a very long text and your computer crashes. After restarting you will find the saved log-file in your preferences folder where you can copy your lost text! This application can also be used to check if any unauthorized person used your computer or you use it to view what your employees "produced" the whole day.
However Keystroke loggers were originally used to log keystrokes and gain privileged information such as logins, passwords and credit cards. Parents tend to turn to keystroke loggers to see if the child is behaving and to protect them from predators. You always hear in the media how a child somehow met with a stranger on the internet and do not return home. You can not always supervise children when they are online so having logs of what has been typed may come in use.
New This Version
Screen Capturing : allows you to view what happens on your screen
Time saving, now choose the intervals you wish to save.


Now that is has been established that keystroke loggers can be used for good and evil you must decide and make the decision if the environment that your computers are in is suitable for this program. Keystroke loggers can remain unknown, if you do not tell anyone it is installed then chances are they will never know and it will be a tool of your trade.
 extension runs in the background
  log files created during startup
  log-file are time stamped.
  easy drag – and – drop install.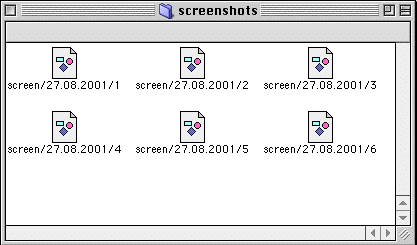 Registering Monitorer is important, by paying the $10.00 shareware fee you eliminate the "registration" window from showing after you boot your computer. Remember, it is not a good idea to let others know you have a keystroke logger installed. Register VIA KAGI
Download
Monitorer 2.0 via burning-bytes.com
Monitorer 2.0 via SecureMac.com