Macintosh Security Site – iKeeper lets you keep track of product registration information and more
Posted on June 2, 2001
Have you ever had to call for tech support on a product only for them to ask you for your serial number or registration code or when you bought it? Have you ever visited a website where you needed to enter a user name and password to access some feature only to return at a later date and not remember what information you provided?
iKeeper enables you to quickly enter, view, or modify internet and product information and quickly search through your records to find the information you need, when you need it. iKeeper is compatible with Mac OS 9 and the Mac OS X Classic Environment..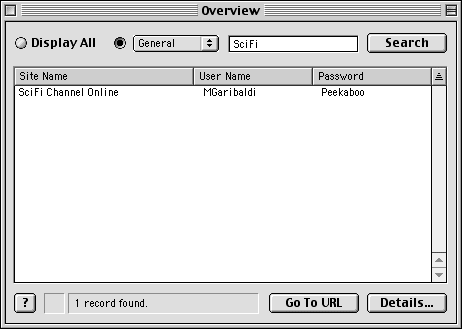 iKeeper is a shareware application and comes with a free 30 day evaluation period so you can try out most of its features and decide if you like it before you buy it.
Views
Excellent application if you need a central storage unit for all your personal information. If you want to keep this more secure place your iKeeper file on a PGP Disk and hide it somewhere.
New In Version 1.2
Improved startup process
Button bar controls integrated into top of windows
Text based file format
Converts old iKeeper documents
Improved automatic save routine
Improved text formatting
Updated shareware registration system
Features
Stores both internet and product information.
Expiration features shows warranty or password status.
Automatic date sorting of records as they are entered.
Auto-save when records are entered.
Context-aware help system using Apple Help Viewer.
3 powerful search options to find any data in your files.
Software update feature for registered users.
Date & Time control panel aware.
Three printing options.
External preference storage.
And much more!