Free Guard 1.4 is a utility to hide files and folders
Posted on June 2, 2001
Information
Free Guard is a utility to hide files and folders. It is password protected at application startup. Nothing is encrypted, and someone could still make the files and folders visible without too much trouble.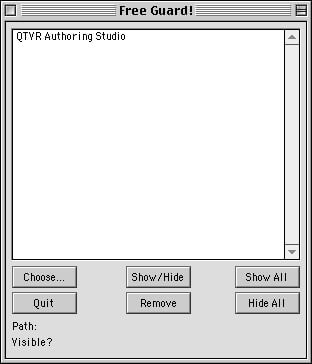 It is based on the "if they do not know its there, they wont look for it" theory.
Views
This is another application to hide/unhide programs, files and folders. Free of cost makes this one of the best applications of its class. Remember that hiding a file with this application actually makes its invisible from everyone, just the people who don't know about it or have not used a program like ResEdit to toggle the invisible switch!