Content Barrier by Intego, Blocking, Censorship,Security, Time Defined Access
Posted on June 2, 2001
Information
ContentBarrier offers content control, web filters, parental control and much more. ContentBarrier is made by Intego, the creators of the MacOS firewall NetBarrier. This software is primarily used for two targeted audiences, the parent who want to restrict young children from accessing the uncensored web; And the work place to protect the employer from liability, increase bandwidth and productivity.
Parental Control
If you don't already know, the web can be a dangerous place because of the freely available content. ContentBarrier has predefined filters that let you choose what you don't want your children to see. Blocking offensive or adult content on the web has never been simpler!
Does the Internet get in the way of family time, homework or sleep? Now you can setup specific times that users can and can not use the Internet. Maybe there are fights of who gets to use the Internet when and for how long. ContentBarrier lets you setup users with predefined times that users can and can't utilize Internet access.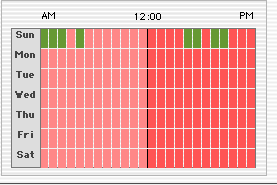 Chat rooms freak you out because you hear about all the predators out there? Thats another good part about this product, it has Anti-predator filters. Here's how it works… When you activate the Anti-predator feature the predefined phrases and words are set in the filter to watch for, when those keywords are activated ContentBarrier will keep log of the activity and has the ability to e-mail you. A great idea is to setup E-Mail on your cellular phone, so when the phrases are used it will show up on your phone and you can immediatly respond to the situation.
Blocking access to specific sites has never been easier. You specify what each user has access to see and what not to see, when the user tries accessing that type of site they will be greeted with a block message and the attempt will be logged.


If for some reason the site your trying to access still doesn't show up you can add it manually in seconds! Sometimes you will not need to use category filtering and only block access to specific web sites. See below how simple this is to do so.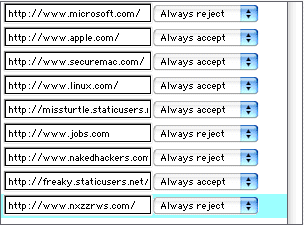 Business Uses
This application can be used by anyone including businesses. When your backs turned you don't want employees surfing napster to download mp3s, download pornographic materials or anything else that isn't work. With the ContentBarrier filters you can specify what to access and not to access.
Want a more secure environment?
Break ins happen all the time, how confidential do you want your data to be? After business hours you don't need to allow Internet access, who knows when someone might break in and e-mail YOUR confidential data to themselves. Nothing is stolen that you can tell, maybe a inside job. Trust me, no one needs to be on your accounting computer when the accountant is gone for the day. Restrict Internet access to only specific time.
Notification!
Be notified when odd activity happens. Save it to log or have ContentBarrier E-Mail it to you, logs can be modified but if you keep your e-mail secure you have a safe copy of the log.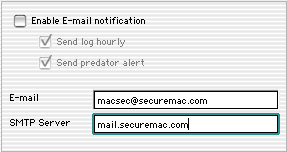 Views
ContentBarrier is a all around excellent security application for your Macintosh. The only function we feel needs immediate attention is the Anti-Predator functionality. We know Intego will give this function full attention with their next update. When testing trying the Anti-Predator phrases on Hotline and IRC we did not receive notification.
Requirements
PowerPC
Internet Connection
OS X version of ContentBarrier available Third Quarter of this year!
Updates
On 4.16.2002 Intego released version 1.3 of ContentBarrier which can be updated from their web page – here
Download
You may download Intego ContentBarrier when you purchase it securely online for $39.00.