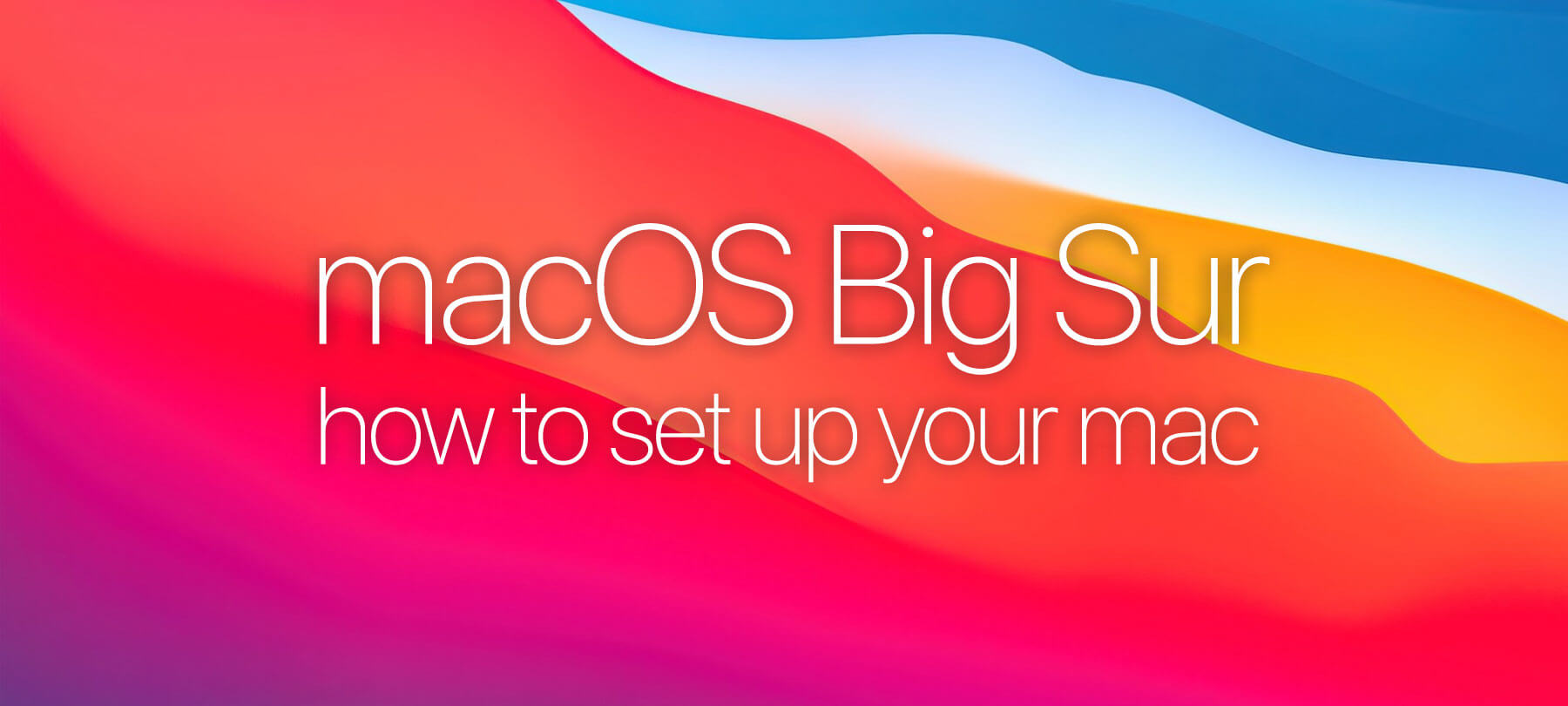 How to set up a new Mac in 2021 running Big Sur
Macs work great right out of the box, but unfortunately, that leads some users to skip over important setup steps — steps that can make them safer. This article covers 6 things that all new Mac users should do to make sure they're set up for security and privacy.
(Getting rid of the old Mac? After you read this article, check out our step-by-step guide for selling or giving away your Mac)
Create a standard user account
The first account you set up on a new Mac is an administrator account, but it's not a good idea to use this account for your day-to-day activities.
Here's why: On macOS, processes inherit the permissions and resources of the user that launched them. If you bump into some Mac malware and get infected, you don't want your Mac to be running from an admin account when it happens, because that malware is going to wind up with admin-level access.
This is why you should create a standard user account for daily use. Here's how to do it:
Go to System Preferences > Users & Groups and click on the lock icon. Enter your password so that you can make changes.
Click on the "+" icon at the bottom of the pane to create a new account.
Select Standard as the account type from the pull-down menu, enter the name you want to use, and create a separate password for the new user account.
Click Create User.
The next time you log in, you'll have the option to use your Mac as the standard user account or as the administrator account. For better security, always use the standard user account unless you really need to handle some administrative business!
Back up your data with Time Machine
In 2021, backing up data is more important than ever for Mac users.
For one thing, we're starting to see macOS malware (such as XCSSET and ThiefQuest) with ransomware capabilities. Ransomware is still relatively uncommon on macOS, but that may not last … and gone are the days when Mac users didn't have to worry about it at all!
In addition, Macs can still suffer crashes, run into hard drive issues, or get damaged just like any computer.
Here's how to make backups of your data with Time Machine:
If you're going to use an external hard drive for your backups, plug it in to your Mac now (for other external storage options, see Apple's support page). If you're not sure how much storage you need, a good rule of thumb is to use an external drive that is 2-3 times the size of what you're backing up. You can see how much data is stored on your Mac by going to Apple menu > About This Mac > Storage.
Go to System Preferences > Time Machine. Click on the lock icon and enter your administrator's password to make changes.
Check the box that says Back Up Automatically.
Click on Select Backup Disk…
Click on the name of your external hard drive.
(optional) If you want extra security for your backups, check the Encrypt backups box. Note that encrypted backups require you to set a password for your backups.
When you're ready, click the Use Disk button.
That's it! Your Mac will now automatically create backups for you. Note that the first backup may take a while, but subsequent backups should be much faster.
Turn on FileVault encryption
FileVault offers strong encryption for your startup disk. When FileVault is turned on, all of your data is stored in an unreadable, encrypted form. This means that even if someone has physical access to your Mac, they still won't be able to get at the data. You can basically think of FileVault as bringing the encryption and device security of the iPhone to the Mac.
Here's how to enable FileVault on a Mac:
Go to System Preferences > Security & Privacy > FileVault.
Click on the lock icon and enter your password to make changes.
Click on Turn On FileVault…
Choose your password reset method. Most people just use their iCloud accounts, but you can also create a standalone recovery key for the same purpose. If you go with the recovery key option, be sure to keep that key somewhere safe, because if you forget both your password and your recovery key, the data on your Mac will be lost forever.
Click Continue.
After a brief wait, you should see that FileVault has been enabled. FileVault will now begin encrypting everything on your Mac, as long as you're plugged in to AC power and not on battery.
Enable automatic updates for macOS and apps
Every couple of months, Apple releases an update for macOS. And more often than not, these updates contain security patches. It's important to update your Mac in a timely fashion, because as soon as a new macOS update comes out, the vulnerabilities that it patches become public knowledge — and bad guys love exploiting unpatched vulnerabilities!
For most users, the best way to keep a Mac up to date is by turning on automatic updates. Your macOS apps also receive security updates, so you need to keep these current as well; the automatic update route is the easiest way to do it.
Here's how to set up automatic updates:
Go to System Preferences > Software Update.
Check the box next to the words Automatically keep my Mac up to date.
Click on Advanced…
Make sure all of the boxes in the Advanced menu are checked; the Install app updates from the App Store option is how you turn on automatic updates for your apps.
Click OK.
Your Mac is now set up to receive automatic updates for macOS and for all apps.
Install an anti-malware tool
There was a time when Mac users didn't really have to think about malware. But if 2020 taught us anything, it's that Mac malware is trending — and appears to be getting more sophisticated as well.
macOS is generally a very secure platform, but its built-in anti-malware protections are basic at best, and there have even been times when Apple accidentally signed off on malicious software!
For this reason, it's a good idea to use a reputable, regularly updated malware detection and removal tool. There are several good options available for macOS; our advice is to take one or two of them for a test drive, and go with the one that you find easiest to use.
Change Safari's default search engine
The default search engine in Safari 14 is still Google, which is a potential privacy issue, given Google's data collection and tracking practices. Here's how you can change the search engine used by Safari:
Launch Safari.
From the Safari menu, go to Preferences > Search.
Using the pull-down menu, change the search engine to DuckDuckGo, a privacy-friendly alternative to Google.
From now on, when you type search queries in the Safari URL bar, DuckDuckGo, and not Google, will be the search engine used to find your results. DuckDuckGo generally returns high-quality results, but if you'd ever like to see what Google would have shown you, you can just add "g!" to any DuckDuckGo search to view the Google results (e.g. "chocolate cake recipes g!").
These tips will help you get the most out of your new Mac, and will set you up for security and privacy in 2021 and beyond.
For more ways to stay safe online, check out our complete guide to VPNs for Mac users, our introduction to cryptocurrency and cryptojacking, or our list of iPhone setup tips.