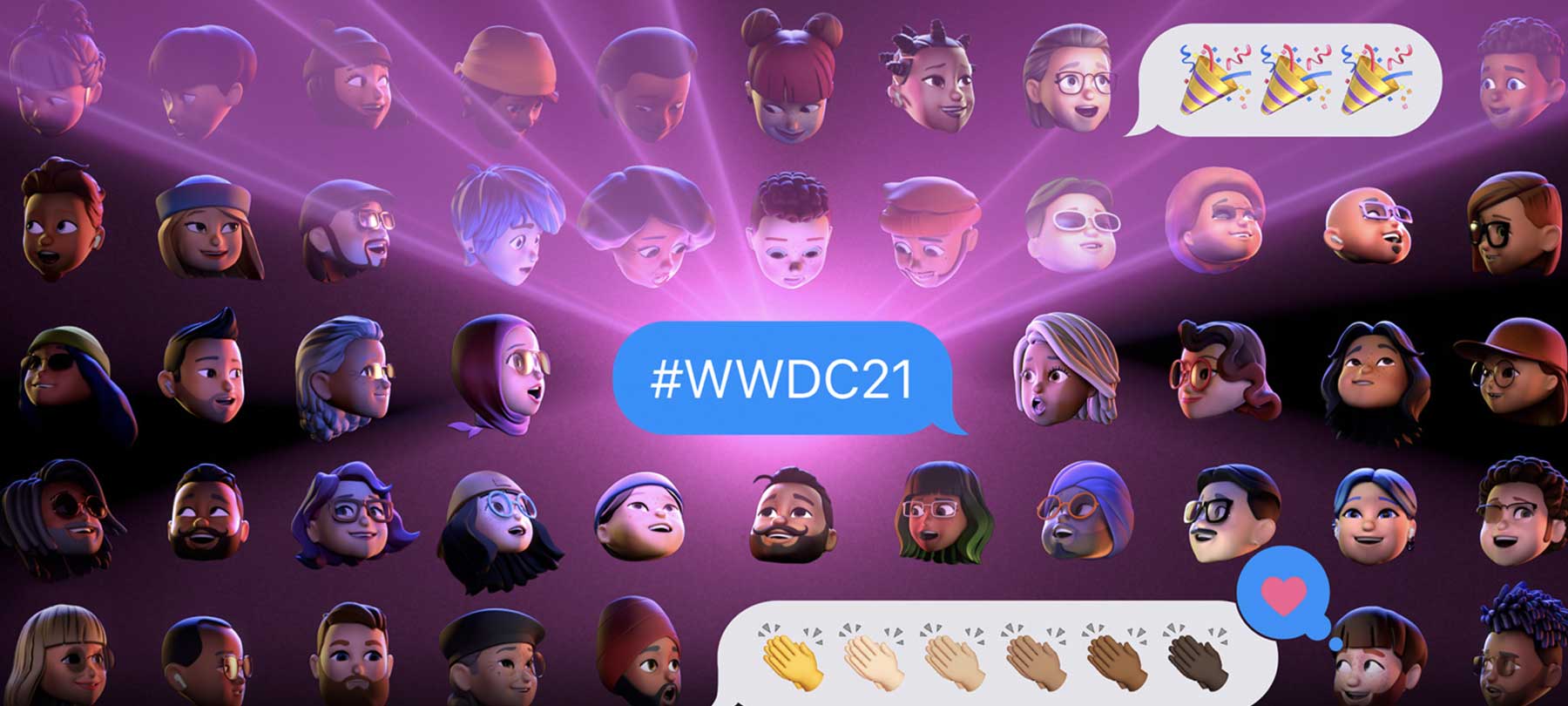 Highlights from the 2021 Worldwide Developers Conference
Apple's 2021 Worldwide Developers Conference (WWDC21) kicked off on Monday. As in years past, Apple used the keynote to announce the new OSes and a range of exciting new features. Here are the highlights, with a special focus on what it all means for your security and privacy!
macOS 12 Monterey
Apple unveiled the latest version of macOS at WWDC21: macOS 12 Monterey.
macOS 12 introduces a number of cool productivity features that busy Mac users should enjoy. Here are the most important ones:
Universal Control lets you easily pair your iPad with your Mac and control it using a single keyboard, mouse, or trackpad.
Focus is a suite of features that lets you adjust the behavior of notifications, messages, and replies based on what you're working on.
Quick Note is a new note-taking feature that will let you take notes from within different apps. (Apple describes it as "like writing a note directly on whatever app you're working in)
In addition to productivity, macOS 12 Monterey also continues to build on the security and privacy enhancements introduced in Big Sur, the first version of macOS engineered for Apple Silicon processors.
FaceTime links allow you to send a link to friends that will let them join you on a FaceTime call from a Windows or Android device. Crucially, the call will still be end-to-end encrypted like a normal FaceTime call between two Apple devices. Apple users concerned about the security issues with other video conferencing apps will now have a safe, cross-platform alternative.
Recording indicator is a new feature that will tell you when an app is accessing your Mac's microphone. You'll be able to see a yellow indicator icon on your screen when an app is recording. You can check Control Center for more details about what's going on.
iOS 15 and iPadOS 15 (features)
Apple also introduced new OSes for the iPhone and the iPad: iOS 15 and iPadOS 15.
They both included a number of productivity and UX enhancements. Here are some of the biggest ones:
Group FaceTime is getting new features to make your conversations more natural and more understandable. The spatial audio feature will make it sound like a person's voice is coming from the part of the screen where their tile is positioned. Grid view will give each speaker the same sized tile, and will automatically highlight the person speaking. Voice Isolation mode will block out background noise from your surroundings.
Maps will see a few improvements as well. There are a number of features designed to help drivers better navigate their route. The new Maps also offers immersive walking instructions. These instructions guide pedestrians to their destination using step-by-step directions viewable in augmented reality.
Wallet users will have some new ways to use their iPhone. Apple has announced support for home keys, car keys, office keys, and even hotel keys at some participating hotels. In addition, Wallet can now be used to store official forms of identification such as driver's licenses or state-issued IDs. You can use Wallet as your ID at TSA checkpoints and anywhere else that will accept it.
Multitasking on an iPad will be more feasible than ever before. There is now a dedicated Multitasking menu and a revamped App Switcher. Apple says this will make it easier to work in several apps at once.
iOS 15 and iPadOS 15 (security and privacy)
Apple introduced some iOS/iPadOS security and privacy enhancements at WWDC21 as well. Here are the most important ones:
App Privacy Report is a new section in both OSes that shows a detailed view of how apps are using the permissions you've given them. Apple says that this will complement the App Privacy Labels found in the App Store. Reading between the lines a bit, we take that to mean that the new App Privacy Report will let you see if an app's developers are actually as privacy-friendly as they claim to be!
Share current location builds on the location-sharing controls introduced in iOS 14. The feature gives privacy-conscious developers an even more limited way to ask for your location: They can now request it one time only, instead of for the duration of your current session in their app.
Siri now has privacy-friendly ways to improve performance. On-device speech processing means that you can keep Siri's audio processing work on your iPhone or iPad — no Internet connection required, and no data sent to Apple or other parties. On-device personalization lets Siri use your device's machine learning capabilities to figure out how to work more effectively with you — again without having to send any data off of your device.
A Built-in authenticator will make it possible to generate two-factor authentication (2FA) codes directly on your iOS or iPadOS device. This is currently handled by third-party authenticator apps like Authy or Google Authenticator, but iOS 15 and iPadOS 15 will allow users to get 2FA codes directly from their own OS.
Safari
Safari also received a number of upgrades.
The big news was tabs — the new Safari will have a streamlined tab bar and something called tab groups that will let users save and organize their tabs in various ways.
There were also significant security and privacy upgrades:
Intelligent Tracking Prevention, already a core Safari privacy feature, will now stop trackers profiling you via your IP address.
HTTPS upgrade automatically switches you from a less-secure HTTP connection to a far more-secure HTTPS connection when serving content from websites (provided that HTTPS is available on the site).
Mail
The Mail app got an important privacy upgrade as well:
Mail Privacy Protection will automatically prevent email senders from using tracking pixels embedded in emails to collect information about you. This means that senders will no longer be able to see if you've opened their emails, and they won't be able to use your IP address to infer your location or track your online activity.
iCloud
Apple also introduced a couple of new iCloud features that they're calling iCloud+. They're both pretty important in terms of user privacy:
Private Relay is a new Internet privacy feature that's built into iCloud. When you're using Safari, Private Relay will encrypt network traffic as it leaves your device. That means that no one — not your ISP, Apple, or anyone else — can see the data you're sending.
Private Relay also routes your encrypted network traffic through two separate servers. One of those servers is controlled by Apple; the other, by a third party. The first server strips out your IP address and assigns you a random, generic IP address. The second server decrypts the destination IP address that you're trying to reach and forwards your traffic on to the appropriate destination. In this way, no single party (not even Apple) can see both who you are and where you're going online.
The service is not (despite some erroneous media reports) a full VPN. Private Relay appears to have more in common with proxy services like Tor or with aspects of Apple and Cloudflare's Oblivious DNS-over-HTTPS (ODoH) protocol. Nevertheless, it's enough of a privacy enhancement that it isn't going to be allowed in China and a few other countries where the Internet is highly regulated.
Hide My Email is the other big iCloud+ privacy feature. Building on a similar feature already available in Sign in with Apple, Hide My Email lets you create unique, randomized email addresses via iCloud. These can be created on the fly in Safari, iCloud, or Mail. The idea is that you give one out whenever you'd prefer to keep your personal email address private. Your "burner" iCloud email addresses forward directly to your inbox. If you want someone to stop contacting you, just delete the iCloud Hide My Email address that you've given them.
More to come…
Those are the main highlights from WWDC21. We'll be covering the security and privacy implications of the new macOS, iOS, and more in the weeks and months to come — so stay tuned!