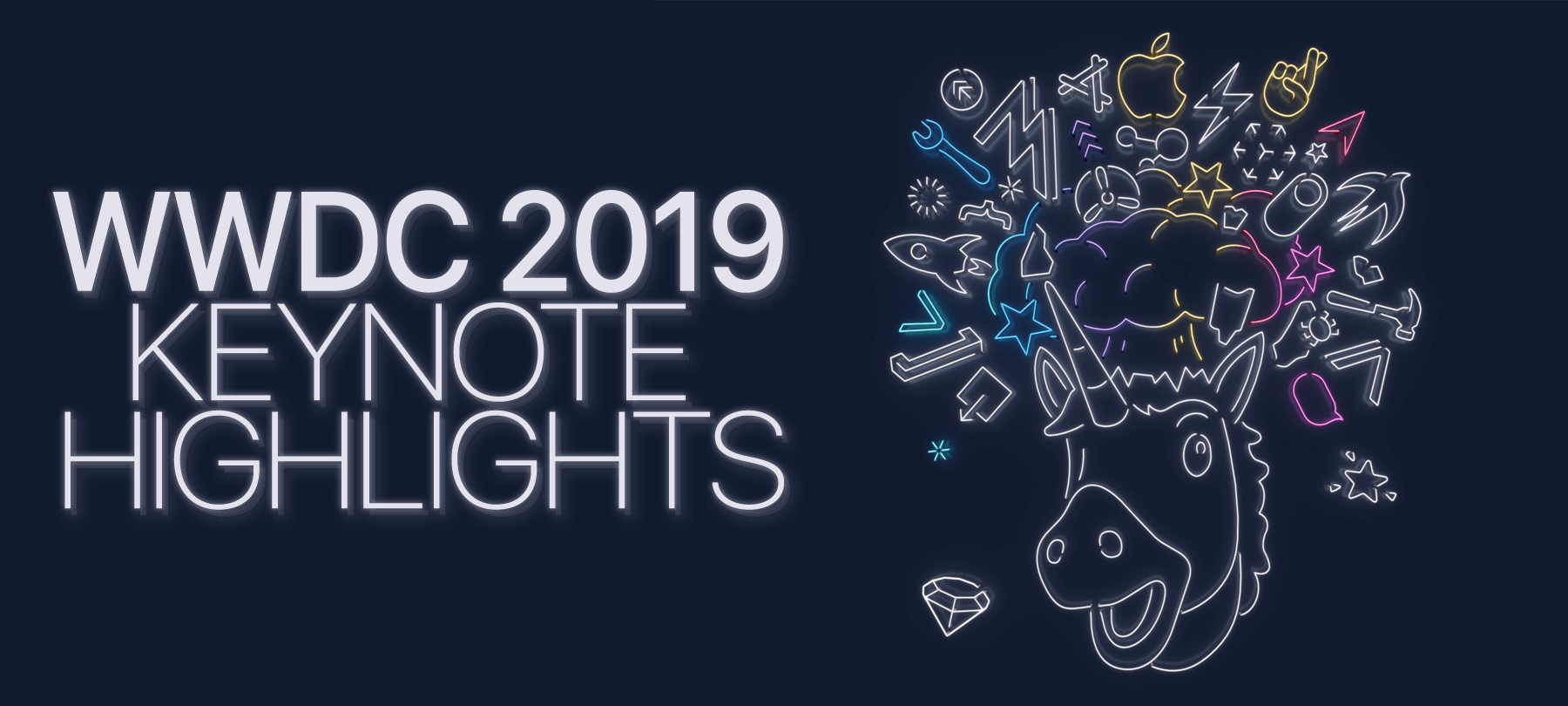 Highlights from the 2019 Worldwide Developers Conference
On Monday morning, Apple's 2019 Worldwide Developers Conference kicked off in San Jose. As is tradition, WWDC began with a keynote presentation from Apple highlighting long-awaited updates, important announcements, and a vision of the road ahead.
Here's our roundup of the biggest news from the keynote, along with a few comments on what this means for Mac security as well.
macOS
As expected, macOS 10.15 is here. Named "Catalina", the newest version of macOS features a few important changes and a bittersweet farewell.
Goodbye iTunes
Maybe the biggest news—and something that's been a long time coming—is that iTunes is finished. It's being broken up into three distinct apps: Music, Apple TV, and Apple Podcasts, each purpose-built to deliver a superior experience to what iTunes is able to offer on its own.
iPad as a second display
Productivity on macOS gets a welcome boost too, as Sidecar will now let you use your iPad as a second display, either extending your workspace or mirroring your Mac desktop for easy screen sharing.
Security and loss prevention
There are some significant security enhancements in Catalina as well.
Gatekeeper, which is used by macOS to ensure that apps are code signed and validated before they're downloaded, will now check apps for known security issues both before installation and also periodically after they've been installed.
The new version of macOS is going to be more walled-off than ever, running in a dedicated system volume that can't be overwritten. Additionally, there has been a change to the behavior of kernel extensions, or kexts, which were used in previous macOS versions to run certain types of hardware peripherals or other features from within the OS itself. Direct access to the operating system by these programs was a potential security issue—and so in Catalina, kexts will run separately from the OS, keeping it safer than before.
Another important change in macOS 10.15 addresses a somewhat different aspect of computer security. While we at SecureMac usually focus on cybersecurity issues, let's not forget about the old-fashioned way of stealing: Grabbing a MacBook and running off with it!
Here too, Catalina offers a more robust defense against the bad guys.
Activation Lock for macOS will let you report a missing machine and keep thieves from accessing it or erasing its contents. And the same Find My functionality that protects iOS users from theft will be coming to Catalina, meaning that a lost or stolen computer can be located with the help of nearby Apple devices—even if it's not online.
Catalyst means more Mac apps
Lastly, there's good news for developers as well as folks who want to see a richer Mac App Store. Catalina will support cross-platform app development through Project Catalyst, providing a way for developers to rapidly adapt and deploy full-featured macOS versions of their iPad apps (and making it far more likely that they'll choose to do so).
iOS
iOS 13 brings some important changes along with a new look.
Performance
On the performance side, there have been some genuine improvements in iOS 13. Unlocking with Face ID will be around 30% faster now. And a revamped packaging system in the App Store means that app downloads and updates will be more lightweight than ever, while app launches will be significantly faster as well.
A new look
In terms of UI/UX, the biggest news at WWDC 2019 is that iOS 13 will be available in Dark Mode, which looked great in the demos. And in welcome news for those of us with clumsy fingers, iOS 13 also introduces QuickPath typing, a long-awaited swipe functionality for the native iOS keyboard.
App improvements
There are some big changes coming to iOS apps as well. Reminders, in particular, has been completely overhauled, making it easier and more intuitive to use than before. Maps in iOS 13 is better than ever, with superior detail and a very cool way to explore cities in HD from street level.
Privacy and data security
From a privacy standpoint, iOS 13 also looks promising.
It will now be possible to share location data with an app just once—requiring the app to ask you for permission again if it wants your location in the future (instead of just giving it a lifetime license to track you). And even if you do give apps blanket permission to track your location, iOS will offer you alerts to let you know when it's happening. Lastly, Apple will be shutting down apps that try to get around iOS user permissions by using WiFi and Bluetooth data to guess your location.
Another final development with big implications for privacy is the ability to personalize app experiences by signing in with Apple—instead of risking loads of personal data by doing it with Facebook or Google. There's even functionality to keep your contact info hidden from an app that requires it, by creating a unique random email address for the app to use which then forwards to your regular email address.
iPadOs
You read that right. There's now a dedicated OS just for iPad, iPadOS.
Home screen and multitasking
It features a more intelligent Home screen layout and better support for multitasking with Slide Over and Split View, letting you cycle between apps with a touch and work in multi-window views.
Desktop on iPad
There are improvements to Safari on iPadOS as well, which aims to offer a "desktop-class" browsing experience for iPad, meaning Safari on iPad will serve up desktop websites which have been right-sized for an iPad and optimized for touch input.
USBs, pencils, and text editing
There are also a few other neat features, like the ability to use a thumb drive with your iPad, lower latency input with Apple Pencil, and improved touch features to make text editing on an iPad easier than ever before.
watchOS
The Apple Watch is increasingly marketed as a lifestyle and health management device, and this trend continued at WWDC 2019.
Lifestyle and health apps
Apple announced that some long-awaited apps were coming to watchOS, including Voice Memos and Calculator, making it easier than ever to take notes on the go or split the check at lunch.
In terms of health apps, the Noise app will allow users to keep track of environmental noise levels, and warn them when things get loud enough to cause hearing damage. Great news for hearing health, and from a privacy standpoint, the app delivers as well: Noise only samples audio and never records or saves it.
watchOS apps and a full App Store
Developers will now be able to create standalone apps for Apple Watch, with no need to tie them to an iPhone app—which means we should see a host of great new apps optimized for Apple Watch. And it will be easier than ever to discover these apps, as the full App Store will finally be available on watchOS!
tvOS
Tim Cook treated the audience to a sneak peek of Apple TV's upcoming series For All Mankind, an alternate history take on the US-Soviet space race. Looks cool!
He went on to introduce some new tvOS features, including multi-user support for personalized Up Next lists as well as personalized recommendations.
From a security and safety standpoint, this is a very welcome development, as parents worried about keeping their kids safe online will have more help with keeping previews and recommendations age-appropriate.

Hardware
The biggest hardware news out of this year's WWDC was the all-new Mac Pro, designed for customization and tremendously powerful. Built on an Intel Xeon processor with 8 to 28 cores, and with up to 1.5 TB of memory, this machine truly lives up to its name.
The price reflects this as well, with the base model starting at about $6,000. It's anyone's guess what a top-end version would cost if you maxed out all the specs. Suffice it to say, this impressive feat of engineering will probably only appeal to professionals with a substantial hardware budget. But it's awfully cool!
Apple also introduced the Pro Display XDR, a 32-inch Retina 6K display, boasting 10-bit color and incredible brightness and contrast capabilities. Expected to retail for $5,000, this isn't exactly something you'll be seeing in your friends' living rooms any time soon—but it's nice to know that professional creatives will have access to superior tools as they're developing the next blockbuster movie or game.
What's next
Most of what was discussed at WWDC 2019 will be rolled out sometime this fall, so you've still got time to consider upgrading your devices (or to save up for a $20,000 Mac Pro setup).
In the meantime, keep up with the latest news in Mac security on our blog and by listening to our weekly Checklist podcast, and stick around until the fall, when we'll be discussing the security and privacy issues affecting these recent OS updates as they go live.