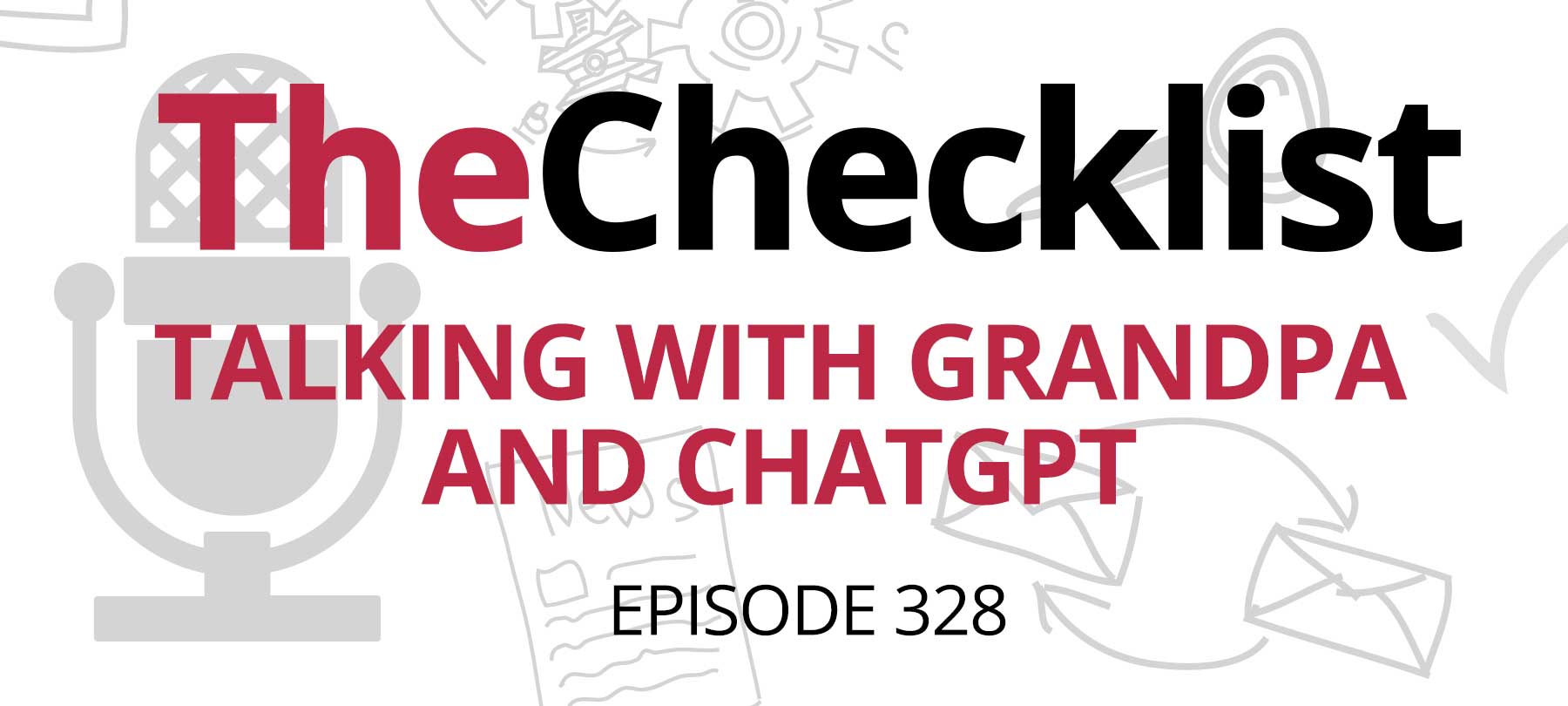 Checklist 328: Talking with Grandpa and ChatGPT
When scams target older adults
We've talked on The Checklist before about scams that target the elderly. But a recent report by the FBI showed that in 2022, people over the age of 60 lost $3 billion to online scams. Clearly, this is a perennial problem—and one that isn't going away anytime soon.
So how do you talk to older friends and relatives about the risks to their security?
Step one, which we always recommend, is to begin with the right attitude. Remember that open, honest communication—without judgment or criticism—is much more likely to be heard than a condescending lecture on cybersecurity!
Step two is to know which risks to focus on. The FBI says certain scams target the elderly more often than others. Some examples include fake tech support calls, package delivery scams, romance scams, and investment fraud.
Finally, be aware that while scams are incredibly varied, they tend to share characteristics that can be helpful in spotting them. The team at ZDNet has published a list of tips for older folks based on this principle:
A heightened sense of urgency is a common sign of a scam. If someone is pressuring you to act faster than you're comfortable with, slow down!
Both exaggerated risks and rewards are hallmarks of many scams. If someone calls offering a giant payday—or threatening a huge penalty—be very skeptical.
Emotional manipulation is another common scammer tactic when targeting the elderly. Remind older folks that they wouldn't automatically believe a sob story from a stranger on the street—and they shouldn't be quick to believe one on the Internet either.
How and why to delete your ChatGPT data
ChatGPT is an AI language model that can simulate a conversation with a human being. You open up a chat window with the AI and just…start chatting.
It's a fascinating development in artificial intelligence—but is also a brand new technology, which generally means that the security and privacy risks around it are still not very well understood.
One example: A flaw in ChatGPT's code left user data and account information exposed. As security firm Trend Micro reports:
The vulnerability was in the Redis memory database, which OpenAI uses to store user information. Actors were able to access the open-source library and view users' chat history.

Furthermore, approximately 1.2% of ChatGPT Plus subscribers who were active on March 20th may have had payment information compromised due to the bug. The incident exposed names, email addresses, payment addresses, credit card types, and the last four digits of credit card numbers.
If you're using ChatGPT, you may not be comfortable with the thought of your private chats being read by a stranger. Fortunately, OpenAI, the company behind ChatGPT, offers a way for users to delete chat data from the system.
To do this, go to your user profile when logged into ChatGPT. Then go to Settings > Data Controls > Chat History & Training. Toggle this setting off and new chats will be automatically deleted from the server after 30 days (OpenAI will still retain all chats for 30 days in order to monitor for abuse).If you feel like you're done talking with computers, OpenAI also offers a few different ways to completely delete your ChatGPT account.