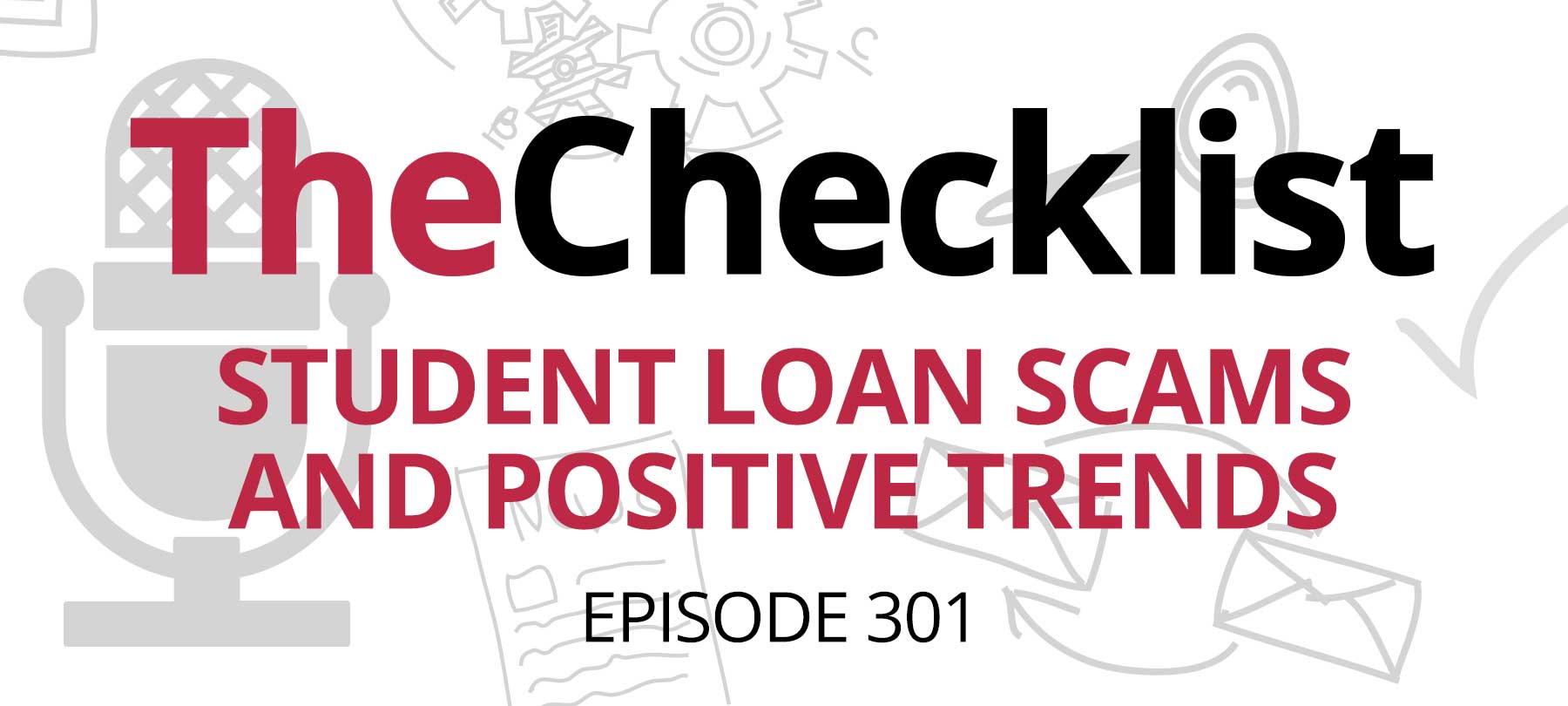 Checklist 301: Student Loan Scams and Positive Trends
This week on The Checklist:
A warning from the FBI
Good news on cyber awareness
A big round of Apple updates
FBI warns on loan relief scams
The Biden administration has announced $20,000 in student loan forgiveness for those who qualify. But the FBI is warning that scammers may try to take advantage of the big news.
According to CNET, the FBI wants people to know that
…the scams, which could come in the forms of emails, texts, phone calls, websites or online chats, could be attempts to swindle people with federal student loans out of their sensitive information or money.
So how do you know if you're dealing with a student loan scammer? The FBI says that these scams may begin with outreach on the part of the bad guys:
…cybercriminals may attempt to contact borrowers and offer entrance into the program, asking them to provide personal or financial information that they could use for identity theft or other scams down the road.
In addition, you should be on the lookout for the following:
Requests for money in the form of "processing fees" and the like — especially if they involve odd forms of payment like cryptocurrency or gift cards
Communications with grammatical errors or highly informal language
Scare tactics or an exaggerated sense of urgency, which are often used by scammers to get people to act without thinking
CNET says that people who think they may have been the victim of an online scam should report it. According to their piece, you can:
…file a complaint with the FBI's Internet Crime Complaint Center. Scams involving student loans should also be reported to the Department of Education and the Consumer Financial Protection Bureau.
Tips for avoiding debt relief scammers
To avoid falling victim to a student loan forgiveness scam, we'd recommend a few basic precautions.
First, limit your sources of information. There is a specific website set up by the government to handle the student loan debt relief program: StudentAid.gov. You can create an account there and find important information about the program and your loan servicer.
Second, don't reply to unsolicited communication. If someone texts, calls, or emails you about the program, and you didn't initiate the contact, don't engage. The StudentAid.gov portal has a secure dashboard. If you really need to talk to someone at your loan servicer, just research the number of the financial institution on your own and give them a call.
Finally, it pays to learn more about how scams work in a more general way. There are lots of great resources to help you on this one:
The National Cybersecurity Alliance website has excellent advice on avoiding phishing scams. The U.S. government has a post on 3 Ways to Spot Student Loan Scams. And of course, we've talked a lot about scammers and their scammy ways right here on The Checklist! Check out:
Checklist 270: Avoiding Tax Scams
Checklist 263: QR Code Phishing Scams
Checklist 211: How to Avoid a Scammy New Year
Checklist 291- Taking advantage of Your Good Nature
A bit of good news on cyber awareness
A recent Consumer Reports survey indicates that the public is becoming more aware of cybersecurity issues.
The survey showed that:
88% of people polled use strong passwords (eight characters or more with upper and lowercase letters, numbers, and symbols)
81% restrict location permissions for apps — and a full 80% refuse to install apps that are gathering excessive information
85% protect their mobile device with some form of password, PIN, or biometric control
77% of the people in the survey say they use multifactor authentication (MFA)
There is room for improvement, of course — longer, stronger passwords would be better, since security experts now consider an eight-character password to be insufficient for robust protection. And while multifactor authentication is great, many types of MFA can be phished.
Still, on the whole this survey is very good news: the perfect way to close out Cybersecurity Awareness Month!
Apple's latest updates
Apple has just released macOS Ventura and a host of updates for its other OSes. We'll be hitting the security and privacy features in the new Mac OS on a future edition of the podcast, but today we wanted to share some information about the other updates.
Here are some highlights:
macOS Monterey 12.6.1 and Big Sur 11.7.1 were released on Monday, and both address significant security issues
Safari 16.1 addresses a number of vulnerabilities as well — and introduces support for Passkeys
iOS 16.1 and iPadOS 16.1 patch 19 security vulnerabilities (one of which may have been actively exploited, according to Apple)
watchOS 9.1 and tvOS 16.1 each fix a number of security issues
Definitely a lot of good reasons to update your systems without delay!