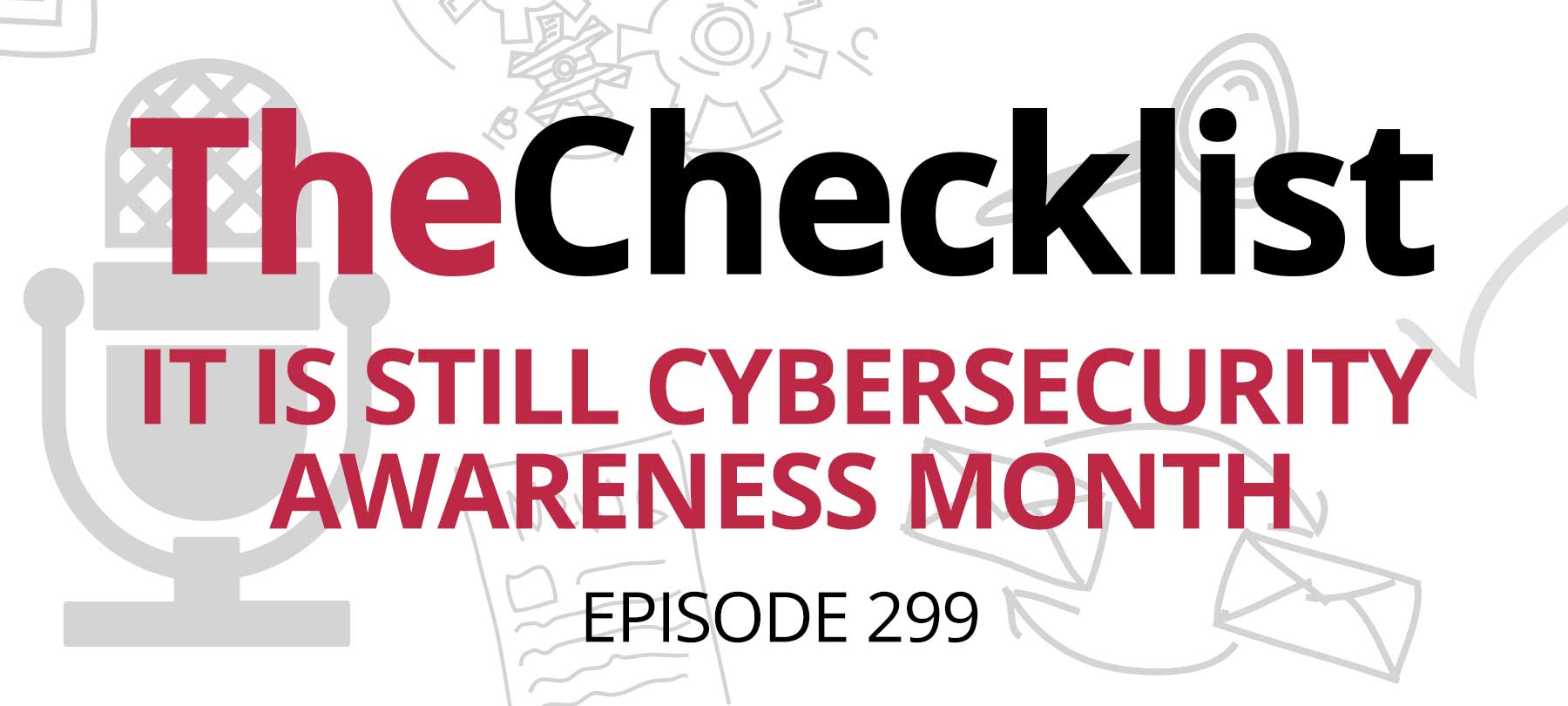 Checklist 299: It Is Still Cybersecurity Awareness Month
This week on The Checklist:
Learning more about cybersecurity
Nerdy videos with a helpful message
A small but important iOS update
Free cybersecurity training for all
October is Cybersecurity Awareness Month—and since it's still October, we're exploring a couple of resources to help you dive deeper into the world of digital security and privacy!
The first one, mentioned on last week's podcast, is from StaySafeOnline.org, the National Cybersecurity Alliance website.
The site has a great Cybersecurity Awareness Training that was produced by Amazon. It's focused on cybersecurity at work and takes about 15 minutes to complete.
Yes, it's pretty basic, but we like it for a few reasons.
First of all, it lets you go through the training in different ways. You can read it if you prefer, or you can use the interactive eLearning version of the training if that's more to your liking. It's self-paced, and it also gives you a small incentive to complete the course: a printable certificate of completion at the end.
The training covers a number of topics:
Recognizing Phishing Attacks
Reducing Physical Security Risks
Protecting Information and Data
Using Third-Party Applications or Services
Handling Business Data
Maintaining Device Security
Data Privacy
Safe Communication Habits
Recognizing Social Engineering Threats
While there are a few tips here that are more applicable to a corporate security environment, the focus is on cybersecurity at work in general. As such, it's applicable for people who work at companies both large and small—and for students and small business owners as well.
Nerdy but nice
A second cybersecurity training resource that we really like is Security Awareness Episodes. It's a series of short video skits produced by Adobe, Speechless Inc, and the National Cybersecurity Alliance. Each video is two to three minutes long and covers a different cybersecurity topic:
We'll warn you at the outset: These videos are a little bit corny…but in an endearing way. They would be great to share with kids, older relatives, co-workers (provided that they have a sense of humor), or people in your life who aren't very tech savvy.
Apple fixes iOS Mail crash bug
A couple of weeks ago, The Mac Observer reported on an iOS 16 Mail vulnerability that could have allowed a bad actor to crash the app by including maliciously crafted text in the sender email address.
On Monday, Apple released a patch for that issue in iOS 16.0.3. There were also a number of UX-related bug fixes as well.
Needless to say, if you haven't updated your iPhone yet, you'll probably want to do that right away!