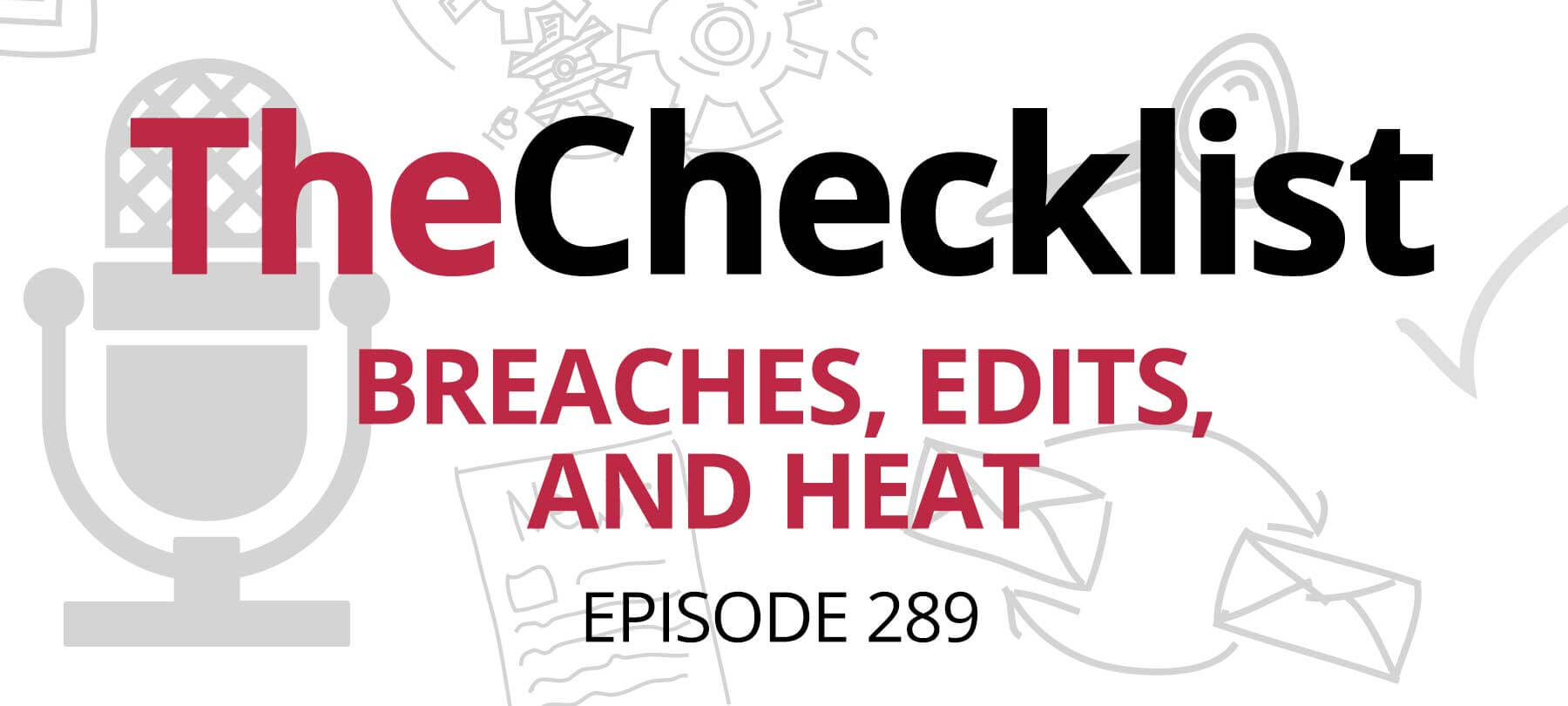 Checklist 289: Breaches, Edits, and Heat
On this week's Checklist:
How data breaches affect everyone
Changes to changes in iOS 16
A website to help with physical security
The real cost of a data breach
We've talked a lot about the effects of data breaches on The Checklist, from social media giants leaking personal details to debt collection firms losing track of medical data. But there's another way that data breaches affect you — even if you aren't directly involved.
IBM has just released research on the average cost of a data breach to enterprises. The results are, frankly, staggering. In 2022, a typical data breach will cost a business $4.4 million: a 13% increase over the 2020 average.
So how does that affect you? Because over half of the companies IBM surveyed say that they cover the costs by passing them on to customers. And in an economy already plagued by runaway inflation, that's bad news for the consumer.
The silver lining here, if you can call it that, is that almost 20% of these breaches stemmed from stolen credentials, while an additional 16% were the result of phishing. In a sense, that's cause for hope, since tools like two-factor authentication and passwordless logins are effective at preventing such attacks. If only companies would use them!
New iOS 16 beta shows that Apple is listening
Back on Checklist 283, we talked about concerns over Apple's plans to implement an edit and unsend feature in the iOS 16 version of Messages. As you'll recall, some observers were worried that the feature could be abused by abusers, who might see it as an opportunity to send threatening or harassing messages without leaving a trace.
This week, Apple released the fourth beta of iOS 16 (as well as iPadOS 16, watchOS 9, and macOS Ventura). As 9to5 Mac reports, the new beta limits the number of times you can edit a message to five — and logs the edits in a way that both the sender and the receiver can see. In addition, you only have two minutes to unsend a message that you've sent, down from 15 in previous betas of iOS 16. These are exactly the sorts of changes that concerned observers had suggested to Apple.
That's good news for potential targets of tech-enabled abuse — and for those of us who get a warm fuzzy feeling when Apple does the right thing!
Staying safe in the heat
Every so often, we talk about technology that helps with physical safety — no, not stolen laptops and iPhones, but literal, physical safety.

This week, we're featuring a new site called Heat.gov. It's a public service website put out by a number of federal agencies working together.
The goal of Heat.gov, according to a piece in Engadget, is to:
…help the public and authorities understand the dangers of extreme heat and reduce the health risks. The 11-agency collaboration offers maps for current and expected temperature spikes across the US, prevention guidance and data-driven tools.
This is an important website for public health and safety, considering the high number of yearly heat-related ER visits (over 67,000), hospitalizations (over 9,000), and deaths (700) in the US alone.
Engadget says that the website contains information about heat trends, current hotspots, as well as tools to "help you understand the effects of extreme heat on vulnerable groups."
We usually ask you to share cybersecurity information with friends, family, and coworkers — but this week, please take a moment to tell someone in your life about Heat.gov!