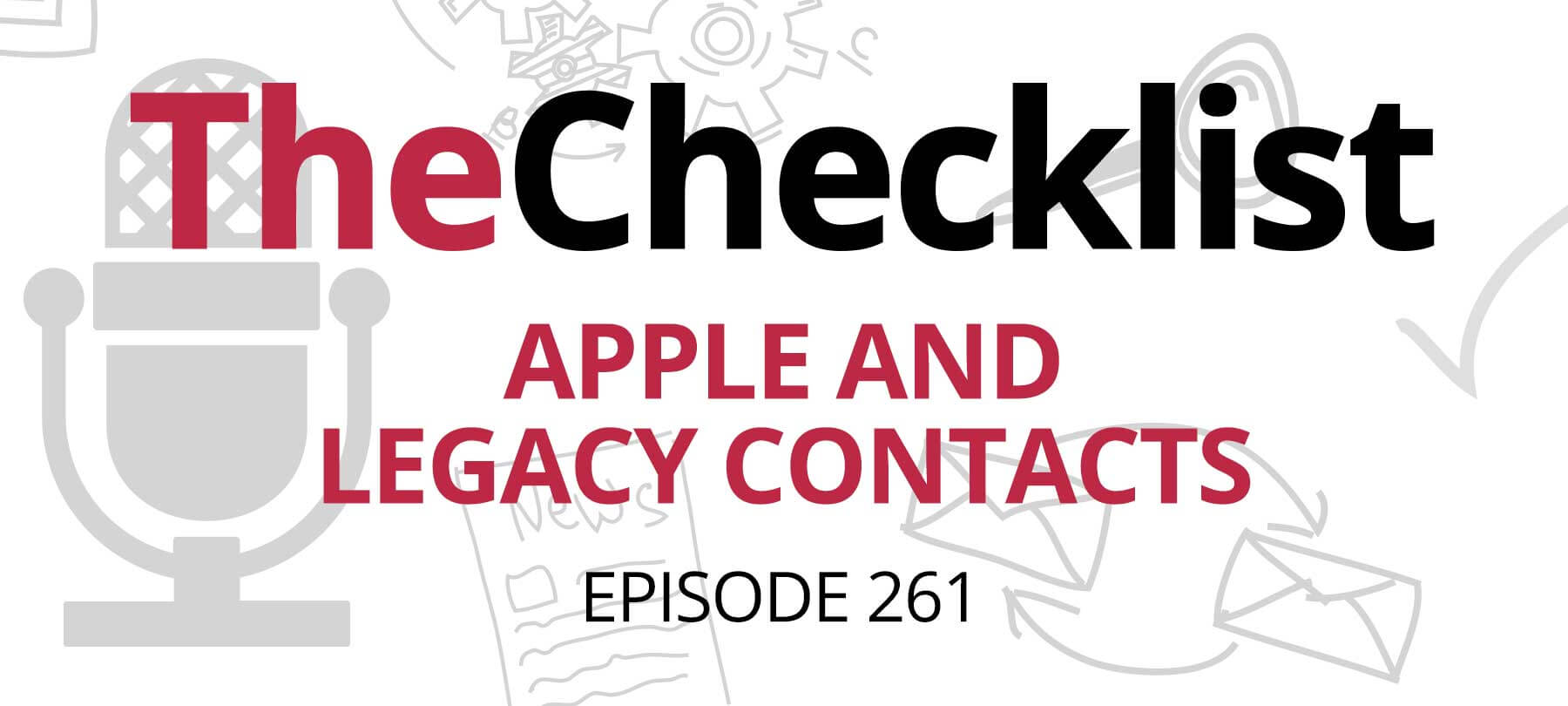 Checklist 261: Apple and Legacy Contacts
On this episode of The Checklist, we'll talk about:
Planning your digital legacy
What happens to your data after you die?
It's an important question — and as more of our life goes online, it will become even more important.
Tech companies use the somewhat euphemistic term "digital legacy" when they have to talk about this issue. We discussed it way back on Checklist 80: Digital Legacies, covering topics like:
Making sure your family can access your devices when you're gone
Storing important information securely
Why backups are so critical
How the rules can vary from service provider to service provider
What happens to digital property?
Last month, Apple introduced its Legacy Contacts feature, which is intended to help Apple users plan out their digital legacies. As Apple VP of Cloud Services Mike Abbot put it:
We don't often think about it, but it's important that we can easily pass down information to family members or friends when we pass away. So you'll now be able to add people to your account as Legacy Contacts. So when you're gone, they can request access, and your information can be passed along quickly and easily.
What can your Legacy Contact access?
Apple's digital legacy program will only apply to data that Apple controls. And even then, a Legacy Contact can only access things that the Apple ID holder has stored in iCloud and iCloud Backups.
Practically speaking, this means that the following is included:
iCloud Photos
Notes
Mail and Contacts
Calendars and Reminders
Messages in iCloud
Call history
Files stored in iCloud Drive
Health Data
Voice Memos
Safari Bookmarks and Reading List
iCloud Backup, including downloaded App Store apps, photos and videos that were stored on a linked device, device settings, and other content.
But on the other hand, Legacy Contacts won't be able to access:
Licensed media like movies, music, and books
In-app purchases like upgrades, subscriptions, game currency, or other content that was bought inside an app
Payment information
Anything stored in Keychain (e.g. Safari passwords, credit card numbers, secure account information, etc.)
Anything stored outside of the Apple ecosystem
Who can designate a Legacy Contact?
OK, so now we know what a Legacy Contact is, and what they can access. But how do you designate a Legacy Contact?
First, let's start with the prerequisites.
According to Apple, you can only set up a Legacy Contact if you're old enough to create an Apple ID according to local law. In the US, that's 13, but in Ireland, for example, it's 16, so this will vary depending on where you live.
In addition, there are some technical requirements. You have to be using an Apple device running iOS 15.2, iPadOS 15.2, or macOS Monterey 12.1 or later. You have to be signed in with your Apple ID. And that Apple ID has to be protected by two-factor authentication.
How to designate a Legacy Contact
Your Legacy Contact can be anyone you want, as long as they're 13+. They don't have to have an Apple ID or an Apple device.
You can also have more than one Legacy Contact if you want, but keep in mind that any of your Legacy Contacts can make irreversible decisions about your data after you die (such as deleting it all).
Here's how to set up a Legacy Contact:
On an iPhone or iPad
Go to Settings, tap your name, tap Password & Security, and then tap Legacy Contact.
Tap Add Legacy Contact, and authenticate again if prompted.
On a Mac
Go to Apple menu > System Preferences > Apple ID.
Click Password & Security and then click Legacy Contact.
Click Add Legacy Contact, authenticating again if required.
At this point, whether you're on a Mac or a mobile device, you can designate your Legacy Contact. If you're in a Family Sharing group, you can simply select a member of the group. Otherwise, use the Choose Someone Else option to add someone from your Contacts by phone number or email address.
What your Legacy Contact will need
In order to access your account, your Legacy Contact will need to have an access key (more on this in a moment) as well as a copy of your death certificate.
The access key is generated when you first set up a Legacy Contact. It comes as both a QR code and a long alphanumeric version.
As for how to share the key, that depends on what kind of device your Legacy Contact is using. If they're using an Apple device running iOS 15.2 or later, iPadOS 15.2 or later, or macOS Monterey 12.1 or later, you'll be able to notify them via Messages when you add them, and they'll automatically have a copy of the key stored in their Apple ID settings.
If your Legacy Contact uses an older Apple OS, or doesn't have an Apple device, you'll need to find a way to get them a copy of the key.
You can accomplish this in several ways:
Print out a copy of the access key and give it to them
Send them a PDF or screenshot of the page with the key
Print out and save a copy of the key with your estate planning documents (e.g. your will and other documents)
A lot is riding on your legacy contact having that key, so you'll want to confirm that they actually received it — and you may even want to print out and save a backup copy of the key with your estate planning documents anyway, just in case they lose it.
How to remove a Legacy Contact
If you need to remove someone as your Legacy Contact, here's what to do:
On macOS or on iOS/iPadOS, go to the same Password & Security area where you first designated your Legacy Contact. You'll see the contacts listed under the Legacy Contact settings. Choose the person's name, and then tap or click Remove Contact in order to revoke their Legacy Contact status.
They won't get a notification when you do this — but if they're looking at their Legacy Contact list, they will no longer see your name.
How to request Legacy Contact access
If your Legacy Contact wants to access your account, the process is pretty straightforward.
As long as they have a.) the access key and b.) a death certificate, then they can initiate a Legacy Contact access request with Apple.
If your Legacy Contact has a device running iOS 15.2, iPadOS 15.2, or macOS 12.1 (or later), they can do this directly from their device. If not, they'll have to do it online at digital-legacy.apple.com.
Apple will review the request and verify all of the information. If everything checks out, they'll send your Legacy Contact a special Apple ID that they can use to access your data. At this point, your own Apple ID and password will become inactive, and if you have Activation Lock on any of your devices, it will be disabled. Your Legacy Contact will have up to three years to access your account, after which time all of your data will be permanently deleted by Apple.
To ask a question about digital security and privacy, please write to us. Be sure to visit the Checklist Archives for more tips, how-tos, and analysis on all things related to Apple security.