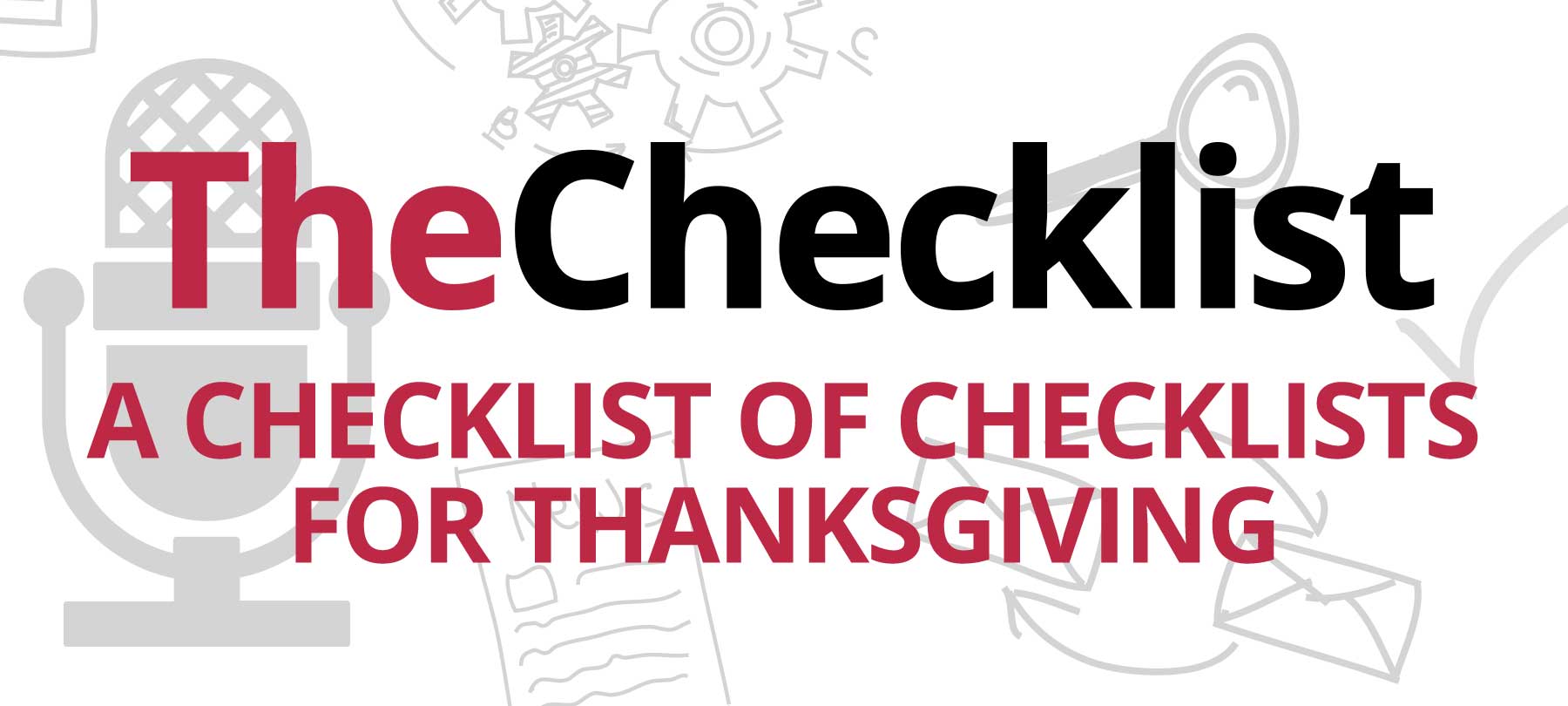 A Checklist of Checklists for Thanksgiving
Happy Thanksgiving from all of us at The Checklist!
Safe Holiday Travel
Checklist 164: Over the River and Through the Woods covers safe travel during the holiday season. We talk about what to do before you leave, how to stay safe while on the road, and digital security and privacy tips for when you reach your destination.
Online Shopping Tips
Checklist 254: Every Day is Black Friday was a recent show that we did for all you Black Friday and Cyber Monday shoppers out there. This one talks about how to secure your devices before you shop, as well as safer payment methods and tips for dealing with tracking scams.
If you want to delve a little deeper into secure online shopping and holiday scam avoidance, head for the Checklist archives. The following shows from years past cover these topics:
Gift Buying
No discussion of safe gift buying would be complete without a mention of, well, how to buy gifts that are actually safe!
Checklist 64: Safely Shopping for Technology This Holiday Season covers best practices for picking out secure tech products when you're doing your holiday gift buying.
Checklist 210: Shopping for Internet of Things Things is a similar episode, but with a focus on IoT technology and the special issues associated with so-called "smart" gifts.
Family (Security) Time
If you're a regular listener of The Checklist, we're guessing that you know more (probably a lot more) about online safety than most of the people in your life. Because the holidays often involve spending time with family and friends, they can be a great opportunity to help the folks you love with their digital security and privacy. Added bonus: It's an excellent alternative to those uncomfortable political discussions we'd all prefer to avoid during Thanksgiving dinner!
To this end, we have a couple of Checklists that show you how you can help others more effectively:
Checklist 62: Talking to Your Parents About Computer Security explains how to bridge the generation gap and discuss cybersecurity issues with older relatives who may not be very tech-savvy.
Checklist 63: Your Guide to Securing Your Parents' Computer is for people who want to take a more hands-on approach to helping, and shows you how to set someone else up for better security and privacy.
Once again, Happy Thanksgiving from everyone here at The Checklist. We'll see you next week with a brand new episode!