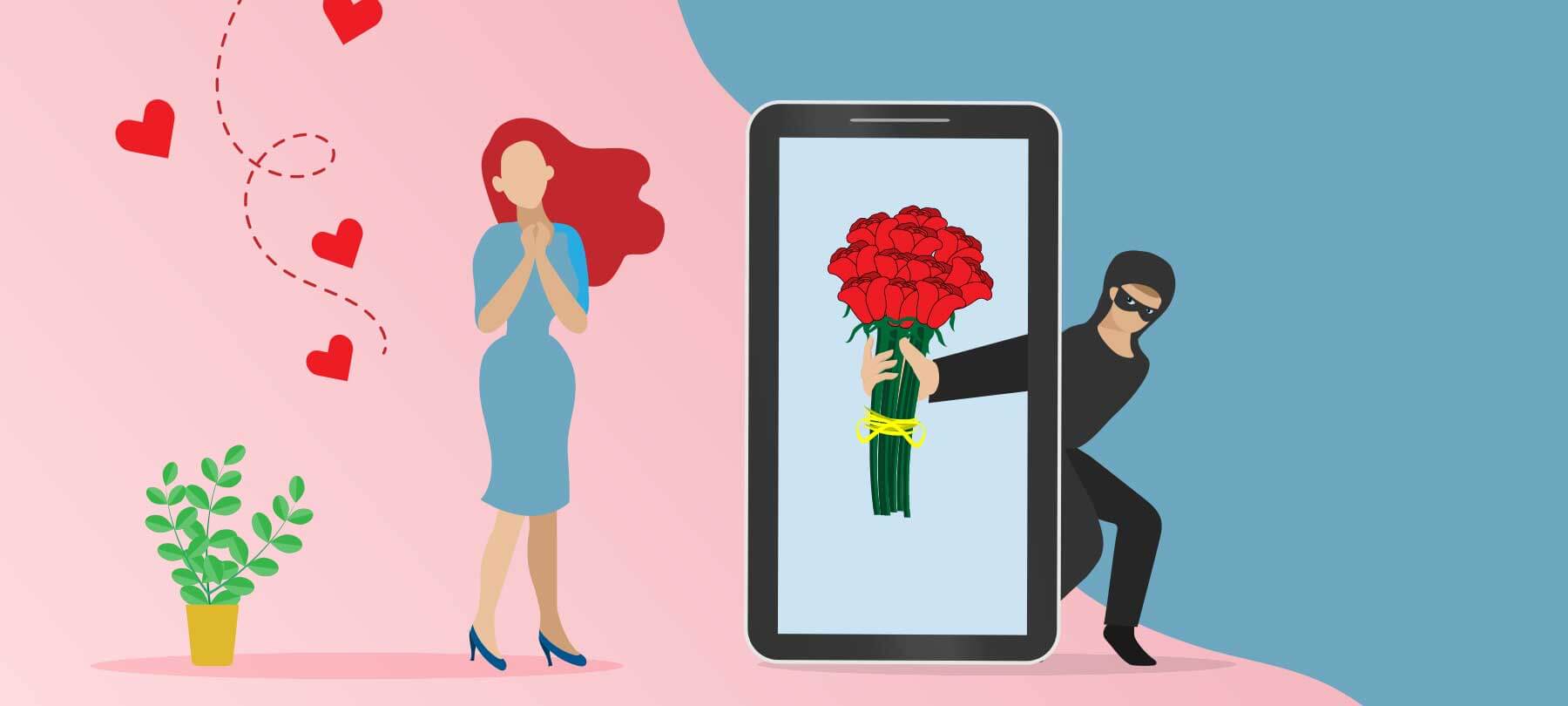 3 Valentine's Day scams to watch for in 2023
Valentine's Day scams are a perennial threat. This year, keep yourself and your loved ones safe by learning about these three common Valentine's Day threats and how to avoid them.
Fake florists
There's a Valentine's Day variation on a common holiday shopping scam: fake flower sellers who promise a beautiful bouquet but leave consumers disappointed and brokenhearted.
These fraudsters go to great lengths to create the appearance of being legitimate flower shops, setting up websites, placing ads on social media, and the like. But according to the Better Business Bureau, once they have your money, things start to go sideways:
In most cases, your flowers are delivered, but they don't arrive on time, are damaged, and/or look nothing like the picture…In other scams, your flowers are never delivered at all…Other consumers have reported that after paying, they are contacted by the florist shop and forced to upgrade their purchase, paying extra for something they don't actually want to buy.
Tip: Research is everything here. If possible, only buy from florists you know and trust. If that's not possible, do some research on a flower seller to see if other people have experienced issues. You can also check the age of the vendor's website to provide some context to your research. A site that was just set up recently isn't necessarily phony, but has a higher risk factor. In addition, always pay with a credit card or another payment method that allows you to dispute charges if you're dissatisfied. Lastly, remember that all of this advice also applies to other types of romantic gifts, so be sure to vet your chocolatiers and jewelers as carefully as your florists!
Romance Scams
Romance scams are an ongoing threat, but you should be especially mindful of them around Valentine's Day.
These scams take many, many forms, but the scammers' core tactic is always the same: Gain a victim's trust by pretending to be romantically interested in them, and then abuse that trust to obtain money, personal information, or intimate photos and videos to use for extortion.
If romance scammers sound like terrible people to you…well, let's just say you're not alone in that judgment. They'll stoop to nearly any low: In one recent case, the FBI arrested a Florida woman for defrauding an 87-year-old Holocaust survivor out of his life savings. Sadly, romance scammers increasingly prey on the elderly, as they are often lonely and vulnerable to this type of fraud.
Tip: The first step in spotting romance scams is to be aware of the most common variants. The website GOBankingRates, citing a report by payment processor Zelle, lists the top three scams today as military romance scams, "broken" camera scams, and money transfer scams. For an even more extensive list of romance scams—and some tips on how to avoid them—see our guide How to Avoid Valentine's Day Romance Scams. For general advice on how to talk to elderly relatives about scams and online safety, see Checklist 68: Scams that Target the Elderly.
Phishing emails
Phishing emails are another constant cyberthreat—but are important to discuss here because bad actors like to use holidays in their phishing scams.
Phishing emails can lead to any number of undesirable outcomes. Bad guys often use them as lures to get victims to malicious websites that steal personal information or credit card details. In other cases, the scam is less direct, and a phishing email is only the first step in getting a person to call a scammer on the phone or engage in an email correspondence—but the end result is fraud. Some phishing emails are attempts to get the target to download malware directly or click on a link that will take them to a malicious download site.
Around Valentine's Day, phishing email pretexts run the gamut from malicious e-greeting cards sent by a "secret admirer" to more familiar holiday threats like package delivery scams, customer service scams, and phony deals and sales.
Tip: How to avoid phishing scams is a huge topic, but if we had to boil our advice down to a single sentence, it would be: Don't trust unsolicited emails, and always research independently.
If you get an e-valentine from a so-called "secret admirer," don't open it. If you receive a coupon or special offer in your inbox, don't click on the link. Instead, navigate to the vendor's website on your own and look for the sale there.
If you're contacted by someone claiming to be a customer service representative, an account support specialist, a courier company, etc., and they say that there's an issue with the flowers that you sent, or the gift that you ordered, don't engage. Investigate the issue by yourself, either from your account area or by calling a customer service line that you look up online. If there's really a problem, you'll be able to find and resolve it this way. If there's not, you've just avoided a scam!