SecureMac PrivacyScan Awarded Best of Show at Macworld
SecureMac is honored and humbled that Macworld UK has awarded PrivacyScan as Best of Show winner for Macworld | iWorld this year. PrivacyScan gives peace of mind to the privacy-conscious user by ensuring that potential threats, both online and offline, are eradicated with multiple levels of secure delete file shredding.
MacWorld UK says:
"Whenever you surf the internet little bits of information about you and your browsing habits are collected. If you are worried about just how much information is being gathered, you can address your concerns with PrivacyScan."
http://www.macworld.co.uk/digitallifestyle/masterclass/?articleid=3343596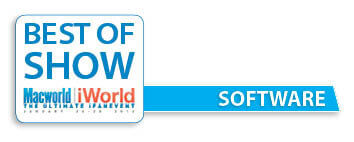 SecureMac debuted PrivacyScan at Macworld | iWorld in San Francisco on January 26th 2012. With the launch of PrivacyScan in the Mac App Store, the security product placed in the Top Ten for all paid apps and ranked #1 in Utilities and is still available for the introductory price of $4.99 (USD or equivalent) for a short time.
PrivacyScan works by searching for known applications which leave files on the computer that could lead to privacy concerns. PrivacyScan offers support for a wide range of items and apps, including popular web browsers such as Camino, Chrome, Firefox, Flock, iCab, OmniWeb, Opera, Safari, SeaMonkey, and Shiira, privacy threats presented by Flash Cookies, as well as standard apps such as Finder, Preview, and QuickTime. Once a scan has run its course and privacy threats have been detected, PrivacyScan offers a variety of choices for cleaning — from a standard quick delete to one of the many secure delete shredding options.
PrivacyScan
http://privacyscan.securemac.com/
Purchase & Download
http://itunes.apple.com/app/privacyscan/id494950833?ls=1&mt=12
Screenshot
https://www.securemac.com/assets/PrivacyScan_Main_Screen_Screenshot.png
App Icon
https://www.securemac.com/wp-content/themes/sm3_5/assets/img/icon_lg_ps.png
Press and media are invited to contact macsec@securemac.com for NFR review copies of PrivacyScan.
About SecureMac
Since 1999, SecureMac has been at the forefront of Mac OS X security. The site not only features complete Macintosh Anti-Spyware and Antivirus solutions, but also operates as a clearinghouse for news, reviews and discussion of Apple computer security issues. Users from novice to the most advanced will find useful information at SecureMac that is designed to make their computer experience trouble free.