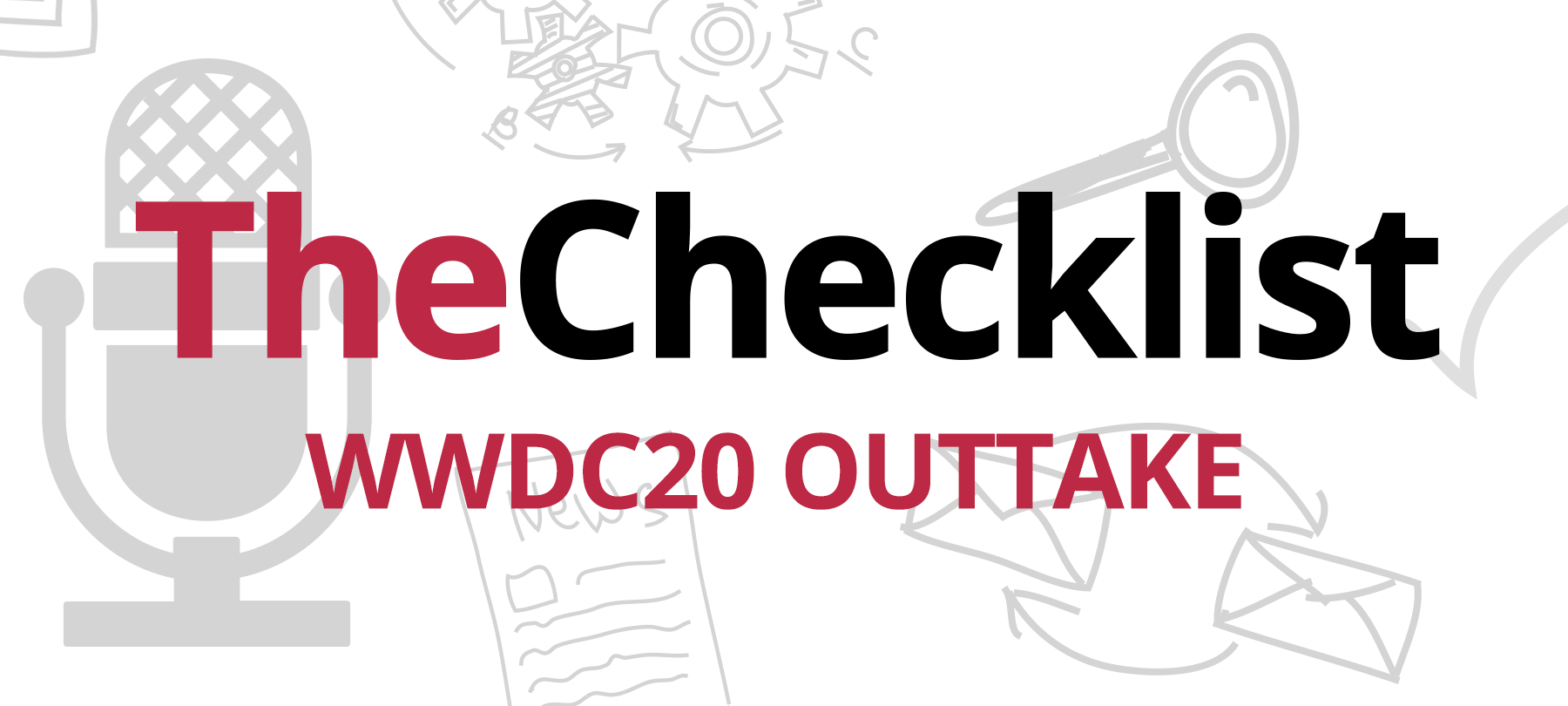 Checklist WWDC20 Outtake
The Checklist is taking a week-long summer break, but we didn't want to leave the feed empty. So we're bringing you a WWDC outtake: an off-the-cuff, practically off-mic discussion of WWDCs past — as well as the roles Apple execs play.
WWDC20: a different kind of conference
A few weeks back, we talked about WWDC and the Mac, taking a look at the upcoming changes to Safari and macOS, previewing the switch to ARM processors, and discussing Apple's plans for safer website logins.
While tech was definitely the focus of that discussion, we also had some time to chat about the keynote itself — a free-flowing conversation that produced some interesting reflections about the pros and cons of virtual conferences, and about the different roles that Apple execs play:
1

The keynote this year seemed a little more like an Apple infomercial than it usually does — maybe due to the fact that this year's "new normal" version of WWDC was pre-recorded and broadcast to a remote audience: i.e., polished production and none of the customary pauses for applause that we're all so accustomed to!

2

The remote format of this year's WWDC went really smoothly — even the developer labs worked surprisingly well in a virtual environment — and is arguably a better model for how to do the conference in the future. While some devs would surely miss the camaraderie of an in-person conference, a remote WWDC could improve access for developers who don't live near Silicon Valley, or for folks who just can't snag a coveted spot at the physical conference.

3

Craig Federighi, Apple's senior VP of software engineering, definitely stole the show this year, perhaps aided by the pre-recorded, heavily produced format of WWDC20. Federighi's natural stage presence definitely made him the right choice for the emcee role, especially because of the self-deprecating, self-aware humor he brought to his performance. It's a little harder to imagine CEO Tim Cook, perhaps more of a traditional serious, hard-nosed executive than Federighi, projecting that sort of persona.

4

Speaking of executive roles at Apple, it was announced just this week that Phil Schiller will no longer serve as senior VP of worldwide marketing, with Greg Joswiak, formerly head of product marketing, taking the reins. Schiller, however, isn't leaving the company altogether: He is expected to stay on at Apple as an Apple Fellow, and will still head up the App Store and Apple Events.
We'll be back next week with an all-new Checklist. In the meantime, please take some time to explore our archives, where we have full show notes and audio for all past episodes. And as always, if you have a question related to digital security or privacy, or if you'd like to suggest a guest or a topic for a future podcast, please take a moment to write to us — we'd love to hear from you!