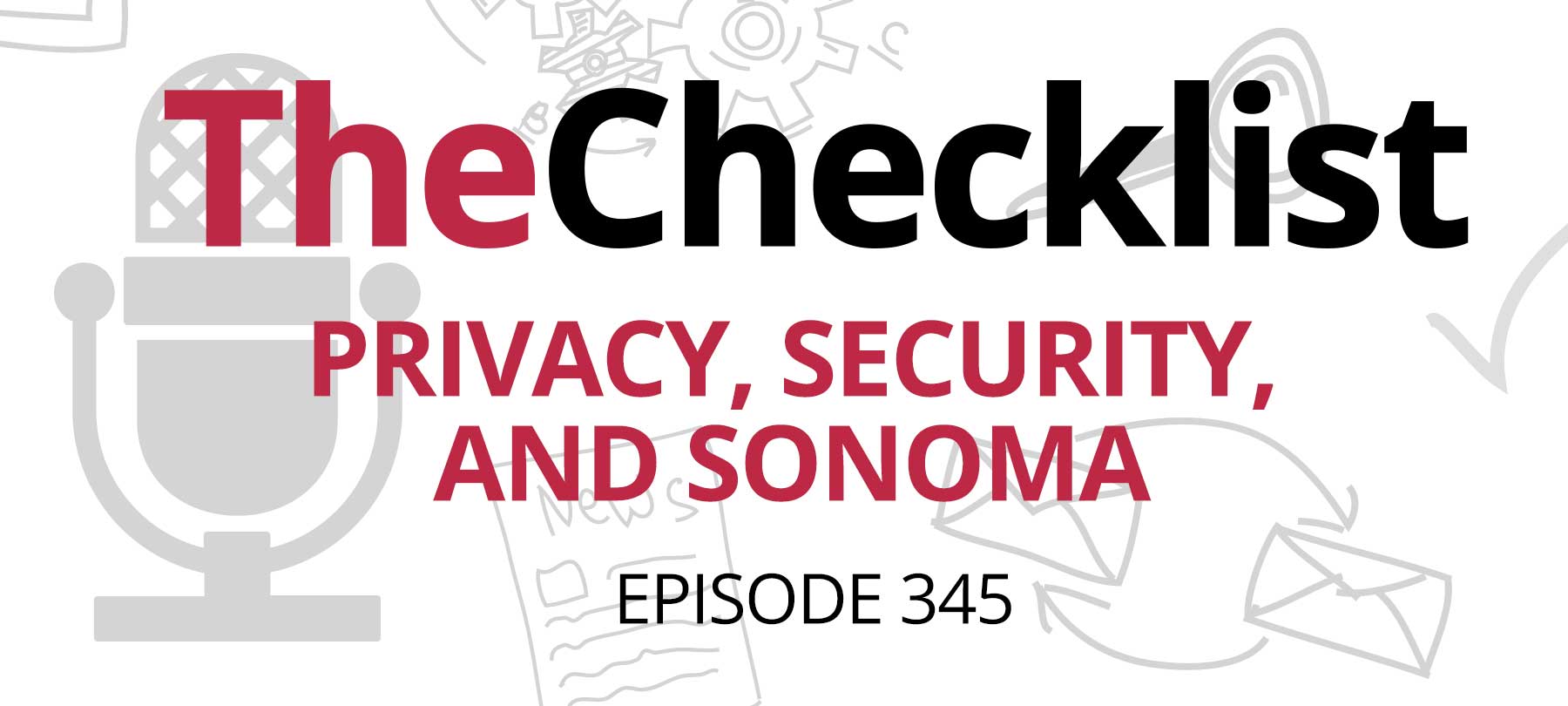 Checklist 345: Privacy, Security, and Sonoma
Apple Releases macOS 14 Sonoma with Exciting Features and Strong Security Upgrades
In a highly anticipated move, Apple unveiled macOS 14 Sonoma on Tuesday, touting its blend of power and fun. The update introduces a range of features aimed at enhancing user experience, including desktop widgets, video conferencing improvements, and new screen savers.
Apple enables app developers to provide more accurate Privacy Nutrition Labels, shedding light on the data practices of their partners. This feature helps users make informed choices about app privacy.
While not prominently featured on Apple's Sonoma page, the update includes several notable privacy and security enhancements.
Password and Passkey Sharing allows users to now create groups and share sets of passwords and passkeys with trusted contacts, with passwords staying up to date for all members of the group. This feature aligns with the iOS 17 update from the previous week.
Enhanced Private Browsing now offers improved security by locking private browsing windows when not in use, blocking known trackers, and removing identifying tracking from URLs.
Lockdown Mode has been expanded – designed to protect against cyberattacks, has been strengthened for Mac, now extending to Apple Watch.
Sensitive Content Warnings is a brand new feature allows users to blur sensitive photos and videos in Messages and third-party apps.
Improved Permissions provides users with more control over sharing, allowing apps to choose specific photos to share while keeping the rest of the Photos library private. It also permits apps to add events to the Calendar without accessing other events.
App Privacy Improvements allow app developers to provide more accurate Privacy Nutrition Labels, shedding light on the data practices of their partners. This feature helps users make informed choices about app privacy.
Sonoma takes security seriously, addressing a total of 61 security vulnerabilities, as detailed in Apple's security notes. This comprehensive security update ensures a safer computing experience for users.
For users with older Macs that cannot upgrade to macOS 14 Sonoma, Apple has released Safari 17. This update is tailored for macOS Monterey and macOS Ventura, addressing five vulnerabilities and ensuring a safer browsing experience.
To check if your Mac is eligible for the macOS 14 Sonoma update, make sure it falls within the following range of supported models:
iMac Pro: 2017
MacBook Pro: 2018 and later
MacBook Air: 2018 and later
Mac mini: 2018 and later
iMac: 2019 and later
Mac Pro: 2019 and later
Mac Studio: 2022 and later
With these exciting new features and enhanced security, macOS 14 Sonoma promises to offer a compelling experience for Apple users.
Apple Releases Multiple Crucial Software Updates Addressing Numerous Security Vulnerabilities
In a recent development, Apple has issued a series of critical software updates addressing a plethora of security vulnerabilities across its product lineup. The company's move underscores the importance of promptly updating devices to safeguard user data and privacy.
iOS and iPadOS Updates
Apple has rolled out iOS 17.0.1 and iPadOS 17.0.1 updates, featuring bug fixes and crucial security patches. Notably, these updates address 44 security vulnerabilities, some of which could have been actively exploited on devices running iOS 16.7 or earlier versions.
watchOS Updates
For Apple Watch users, watchOS 10.0.1 has been released, primarily focusing on bug eradication and security reinforcement. This update tackles 33 security vulnerabilities and is considered essential for users concerned about their digital well-being.
tvOS Update
Apple TV devices are not exempt from these vital updates. tvOS 17 also receives security enhancements, addressing 30 vulnerabilities. Users with Apple TVs should apply this update promptly to mitigate potential security risks.
macOS Updates
Apple extends its security measures to macOS with the release of macOS Ventura 13.6 and macOS 12.7. Both updates target the same three critical vulnerabilities found in other Apple products, namely Kernel, Security, and WebKit vulnerabilities. These updates ensure that Mac users remain protected against emerging threats.
Safari Update
Safari 16.6.1 has been issued for users running macOS Big Sur and macOS Monterey. This update focuses on addressing WebKit vulnerabilities that were common across several recent releases.
These comprehensive updates serve as a stark reminder to all Apple device owners—promptly applying software updates is not merely a convenience but a necessity for protecting your devices and data. Ignoring updates can expose your devices to potential security breaches.
The latest security patches can be accessed through your device's settings, ensuring that you stay ahead of any emerging threats. Apple continues to emphasize the importance of staying up-to-date with the latest software to keep your digital life safe and secure.
Apple Introduces Sensitive Content Warning Feature in iOS 17 and macOS 14 Sonoma
In a recent update, Apple has introduced a new feature called "Sensitive Content Warning" for iOS 17, macOS 14 Sonoma, and likely iPadOS 17, addressing the issue of unsolicited explicit images, commonly known as "cyberflashing." This feature builds upon the existing communication safety feature aimed at protecting children within Family Sharing groups.
While the communication safety feature received less attention due to Apple's previous and subsequently abandoned plans to detect Child Sexual Abuse Material in iCloud Photos, the Sensitive Content Warning is designed to combat the prevalent issue of unsolicited explicit images among adults.
According to Indiana University research, a staggering 91% of adults who reported receiving nude images stated that they were sent without their consent. Another study published in the Journal of Sex Research revealed that 50% of heterosexual men admitted to sending such images unsolicited.
Apple's Sensitive Content Warning feature offers a straightforward solution. When a user receives explicit content, they are presented with two options: "Show" to view the image or the "Warning" icon at the top right corner of the blurred-out image. Tapping the warning icon provides the option to seek help or block the contact. However, it's important to note that once the image is shown, it cannot be hidden again.
This feature is not enabled by default and must be manually activated. On iPhone and presumably iPad, users can enable it by navigating to Settings > Privacy & Security > Sensitive Content Warning. For macOS 14 Sonoma, the process is similar, with users going to System Settings > Privacy & Security > Sensitive Content Warning.
Once enabled, the Sensitive Content Warning applies to AirDrop, Contacts, Messages, and Video Messages. Users have the flexibility to toggle the warnings on or off for each of these individually. Additionally, the feature includes a link to "View Safety Resources," providing access to emotional and mental health resources and guidance for navigating the internet, particularly for younger users.
This new Apple feature aims to create a safer digital environment by addressing the issue of unsolicited explicit content, promoting consent, and offering resources for user well-being.