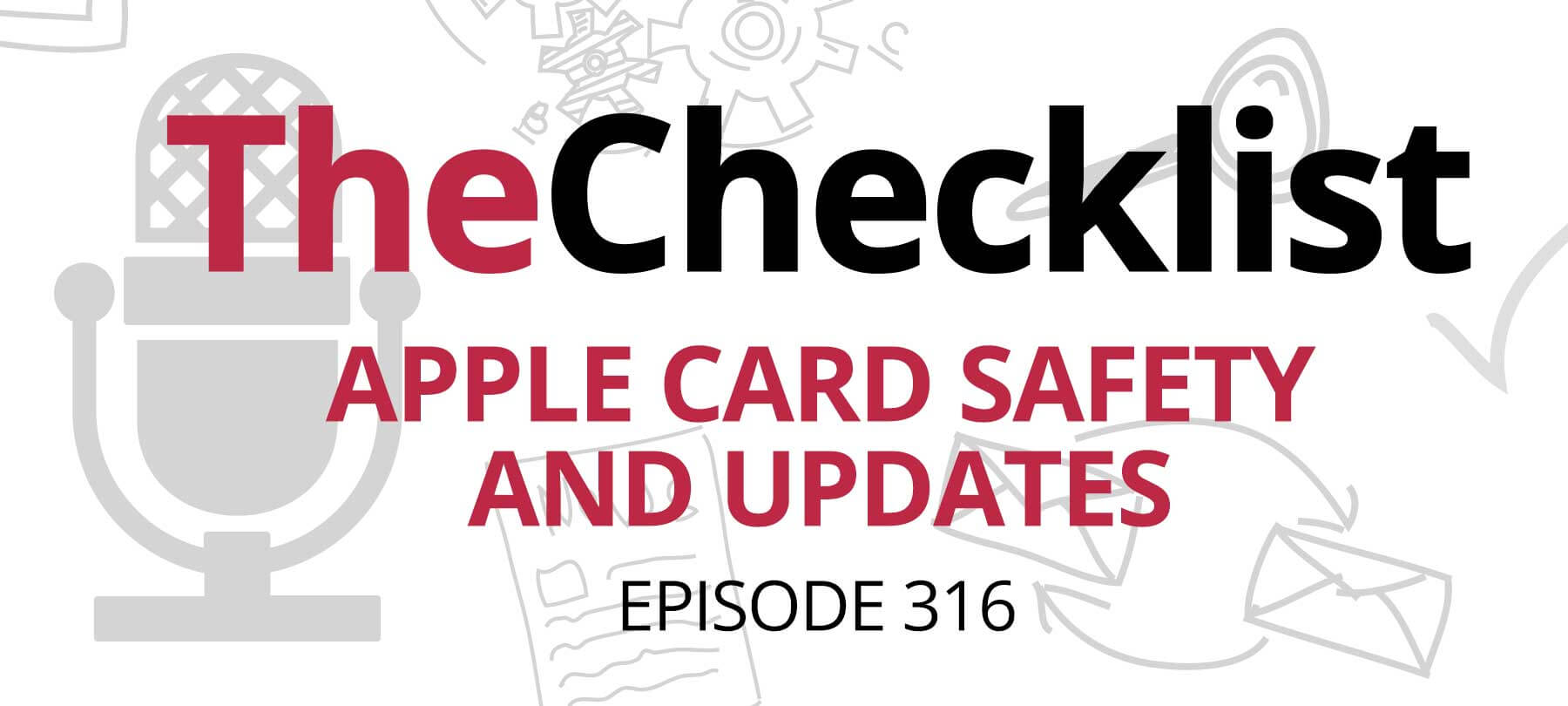 Checklist 316: Apple Card Safety and Updates
This week on The Checklist:
Apple Card and your security
An important update that did not go smoothly
Apple Card safety tips
Apple has released security guidance for Apple Card customers, and it contains a wealth of good advice. For an in-depth summary of these Apple Card safety tips, there's a great article over at The Mac Observer that covers them. But if you're short on time, we have a "highlights only" version here. Follow these four tips for better personal security when you use Apple Card:
Turn on Advanced Fraud Protection. This makes the 3-digit security code for your Apple Card rotate periodically (without impacting recurring charges). Enable Advanced Fraud Protection by going to Apple Card in Wallet, tapping the card number, and turning on Advanced Fraud Protection.
Enable transaction notifications to get a real-time alert every time your card is used. Go to Apple Card in Wallet, then tap More (the "three dots" button) > Notifications > Transactions.
Lock your titanium card if it's lost or misplaced. For the uninitiated, the titanium Apple Card is a physical version of Apple Card. It's useful for locations that don't accept Apple Pay, but like physical cards, it can be lost, misplaced, or stolen. The good news is that you can shut off the card temporarily in an emergency—without disabling your account! To do this, go to Apple Card in Wallet, then tap More > Card Details > Lock Card (found under the Titanium Card section)
Remove lost or stolen devices from your Apple account and change your Apple ID password if you think it's been compromised. To do this, head to the web and go to appleid.apple.com. Sign in and look for the Sign-in and Security menu on the left side of the screen to change your password. Further down, you'll see an option for Devices. Tap or click that to see all devices associated with your account. Tap on the lost or stolen device to see the option to remove it from your account. 
Apple updates crash Google Photos
Apple released another round of updates this week—and the ones for Mac, iPhone, and iPad contained an important security fix. According to Apple, the updates for iOS 16.3.1, iPadOS 16.3.1, macOS Ventura 13.2.1 addressed an issue with WebKit that could have allowed malicious web content to cause arbitrary code execution. To underscore the seriousness of the bug, Apple says that it is aware of reports that "this issue may have been actively exploited."
It's a very important update—but unfortunately, the iOS and iPadOS 16.3.1 updates seem to be impacting a pretty significant app for some users. MacRumors says that many Google Photos users are having problems with their app after installing the iOS 16.3.1 and iPadOS 16.3.1 updates. The Google app appears to be crashing when users try to launch it.
Fortunately, Google has released an emergency update for their iOS/iPadOS Photos app that should fix the problem. For users who are still experiencing issues with Google Photos, updating the app should resolve the situation.