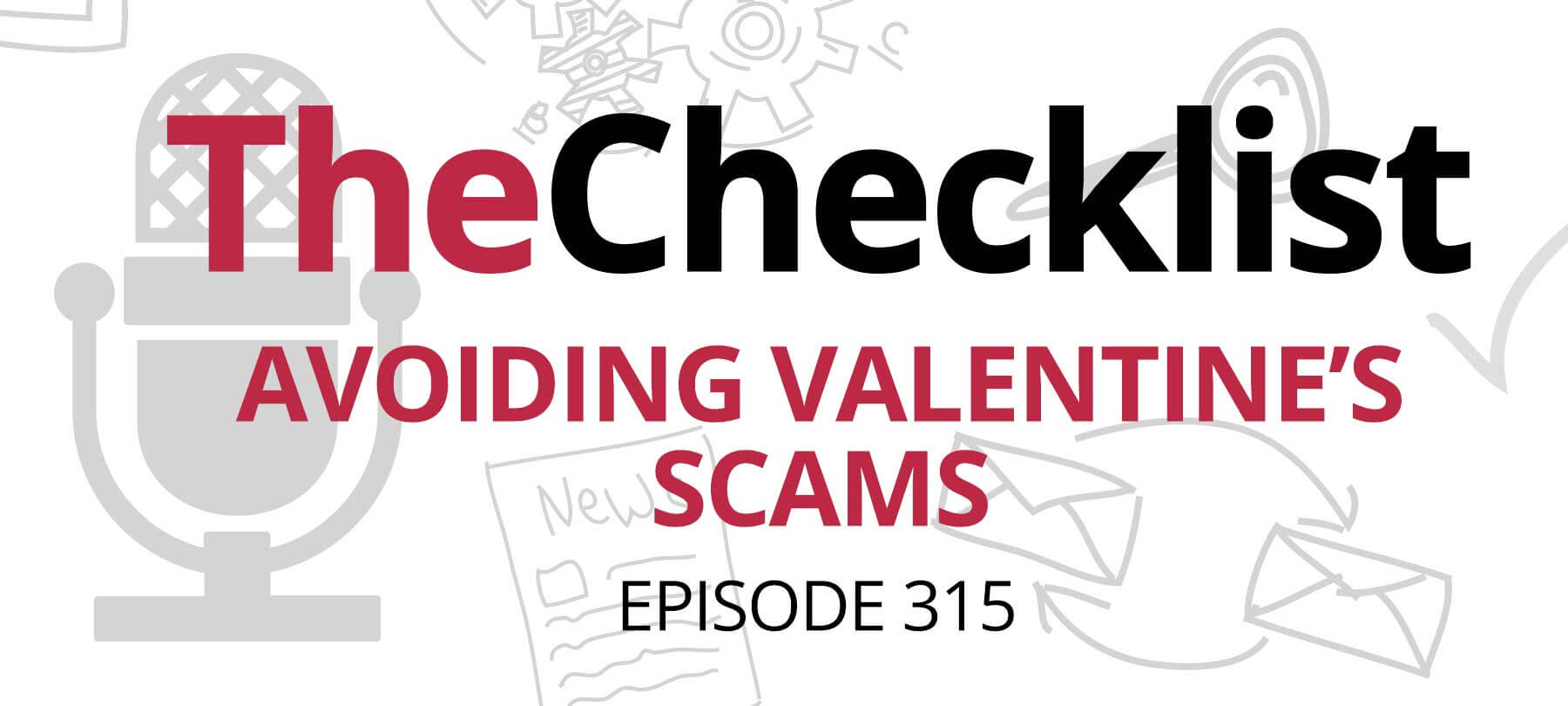 Checklist 315: Avoiding Valentine's Scams
On this week's Checklist:
Valentine's Day scams to avoid
Survey says…unsafe?
Data privacy at the SOTU
Avoiding scams this Valentine's Day
As with any holiday, Valentine's Day brings the seasonal scammers out of the woodwork. This year, look out for these three common scams:
Fake flower sellers: These scammers aren't legit florists—they just set up sites to sell flowers during the holiday. The scam here is that they either fail to deliver your flowers altogether, or that they send something that's nothing like what you ordered. Avoid them by only buying from trusted sellers—or by doing some serious research before purchasing from a new vendor.
Romance scams: This type of scam takes many, many forms. The common denominator is that the scammer pretends to be in love with you in order to gain your trust, and then asks for money, sensitive data, or intimate photos or video to use for extortion. To learn about different types of romance scams, read How to Avoid Valentine's Day Romance Scams.
Phishing scams: As with other holidays, scammers also send out Valentine's Day-themed phishing emails. The best bet here is to learn how to defend against phishing emails in general. For a primer, check out Checklist 37: Gone Phishing.
Are online surveys safe?
Who's your perfect match? What kind of lover are you? Take this survey for a chance to win a free romantic getaway!
Sound familiar? If you spend any amount of time online, it should. These kinds of surveys are everywhere. Some are supposed to be whimsical and fun. Others pose as serious market research for businesses. But as Phil Muncaster of WeLiveSecurity warns, online surveys can be a real security risk—because they're lures, aimed at stealing passwords, gaining access to sensitive financial data, or delivering malware. 
Muncaster cites one study that found a cybercriminal gang clearing $80 million each month using malicious surveys and giveaways.
With that kind of financial incentive, the bad guys aren't likely to stop any time soon. So here's what you can do to stay safe:
Be wary of unsolicited emails or texts.
Take any survey featuring a well-known brand with a grain of salt—especially if it's tied to a current holiday season or big event.
If you've taken a survey and are asked to pay for "shipping," "tax," or "processing fees" in order to claim your prize, run the other way. That's a huge red flag, and a very good sign you're dealing with a scammer.
If a prize or "free gift" is on offer, be careful. These are often used in survey scams. Remember, if it sounds too good to be true…it probably is!
Data privacy gets a presidential shout-out
At times, raising awareness about data privacy seems like an uphill battle. So when the subject gets a high-profile mention, it's noteworthy!
During this week's State of the Union Address, President Joe Biden said:
We must finally hold social media companies accountable for experimenting they're doing [on] children for profit…It's time to pass bipartisan legislation to stop Big Tech from collecting personal data on our kids and teenagers online. Ban targeted advertising to children and impose stricter limits on the personal data that companies collect on all of us.
In a rare moment of bipartisan unity, the President's words about protecting children received a standing ovation from both sides of the aisle. Whether or not that shared sentiment will translate into bipartisan legislation is another, more complicated matter.
But the fact that data privacy is being mentioned during a major political event is significant. As one writer for Wired put it, it suggests "a shift in mainstream understanding about the urgency of improving data privacy protection in the US."
It's not the GDPR…but it's a start.