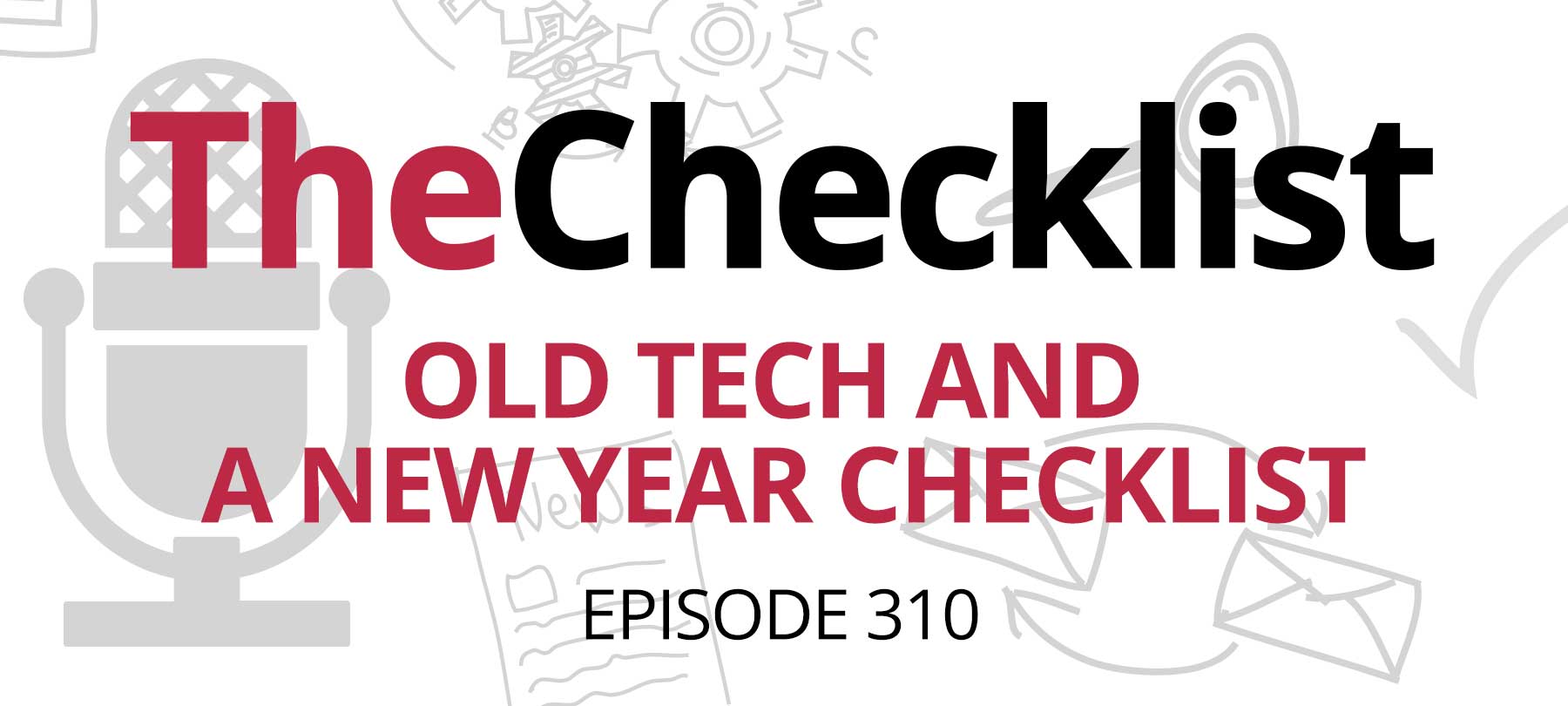 Checklist 310: Old Tech and a New Year Checklist
On this week's Checklist:
IoT devices and end-of-life
What to do if a device is no longer supported
Three security tips for the New Year
Is your home security camera supported?
Wireless home security camera maker Arlo has announced that two popular cameras will reach end-of-life (EOL) in the coming months.
According to a piece in ZDNet, the Arlo VMC3030 Gen 3 and Arlo VMC4030 Pro cameras will stop being supported in April, "meaning they'll lose access to functions including free cloud storage, firmware updates and security patches."
In addition, most of the cloud and emergency functionality for both cameras will terminate in April, making them close to unusable as actual security devices.
A closer inspection of Arlo's EOL policy shows that the company only guarantees four years of support after they stop manufacturing a device. Unfortunately for Arlo users, this means that a large number of devices will also lose support in 2024, including Arlo Baby, Arlo Pro2, Arlo Q, Arlo Q+, Arlo Lights and Arlo Audio Doorbell.
The lesson here is to save yourself some pain down the road by asking a couple of questions before you buy an IoT product:
How long does the vendor support the software that ensures IoT functionality?
Will the device still work if the manufacturer discontinues support, or goes out of business?
If you can't find the answers to these questions, or if you don't like the answers you find, consider buying a different product!
What to do at EOL
If you are stuck with an IoT device that has reached end-of-life…what now?
The Software Engineering Institute at Carnegie Mellon University has an article explaining your options—although they may not be what you were hoping to hear. The crucial takeaway:
If Internet connectivity is not essential for the device functionality, take the device off of the network. In most cases, this may simply involve disassociating the device from your Wi-Fi network, or unplugging a network cable. If Internet connectivity is essential for the device to function properly (e.g. it's a smartphone or a router), then it's time to replace the device.
Three security tips to start 2023
The folks at McAfee have put together a list of three things you can do to make your 2023 a little bit safer. They suggest that you "update, connect, and balance." Here's what each of those items means:
Update your passwords if you're still using weak passwords or are using the same password on multiple sites. And if you're not yet using a password manager, then update your technology as well and go get one! Password managers let you create strong, unique passwords for every account, then autofill passwords for you or allow you to copy/paste them into apps and websites after authentication. (As for the authentication part, that's either done with a master password or, even easier, with Face ID or Touch ID).
Connect with people in your life and talk about best practices for security. Make sure the folks you care about know not to overshare on social media, keep up to date on the latest phishing scams, and know how to avoid shady websites.
Balance your desire for greater cybersecurity with your ability to do everything needed to achieve it. Remember, doing something today to improve your security is far better than making a huge list of resolutions that you never get around to doing. So if this feels like a lot, just take on what you can—and don't try to do everything at once.