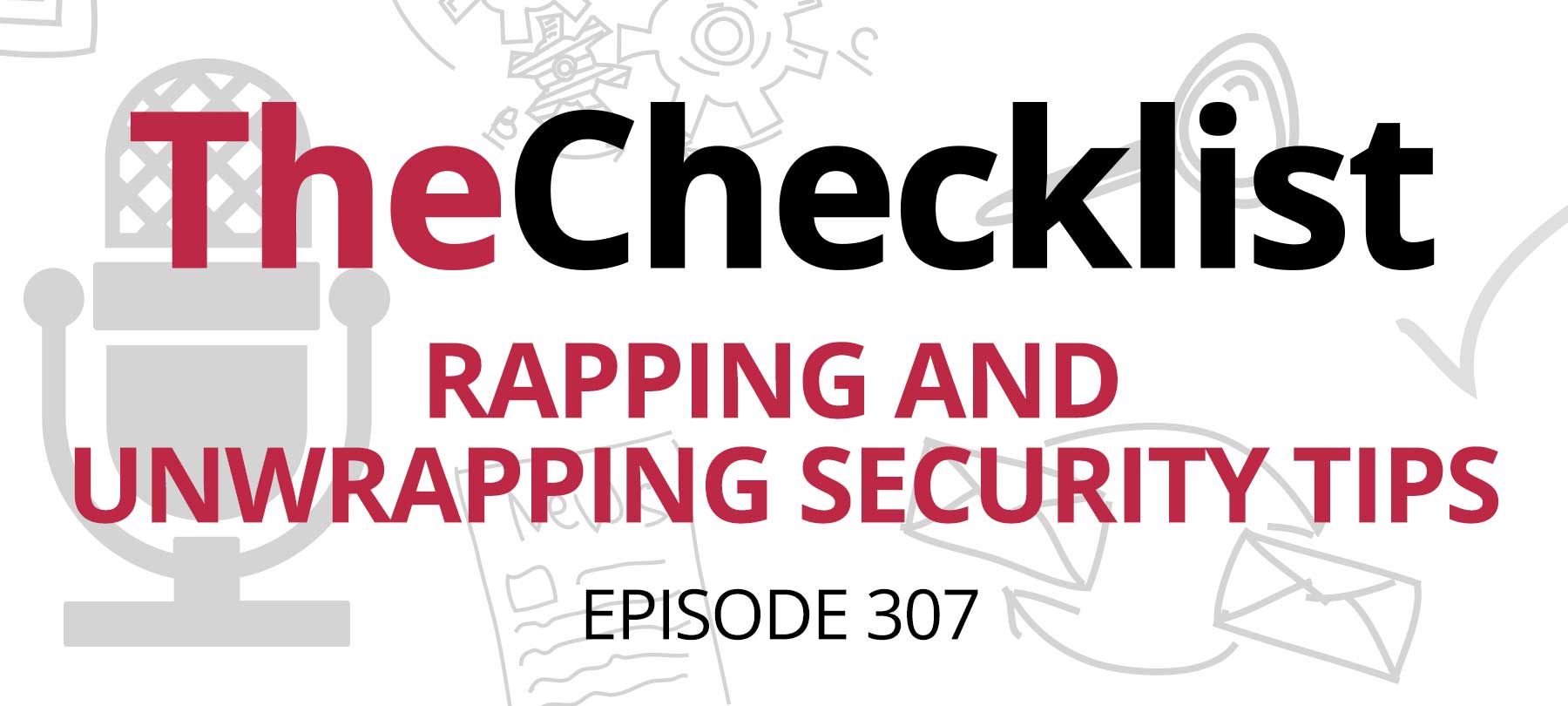 Checklist 307: Rapping and Unwrapping Security Tips
What your car knows about you
Ask any repair shop and they'll tell you: Modern cars are more like computers on wheels than the automobiles our grandparents drove.
Some automotive digitization is safety related; other times it's driven (no pun intended) by convenience. But no matter the cause, our cars produce—and collect—a wealth of digital data about us each and every time we drive:
Infotainment and navigation systems generate data about the media you consume and what routes you drive
Connecting your mobile device to your car may copy over contacts and other data to your vehicle's computer
Sensor data about your driving—called "telematics" in the industry—is collected for use by insurance companies and accident investigators
Unfortunately, this data is frequently monetized by car companies and by specialized data brokers known as "vehicle data hubs."
Protecting your privacy in a car isn't simple…unless you just decide to walk everywhere from now on. But there are some things you can do to improve the situation:
Read privacy policies, especially the ones covering your infotainment and navigation systems. If you're able, you may be able to opt out of certain types of data collection if it makes you uncomfortable.
Use navigation features if you really need to—but not when you don't. This minimizes the amount of data collected about your location and activities.
For truly sensitive trips (private medical appointments and the like), consider public transportation, parking at a nearby location instead of your real destination, or hitching a ride with a friend.
When kids get Macs as gifts
It's gift-giving season, and some lucky kids may be getting a brand new Mac this year.
If that describes a young person in your life, AppleInsider has some helpful tips on how to set up parental controls in macOS Ventura. Here are the highlights:
Screen Time (found in System Settings) lets you see how much time kids are spending online, and what they're up to. At the bottom of the Screen Time controls is an option called Use Screen Time Passcode, which can be used to set limits on a youngster's…well, screen time.
App Usage gives you insight into how much time kids are spending on a given app (spoiler: gaming apps tend to show up prominently here). If you spot an issue, App Limits can be used to control how much a child can use a specific app.
Downtime is a way to disable certain features of a computer on a schedule (things like phone calls, access to apps, etc.) that could interfere with a child's bedtime or study time. You can do this on a day-by-day basis if you'd like to differentiate between, say, school nights and weekends.
Communication Limits lets you control who a child can talk to. It's integrated with iCloud Contacts, so that has to be enabled for this to work. For really young kids, you can set it up so that they can only call known and emergency numbers.
Content & Privacy lets you have a say in what kids watch and listen to: blocking songs with naughty words, R-rated movies, or adult websites.
A bevy of updates from Apple
A big round of updates from Apple arrived on Tuesday, including some new features and a raft of security and privacy fixes. Here's a rundown of the patches by OS:
iOS and iPadOS 16.2 each brought more than 30 security updates, according to Apple's support page. Cupertino also rolled out some updates for folks using older mobile OS versions; these were released as iOS iOS 15.7.2 and iPadOS 15.7.2.
macOS Ventura 13.1 has arrived, bringing with it 33 security fixes. The update also introduces an important new security feature—expanded end-to-end encryption for iCloud data (discussed in more detail on Checklist 306). For users running older versions of macOS, macOS Big Sur 11.7.2 and macOS Monterey 12.6.2 were released as well.
tvOS 16.2 and watchOS 9.2 were also released this week. These OSes brought 26 and 23 security fixes, respectively.
That's a lot of security patches, so if you don't use automatic updates and you haven't already updated your devices, we'd recommend doing so as soon as possible.