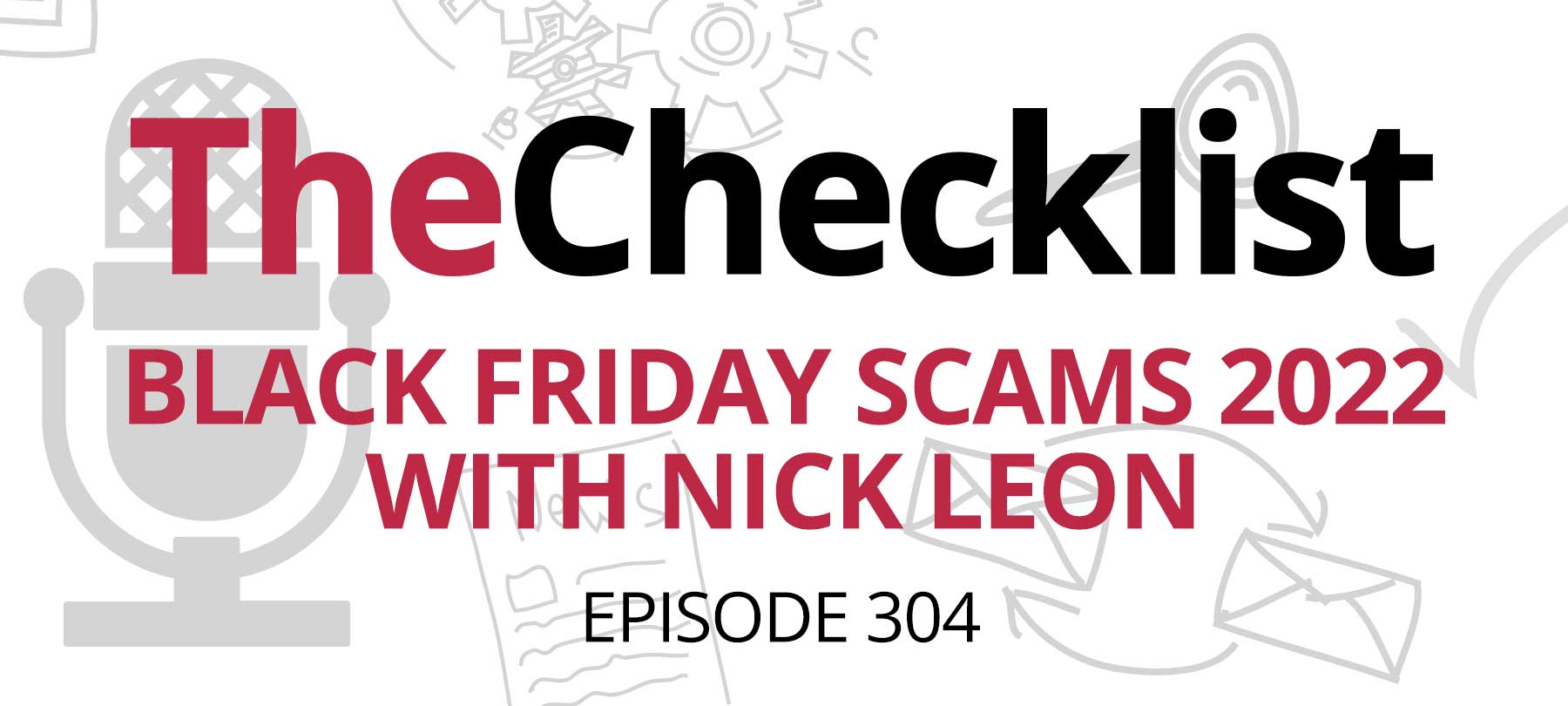 Checklist 304: Black Friday Scams 2022 with Nick Leon
Black Friday is almost here, and the scammers are out in force. Here are some Black Friday scams to be aware of in 2022.
Brand impersonation phishing
What it is: Black Friday scammers pretend to be famous brands and send out emails containing "special offers" and fake coupons. Those emails are attempts to get information, trick you into downloading malware, or get you to go to a phishing website.
What to do: Stay away from Black Friday-themed emails altogether. If you see an offer you want to check out, head for the brand's website or app instead — more often than not, you'll be able to find the deals you need there.
Fake stores
What it is: This is the modern incarnation of the classic fly-by-night grifter. You pay, but don't get what you paid for. These old-school scammers tend to pop up on social media, but some set up full-on websites as well.
What to do: Stick to vendors you know and trust if possible. If you're trying out a new online store, research the company online for reviews and/or complaints. And pay using a credit card or Apple Pay so you can get your money back if something goes wrong!
Phone phishing scams
What it is: Scammers call you on the phone — or try to get you to call them with an email message about something you didn't order. They then try to get you to divulge sensitive information.

What to do: If someone calls you about a Black Friday order, thank them and say you'll investigate on your own. Then look up the customer service line and call it — or simply log in to your account area and investigate if the caller referenced a big platform like Amazon.
2FA bypass scams
What it is: A scammer calls pretending to be from a big company that you do business with, and says there's a problem with your account. They'll help you fix it … but first you need to read them a verification code that they send you. The kicker? They already have your password and are trying to gain access to your account. The code that comes to your phone is really your own account's 2FA verification code.
What to do: Again, don't engage with people who call you about "an account issue" or an "order problem" or anything similar — and whatever you do, don't ever read out a verification code that comes to your device to an unknown caller.
Messenger app phishing
What it is: Scammers are sending out phishing links via messenger apps such as WhatsApp. The scams are pretty standard: holiday deals, contests, and giveaways. But the fact that they're coming as IMs may catch some folks off guard.
What to do: Remember that a link is a link, no matter how you receive it. If you wouldn't click on something in an email, then don't click on it in iMessage either! Delete suspicious texts immediately, or report them to carriers by forwarding to 7726 (SPAM) or to the authorities via the FTC website.
Order, stock, and delivery scams
What it is: Scammers play on people's fears of late/missing holiday gifts by claiming that there's an issue with a shipment, that an item is out of stock, or that they have new stock of a hard-to-find item.
What to do: Slow down and think. Scammers want you to react emotionally. Stay calm and do what we've suggested throughout this podcast: Investigate the issue on your own.
If someone claims to be from a big retailer like Amazon or Target, check in your account area or use a reference number to look up the order on the company website. If they're saying there's a shipping issue, follow up by using a tracking number on the courier's website. And if all else fails, just find a customer service number online and call that!
If there's really a problem, you'll be able to resolve it with someone you know is a genuine representative of the company. And if it turns out there isn't any problem … then you've just dodged a scam!