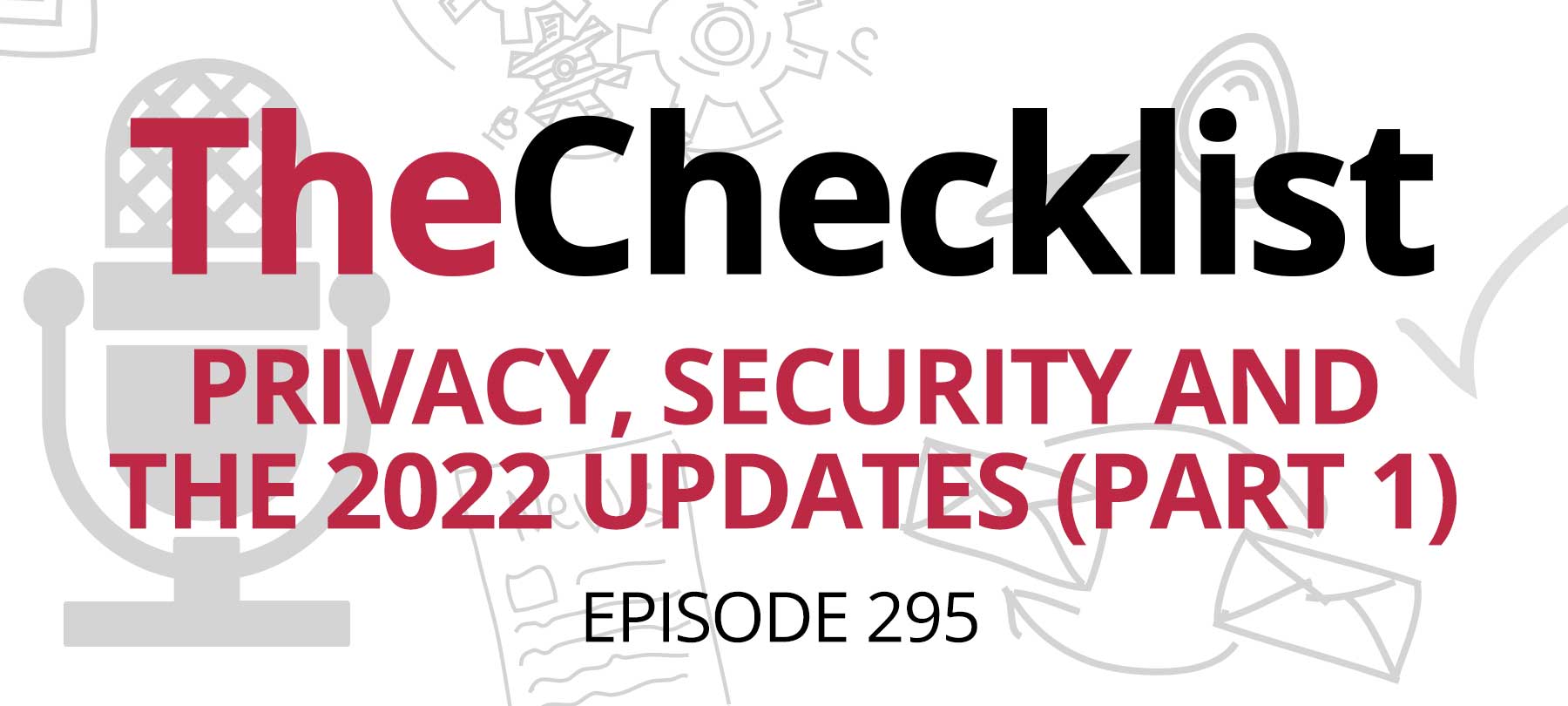 Checklist 295: Privacy, Security and the 2022 Updates (Part 1)
On this Checklist:
Introducing iOS 16!
A round of fixes for various OSes
iOS 16, security and privacy, and you
The big Apple news this week is the release of iOS 16. The new OS for the iPhone brings some important changes for security and privacy. Here are the most significant ones:
Lockdown Mode: A new iOS 16 security feature designed for high-risk individuals. This one is exclusively for folks who think they may be targeted by state-sponsored mercenary spyware like Pegasus (think journalists, activists, and political opposition figures in repressive countries). Lockdown Mode offers a way to run an iPhone in a stripped down, ultra-secure mode — reducing the attack surface available to the bad guys.
Locked Hidden and Recently Deleted albums: These two potentially sensitive albums in Photos will now be locked by default — meaning that you'll need your iPhone's passcode, Face ID, or Touch ID to unlock them.
Safety Check: TechCrunch calls this feature a "panic button" for your iPhone, which is a pretty apt description. It lets you "immediately cut all shared access to your accounts and data in the event of a dangerous situation, such as abusive spousal relationships."
Brand Indicators for Message Identification (BIMI): BIMI lets companies display an official, verified logo next to their name when their emails appear in people's inboxes. This cuts down on phishing via brand impersonation — a big enhancement for security! But mail services have to support BIMI in order for it to work. As of iOS 16, Apple's Mail app will support BIMI just like Gmail and Yahoo! Mail already do.
Strong password editing in Safari: This feature lets you edit the strong passwords automatically generated by Safari when you sign up for a new website. It's useful, since some websites, for reasons known only to their owners, demand that your strong password begin with a certain number, or not contain any special characters, or some other somewhat arbitrary requirement. With strong password editing, you'll be able to create a strong password and then tweak it to meet site-specific requirements.
Passkeys: This one is not just a feature — it's a whole new security technology. Passkeys are a new way to authenticate in iOS 16. Developed according to FIDO Alliance standards, passkeys let you sign into websites without using a password.
Rapid Security Response: This is a way to give Apple advance permission to automatically install urgent security patches on your device. That means that if there's a security update required between a standard OS update, Apple can push it out to your phone without you having to manually update the device. To turn on Rapid Security Response, go to Settings > General > Software Update > Automatic Updates. Look for the toggle next to the words Security Responses and System Files to make sure Rapid Security Response is enabled.
Patches for your other (or older) OSes
iOS 16 introduced some security fixes, as new OS versions usually do. But Apple also released a round of security updates for other and older OSes this week. Here's what you need to know:
iOS 15.7 and iPadOS 15.7 both address "multiple kernel vulnerabilities," according to a piece from MacRumors. The updates also address vulnerabilities in various apps, including Maps and Safari, and fix some issues with Safari Extensions and WebKit as well.
Apple says that they've been made aware of reports that one of the kernel vulns "was actively exploited" — which makes this one a very high-priority update. If you're not on iOS 16 yet, that's OK, but be sure to update to iOS 15.7 immediately.
macOS Monterey 12.6 also got an update this week. According to MacRumors, the release addresses "a number of kernel vulnerabilities as well as issues with maps, iMovie, ATS, MediaLibrary, and PackageKit." As with the iOS and iPadOS updates, Apple says that one of the kernel vulnerabilities is (reportedly) being exploited in the wild, so update your Mac ASAP!
If you have questions about iPhone or Mac security and privacy, write to us and let us know! We always love hearing from Checklist listeners, and we may even answer your question on a future edition of the podcast.