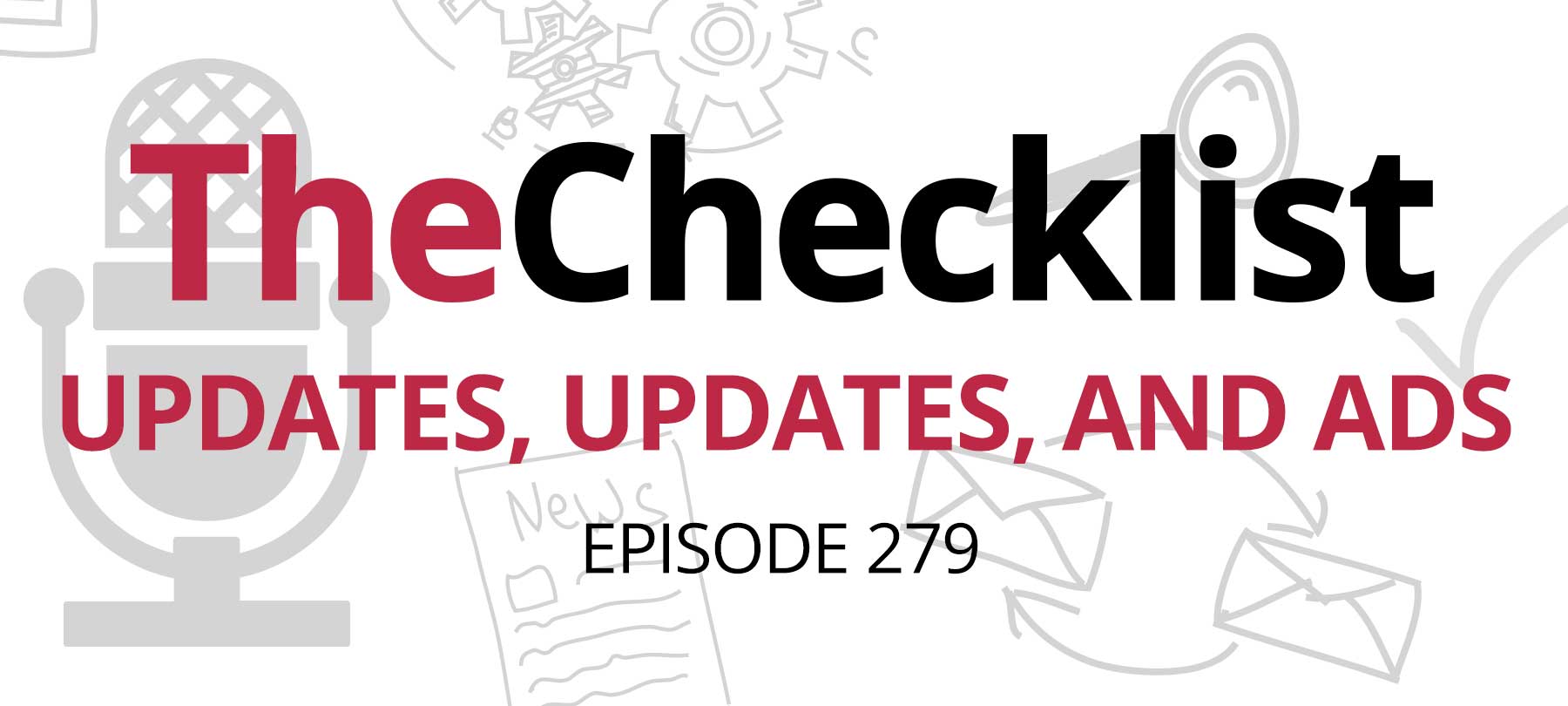 Checklist 279: Updates, Updates, and Ads
On this week's Checklist:
Checking AirTag batteries and firmware
Another round of Apple updates
Advertising digital privacy
Is your AirTag out of juice?
Most of our discussion about AirTag has centered around privacy (on that score, see Checklist 227, Checklist 267, and Checklist 268). But this week we're focusing on performance: in particular, on how to check your AirTag's battery life and firmware version.
AirTag batteries are supposed to last for about a year. When they get really low, you'll get a notification on your iPhone. But if you want to check preemptively, here's how:
First, open the Find My app on your iPhone. Then go to Items (not Devices!) at the bottom of the screen. Tap the AirTag you want to investigate and you'll see its battery indicator.
If you want to be certain that you have the most current firmware for your AirTag (which you might, as Apple just released AirTag Firmware Update 1.0.301 with an important privacy enhancement), you can do that here as well. Just tap the name of your AirTag when you're in Items and its serial number and firmware version should appear. As long as your iPhone is up to date, you don't have to do much to update your AirTag. Just keep the two devices within Bluetooth range of each other for a little while and the AirTag's firmware will be updated automatically.
Apple updates (almost) everything
It's time for another round of Apple updates! Here's a summary:
Let's begin with iOS 15.5. The latest version of iOS rolls out the Communication Safety in Messages option in four new regions: Australia, Canada, New Zealand, and the UK. Here's how the feature works (courtesy of 9to5 Mac):
…the Messages app can detect if a child receives or is trying to send a photo with nudity. If the child receives an inappropriate photo, the app automatically blurs the image. Although the child can choose to view the photo, doing so will show guidance and age-appropriate resources to help them make a safe choice.
In addition, the iOS and iPadOS updates addressed 27 other security issues.
On the Mac side, Monterey was updated to macOS 12.4. That update introduces more than 50 security fixes. Apple also released security updates for older OSes: macOS Big Sur 11.6.6 and Security Update 2022-004 Catalina.
Rounding out the Apple portion of Apple's updates, watchOS 8.6 brought 18 security fixes, while tvOS 15.5 squashed 20 security issues.
But wait, there's more: Apple was apparently on a bit of an updating kick this week, issuing a security update for Windows too! iTunes 12.12.4 for Windows was released on Wednesday, fixing five security issues which could have affected users on that platform.
Targeted ads we can get behind
A couple of ads making the rounds on social media this week are helping to raise awareness about privacy issues.
Privacy-focused search engine DuckDuckGo released a 30-second spot that hits out at Google for its excessive data collection practices. The ad makes its point eloquently, and also contains a hopeful message: "The Internet doesn't have to be so creepy". We'd certainly like to think so!
Apple, for its part, ran a longer ad about how user data is bought and sold by tech companies, data brokers, and advertisers. We won't spoil it for you, but it's definitely worth watching — especially if you've followed Apple's long (and controversial) rollout of App Tracking Transparency.
Want to learn more about digital security and privacy? Explore the Checklist archives!
To ask a question for us to answer on the podcast, or to suggest a topic or guest, send us an email.