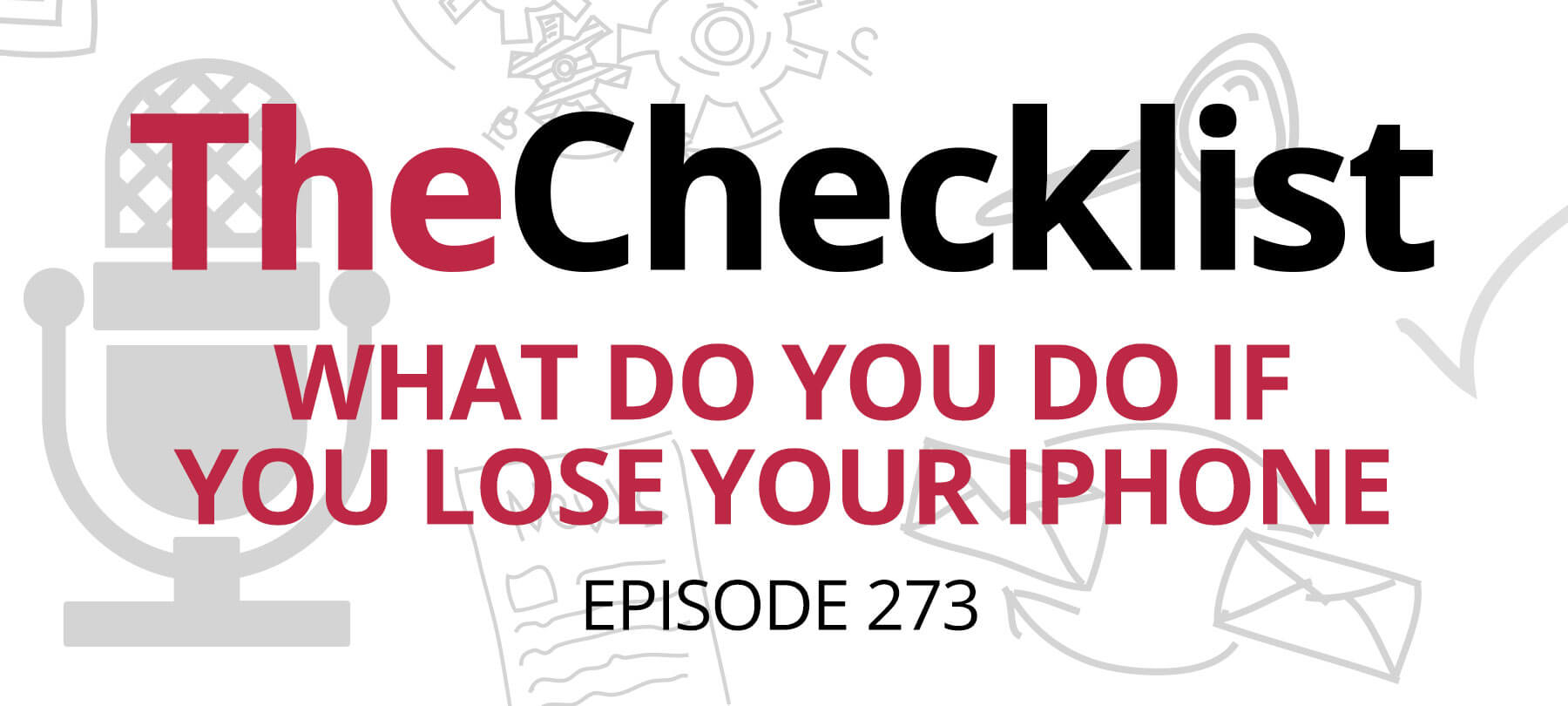 Checklist 273: What Do You Do If You Lose Your iPhone
On this week's Checklist:
Apple takes steps to curb iPhone theft
Apple is cracking down on iPhone theft. The company, along with its network of Apple Authorized Service Providers, will stop repairing iPhones that have been marked missing in the GSMA Device Registry.
A MacRumors article about Apple's decision explains what this is: 
The GSMA Device Registry is a global database designed for customers to report their devices as missing in the event of loss or theft.
The goal here isn't to catch thieves, or even to identify buyers who have knowingly (or unknowingly) purchased a hot iPhone. The idea is to make it difficult to repair an iPhone that has been marked missing — and thus to deter theft by shrinking the market for stolen iPhones.
If you didn't turn on Find My
Apple's move is laudable, and will hopefully cut down on iPhone thefts over time. But it's not going to help you directly if your iPhone has been stolen!
So what do you do if your device goes missing? Well, it depends.
If you don't have Find My enabled, your options are basically limited to damage control. You're unlikely to get your device back — but you can still protect any sensitive data that can be accessed through it!
Here's what Apple recommends:
An ounce of prevention
Of course, all of the above assumes that you don't have Find My turned on. In a moment, we'll talk about what to do if Find My is enabled. But first, a quick review of how you turn Find My on in the first place!
To enable Find My, go to Settings > [your name] > Find My. You can turn on Share My Location at this point too (as long as you don't mind your friends and family knowing where you are!). Next, tap Find My [device] and then turn on Find My [device].
There are a couple of other menu options here as well. You can enable offline finding by turning on Find My network. And if you turn on Send Last Location, your device will automatically send your location to Apple when the battery is low.
Lastly, remember that in order for Find My to show you where your lost device is on a map, Location Services has to be turned on. If you're not sure whether or not it is, you can check at Settings > Privacy > Location Services.
Finding your iPhone
If you've lost an iPhone and you did turn on Find My, good news. The chances of successfully recovering your device improve significantly.
But you still may wonder what, exactly, you need to do. We've got you covered:
Eventually, you should also remove the device from your list of trusted devices. However, if you're filing an AppleCare+ with Theft and Loss claim, Apple says not to do this until your claim is approved. 
Got a burning question about cybersecurity or digital privacy? Send us an email!