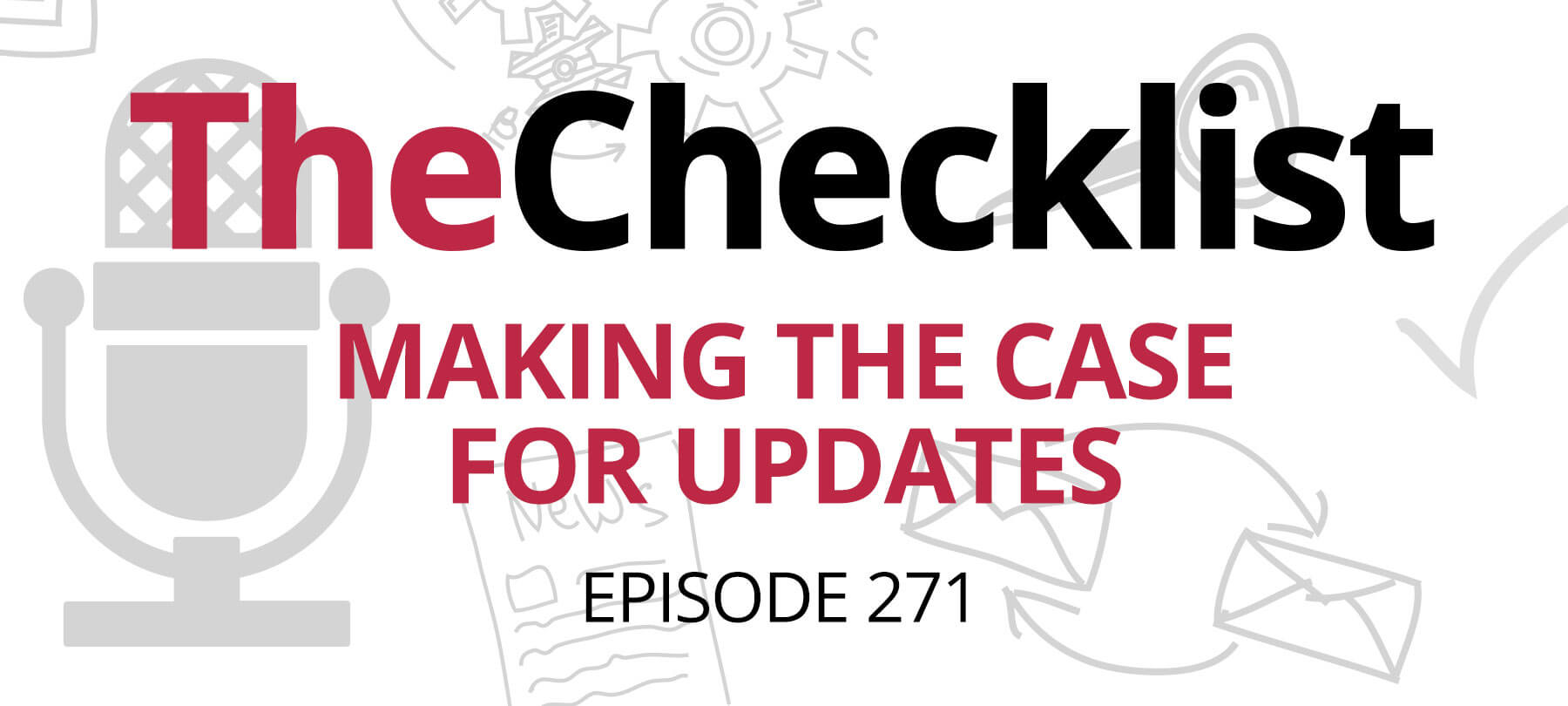 Checklist 271: Making the Case for Updates
On this Checklist:
Apple's March updates
Apple has just updated all of its major operating systems. The updates were released as iOS 15.4, iPadOS 15.4, macOS Monterey 12.3, macOS Big Sur 11.6.5, Security Update 2022-003 Catalina, watchOS 8.4, and tvOS 15.4.
All in all, there were 159 security fixes in this round of updates. For more details, check out our recent SecureMac blog post about the updates.
Almost everyone should update immediately — with one major exception! If you use a Mac that's had its logic board replaced, you should probably hold off on updating to 12.3. We'll tell you why in segment three of this week's show.
New health and safety features
Also included in this round of updates were some features that, while not related to cybersecurity per se, still impact user health and safety.
Face ID With a Mask allows iPhone users to unlock their devices with Face ID even when they're wearing a mask. Apple says the feature works even if you're wearing glasses (though not sunglasses). However, you need to have an iPhone 12 or newer to make use of the feature.
COVID vaccination data in Apple Wallet is now available in the European Union. The feature was already rolled out in the US some time ago. Now iOS 15.4 users in the EU can download verifiable vaccination records, lab results, and recovery records and keep them in Apple Wallet.
Emergency SOS also got an overhaul. According to MacRumors, you can now initiate an emergency call by pressing and holding the side and volume buttons of your iPhone. If you do this, a countdown to call emergency services will begin. You can still do it the old way — pressing the side or top button five times — but that's no longer the default. If you prefer Emergency SOS to work the way it used to, the option you need is in Settings > Emergency SOS.
iCloud Keychain users can now add notes to items stored in Keychain. Think of it as a sticky note for your passwords. If you need to remember something about the credentials you store, it can be a useful feature. To add a note, go to Settings > Passwords and authenticate. Go to the account entry that you want to annotate. Under Account Options, tap Add Notes, then type in whatever you want in the field that you see, and tap Done to save.
Mail Privacy Protection: Now for your wrist, too!
As discussed on Checklist 256: A Lack of Mail Privacy Protection, the Mail app on Apple Watch used to have a serious privacy problem. The problem? If Mail notifications were enabled on Apple Watch, a user's real IP address could still be leaked to a tracker or digital advertiser — even if that user had Mail Privacy Protection turned on on their iPhone!
Obviously, a complete bypass of the privacy promised by Mail Privacy Protection was, well, let's just say "less than ideal". And back when we did Checklist 256, the only way to address the issue was to disable Mail notifications on your Apple Watch altogether.
The good news? Apple appears to have fixed the issue. Tommy Mysk, one of the researchers who discovered the Apple Watch leak, says:
As of iOS 15.4 and watchOS 8.5, the Mail app on the watch no longer leaks the IP address when downloading remote content. Remote content is blocked on the watch even when Mail Privacy Protection is on.
Who shouldn't update to macOS 12.3
It's rare that we tell people to hold off on updates. But every so often, there's an exception, and this is one of those times.
If you own a Mac that has had its logic board replaced, don't update to macOS Monterey 12.3 just yet.
A MacRumors report explains that the 12.3 update is actually bricking some of these Macs:
…users who attempt to update their Mac to macOS 12.3 from macOS 12.2.1 or earlier are met with errors, endless restart loops, and possibly a bricked Mac. The reports are limited to just Macs that have had their logic boards replaced, specifically new 14-inch and 16-inch MacBook Pros.
If you're experiencing this issue, not to fear: Apple has a troubleshooting process for both Apple Silicon as well as Intel-based Macs. Unfortunately, however, fixing a Mac affected by this update appears to require a second Mac, so be aware that you'll need one in order to proceed.