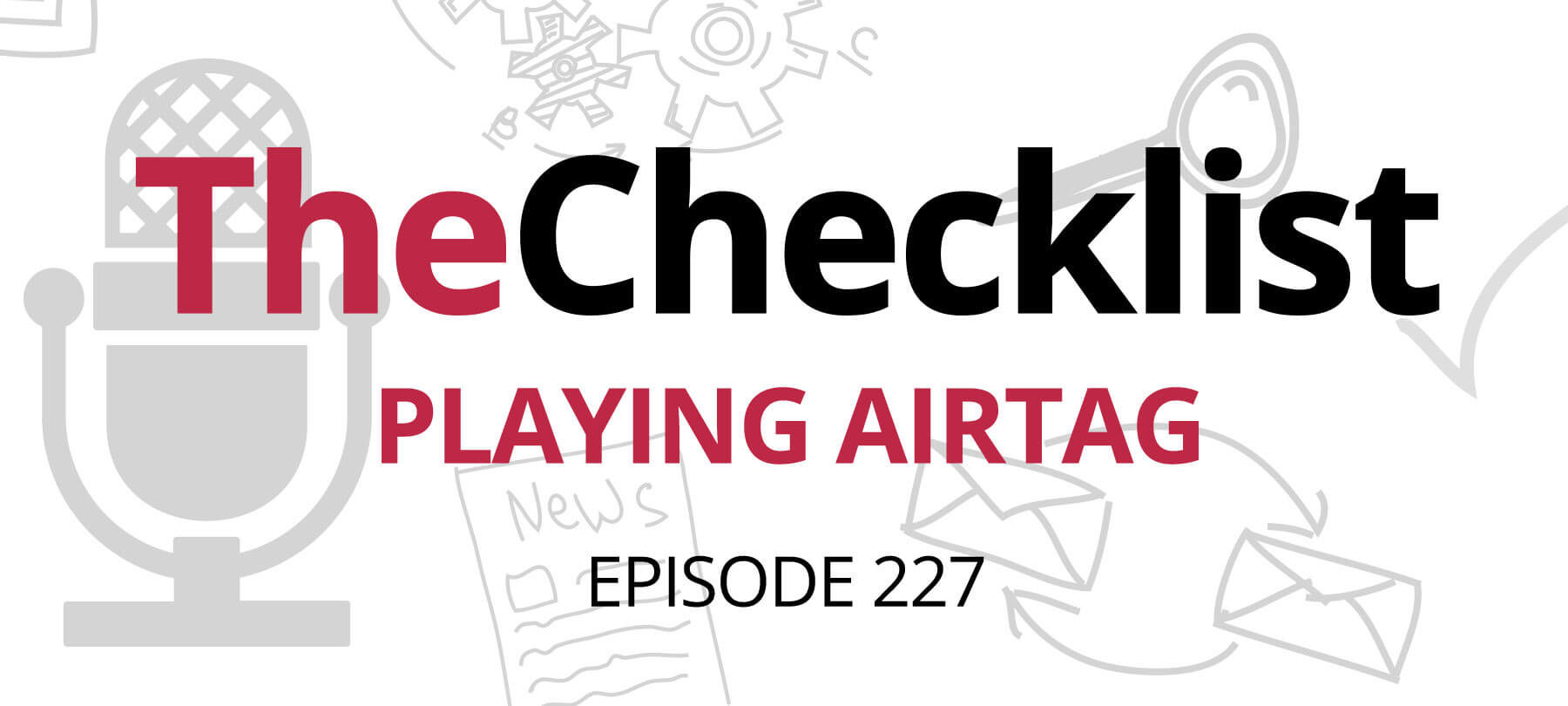 Checklist 227: Playing AirTag
Apple has just announced the long-awaited AirTag, so on this episode of The Checklist, we'll cover:
Find my … anything!
Apple unveiled AirTag at this week's Spring Loaded event (along with new iMacs, an M1 iPad, and more).
So what is AirTag? Basically, it's a tracking device for your stuff.
The actual hardware just looks like a little disk with an Apple logo. You can use it with a range of Apple-made accessories, like loops and key rings. The idea is that you can hook an AirTag to your car keys, slip one into your bag, or attach one to anything else that might go missing.
You pair an AirTag with your iPhone by bringing the two devices close together, and you give the AirTag a name based on whatever object it's supposed to track (e.g. Bob's backpack). From that point on, you can find your AirTag using the Find My app on your iPhone. If you misplace your item, and you're in close physical proximity to it, the AirTag's onboard U1 chip will send out radio signals to your iPhone. U1 is far more precise than GPS or Bluetooth, so it can guide you to the AirTag's exact location. Your phone does this by giving you different feedback mechanisms (e.g. sound, haptics): basically a high-tech game of "getting warmer, getting warmer…"!
When your AirTag isn't close by, the power of Apple's Find My network kicks in. You can see the device's last known location on Apple Maps. Or, if you lost your item in a public place and another iPhone user finds the AirTag, they can send its location back to you securely. You can also put your AirTag into Lost Mode, which allows it to broadcast its information to nearby devices — devices which then relay that data back to Apple so that you can locate your missing item on the map.
AirTag's battery is supposed to last for about a year, and, in something of a surprise for an Apple product, users can replace the battery themselves!
Tile weighs in
AirTag is causing a lot of buzz, but not everybody is happy with Apple's new offering.
Tile, a competing manufacturer of personal tracking devices, has already voiced concerns about AirTag. In a public statement, Tile CEO CJ Prober said:
We welcome competition, as long as it is fair competition. Unfortunately, given Apple's well-documented history of using its platform advantage to unfairly limit competition for its products, we're skeptical.
He went on to suggest that Congress should investigate AirTag to determine if the company is violating antitrust law.
Apple has already faced legislative challenges to its business practices, with critics arguing that the company uses its mobile OS and app distribution dominance to discourage competition.
In a public response on Tuesday, Apple pointed out that the Find My network is already open to third-party products (including tracking devices). Apple says that it wants iOS to a platform "that enables third-party developers to thrive".
Privacy-friendly … tracking devices?
From App Store Privacy Labels to App Tracking Transparency, Apple has been doubling down on privacy. In fact, at this point privacy is a much a part of the Apple brand as the iPhone … so how does a personal tracking device fit into that?
The good news is that Apple still seems as committed to user privacy as ever. AirTag encrypts location data for lost items, and only retains it on company servers for up to 24 hours. When the Find My network is involved in locating a lost device, Apple uses rotating Bluetooth frequencies and end-to-end encryption to keep everyone's information safe. That means that even Apple can't know which other device picked up your AirTag's signal, or where your AirTag is.
So far, so Apple … but what if someone decides to use their AirTag to track you?
More good news: Apple appears to have engineered the AirTag so as to discourage creepy stalkers.
For one thing, AirTag is always paired to a particular iPhone. If an AirTag is separated from that iPhone, but near your iPhone, it will send you a message that says "AirTag Found Moving With You". Even if you don't have an iPhone, an AirTag that's separated from its iPhone will start making a sound after a while, letting you know that it's there.
So what do you do if you find an AirTag "moving with you"? Well, that's up to you, and depends on the situation. If the AirTag is in some item that you borrowed from a friend, then they may have just forgotten about it. But if you think that someone is stalking you with an AirTag, then things become more serious.
It's possible to shut the AirTag down, but be aware that suddenly turning off a stalker's tracking device can have its own dangers. For a discussion of these issues, as well as some safety tips and resources, see this article on stalkerware malware.
If you've picked up an unknown AirTag and you want to disable it immediately, here's what to do. First, tap on the AirTag Found Moving With You notification, and then tap Continue. You'll see an option that says Instructions to Disable AirTag; tap on this and follow the steps provided.
In addition, Apple says that each AirTag has a serial number that is linked to an Apple ID during setup. If you find an AirTag tracking you, you could always just report it to the police. Apple would be able to give them the associated Apple ID as well as other identifying information to help them track down the person who planted the AirTag.
Hopefully, though, it won't ever come to that for most people. Apple thinks that AirTag's design has enough built-in safeguards to make it unsuitable as a covert tracking device. That, plus the traceability of the serial number, should help to deter would-be stalkers.
If you'd like to learn more about digital security and privacy, have a look at our archives. You'll find audio for every episode of The Checklist, along with complete notes for each show. If you have a question that you'd like us to answer on an upcoming podcast, send it our way!