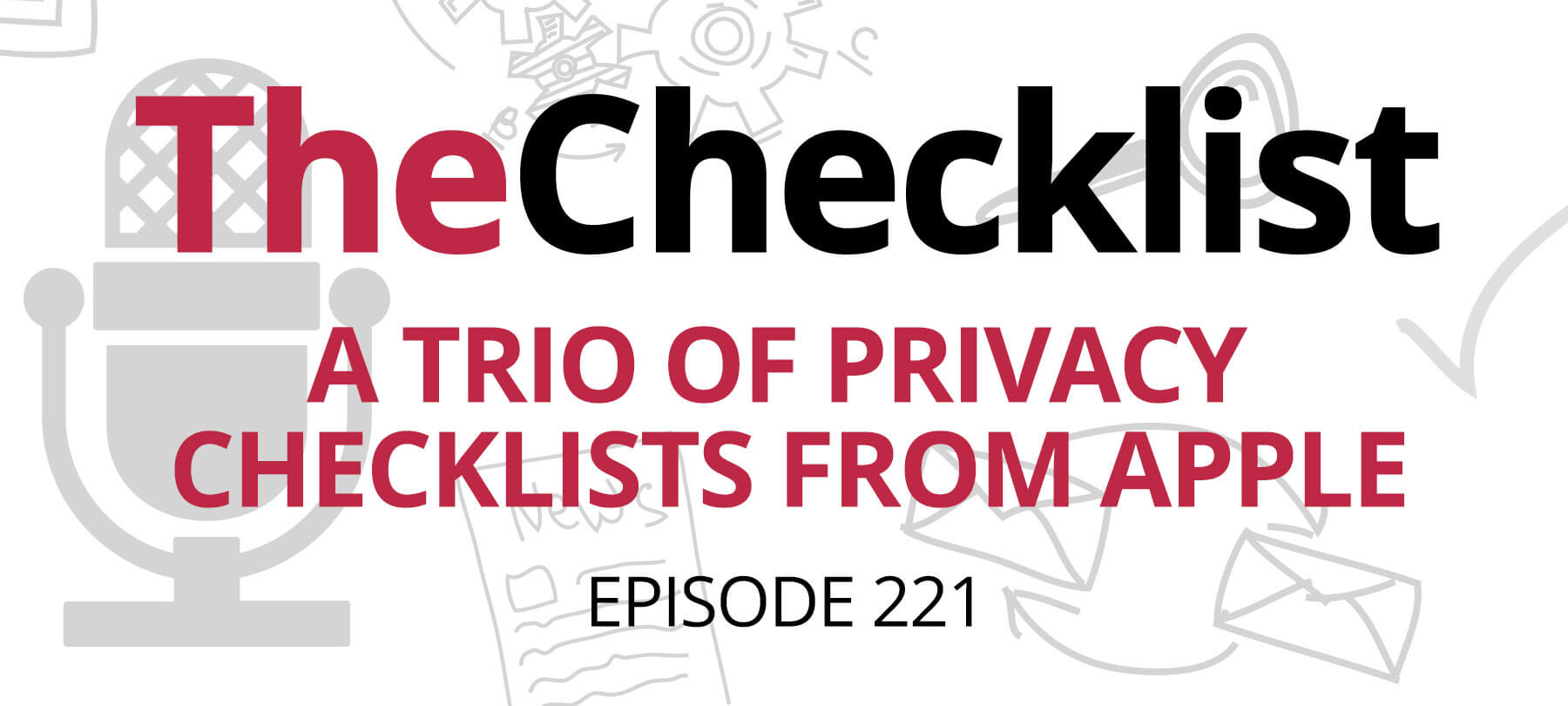 Checklist 221: A Trio of Privacy Checklists from Apple
Apple has three great checklists that we're featuring on this week's Checklist by SecureMac. The checklists will tell you what to do:
Does someone else have access?
Apple's checklists are designed to help users keep their private data private. The first one is probably the most comprehensive: It helps you figure out if someone else has access to your device or account. Let's dive right in!
Start by checking to see what devices are associated with your Apple ID. To do this on an iPhone or iPad, go to Settings > [your name]. On a Mac, go to System Preferences and find the square icon to the right of your icon and name that says Apple ID and click on it. This is how you can see all of the devices associated with your Apple ID. If you see something that you don't recognize — or perhaps if you see an older device that you've given away or sold — tap the device name and select Remove from Account.

Next, double-check your biometric login settings to make sure that an unauthorized person doesn't have access to your device. For Face ID, go Settings > Face ID & Passcode, and look for an option that says Set Up an Alternate Appearance. If you don't see this menu option, it means that your device is already set up to unlock using another appearance. If you didn't set that up, that second "look" could be someone else's face. The best thing to do in this situation is reset Face ID. For Touch ID, go to Settings > Touch ID and see how many fingerprints can be used to unlock your device. If it's more than you remember setting up, then remove them all and reset Touch ID.

Go to appleid.apple.com and log in with your Apple ID. Review the personal and security information associated with your account. The idea here is to make sure that no one has added or changed anything. If you use 2FA (and you should totally use 2FA), you'll see a list of trusted devices and phone numbers that will work with two-factor authentication on your account. Again, if you see something you don't recognize here, or something that's now out of date, remove it.

Review your installed apps and remove anything that a.) you don't recognize or remember installing and b.) you don't use anymore. This will help you make sure you aren't keeping any suspicious apps around on your system. It will also prevent your system from becoming bloated with apps that you don't actually use.

MDM stands for Mobile Device Management. It's how schools and workplaces manage the devices they've issued to students or employees. In that context, an MDM profile on an iPhone or iPad makes sense. But MDM profiles can also be abused by bad guys in order to gain unauthorized access to someone else's device. Here's how you check your MDM settings: Go to Settings > General and look for a menu option called Profiles & Device Management. If that option is missing, not to worry: It just means there aren't any MDM profiles on your device. But if you do find a suspicious profile there (i.e. one that wasn't installed by your school or workplace), you should delete it.
Am I still sharing?
Apple has a million and one cool sharing features, but sometimes we need to un-share something we've previously shared. Here's how to make sure you're not still sharing when you don't want to be:
First stop: Family Sharing. Go to Settings > [your name] > Family Sharing. If you're in a family group, and you're over 13, you can remove yourself from the group if need be. If you're the "organizer" for the family group, you can remove members from the group as well. And of course, if you spot someone there who just doesn't belong, kick them out!

Find My has become an essential part of physical security for Apple users. It can be used to locate lost or stolen devices, and even shut them down or wipe them remotely in a worst case scenario. The app can also be used to share your location data with other people. That's fine if you want that to happen … but what if you don't? Here's how to make sure Find My isn't over-sharing. First, launch the Find My app. On an iOS device, you can do this from your Home Screen or from the App Library. On a Mac, you can locate the app by going to Finder > Applications or by doing a quick Spotlight search for "Find My". Once the app is open, go to the People tab, which will show you who can see your device's location. If you want to remove someone from the list, just tap their name and then tap Stop Sharing My Location. Be aware that if you stop sharing your location with someone in Find My, they won't get a notification that you've done this, but they will get a notification telling them you've started sharing your location with them if you re-enable location sharing at a later date.

To make sure you're not sharing photos inadvertently, go to Photos > Albums > Shared Albums. Tap People to see who the album is shared with. If you created the album, you can see the option to remove people ("subscribers") by tapping on their names. If you no longer want to be part of a Shared Album, you can choose Unsubscribe from the bottom of the screen and delete any photos you've shared.

You may also want to make sure you're not still sharing events with someone. Go to Calendar > Calendars and look for shared calendars. Tap Info to see who else can see that calendar. If you own the calendar, as with Shared Albums, you can see the option to remove someone by tapping on their name. If you don't own the calendar, you can just tap Delete Calendar to unsubscribe yourself.

If you've been sharing workouts or activity data using Apple Watch, and you don't want to do this anymore, here's how you make the change. Go to the Fitness app on your iPhone and tap the Sharing tab. You'll see icons for each person you share information with; click on the person's name to see the options to Remove Friend or Hide my Activity.

Do an audit of any third-party apps that allow sharing, and change any settings that need changing. For this one, you'll have to dig into each individual app's settings (and instructions) yourself, since sharing options and permissions work differently from app to app.

If you're worried that someone may have had physical access to your device, Apple's website has instructions on how to back up your device's data and then restore it to factory settings.
Is my location private?
Last but not least: Location privacy! Apple's third and final checklist offers some tips and tricks for shutting off location sharing entirely, or for taking a more granular approach to sharing your whereabouts with others.
To completely turn off location sharing, go to Settings > Privacy > Location Services and toggle the switch to Off. This means that no app on your device will be able to use your location data (i.e. even Apple Maps will stop working if you're using it to find directions, etc.).

If you want to allow some apps to use your location, but not others, you can re-enable Location Services and then go to the list of apps under Settings > Privacy > Location Services and turn them on individually, as needed.

We've discussed Find My sharing in terms of individual contents, and we went over how to limit sharing from within the Find My app. But you can also disable location for Find My globally by going to Settings > Privacy > Location Services > Share My Location and then turning off Share My Location.

Do an audit of location sharing that may be occurring through third-party apps if a.) any of these apps are set up to share your location with others and b.) you haven't completely disabled Location Services for all apps on your device.
Do you have a security or privacy question you'd like to have answered on the Checklist? Write to us and let us know! To listen to past episodes of the podcast (or read the accompanying show notes), be sure to visit the Checklist archives.