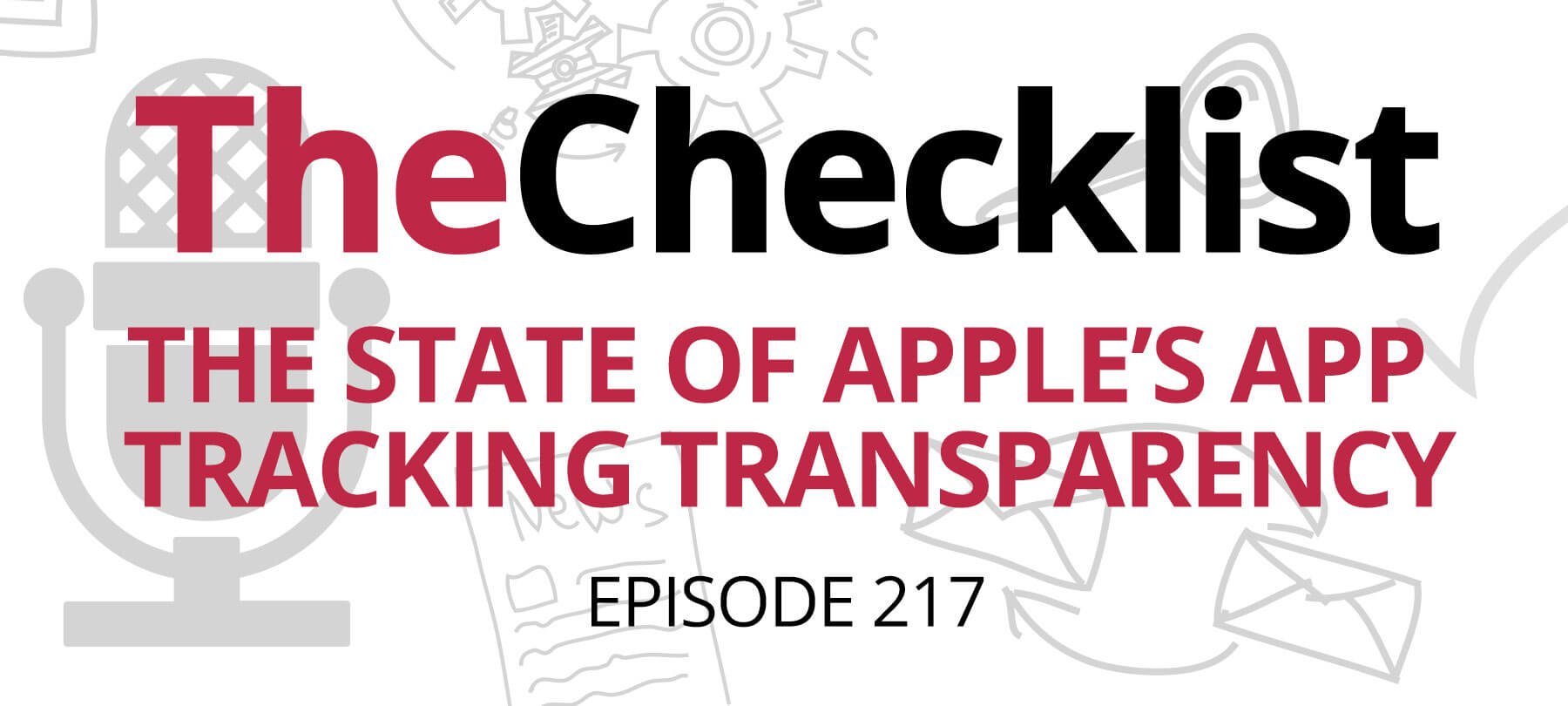 Checklist 217: The State of Apple's App Tracking Transparency
This week, The Checklist looks at some Apple privacy news to mark Data Privacy Day.
ATT is on the way
Apple made waves at last summer's WWDC20 when they announced App Tracking Transparency (ATT). In Apple's words, ATT means that apps will be required "to get the user's permission before tracking their data across apps or websites owned by other companies".
ATT was hailed as a huge win for user privacy, but some online advertisers, along with a few data-hungry tech companies (most notably Facebook), complained that the change would harm their livelihoods.
In response to these concerns, Apple delayed the implementation of ATT so that advertisers and developers would have time to prepare. For this reason, the rollout of ATT has been frustratingly slow, and the timeline to implementation uncertain.
The good news? It appears that the long wait for App Tracking Transparency is almost at an end. In its Data Privacy Day press release, Apple announced that ATT would start showing up in the next beta updates of iOS, iPadOS, and tvOS.
Senior VP of Software Engineering Craig Federighi offered a strong affirmation of Apple's vision of privacy in the press release:
Privacy means peace of mind, it means security, and it means you are in the driver's seat when it comes to your own data … Our goal is to create technology that keeps people's information safe and protected. We believe privacy is a fundamental human right, and our teams work every day to embed it in everything we make.

Craig Federighi
Apple throws shade at Facebook
Meanwhile, in a talk at the 2021 Computers, Privacy, and Data Protection conference, Apple CEO Tim Cook made some pointed remarks about tech companies that abuse user privacy for profit.
Without mentioning the company by name, Cook pushed back against Facebook's recent public criticisms of ATT, and also made some interesting points about data collection and advertising. Cook argued that large-scale data collection may not even be necessary for the success of online advertisers, noting that advertising "existed and thrived" for many years without it.
Facebook disagrees, and has taken out newspaper advertisements claiming that ATT will harm small businesses that rely on online advertising. Skeptics, however, believe that social media behemoth is probably more concerned with its own bottom line than with the fate of mom-and-pop e-commerce shops. Facebook CFO Dave Wehner seemed to confirm this in a recent statement to investors, warning that the company's ad business could soon see a decrease in revenue due to iOS 14.
Cook, though, seemed unsympathetic to businesses that claim they "have to" harvest user data in order to survive, saying:
If a business is built on misleading users, on data exploitation, on choices that are no choices at all, then it does not deserve our praise. It deserves reform.

Tim Cook
Facebook makes its case
With ATT looming, Facebook has started to make its case for user tracking directly to the people most affected by it: their users! Last week, the company started testing prompts in iOS and iPadOS that encouraged app users to accept tracking as a way to access "personalized ads" and to "support businesses" that rely on advertising.
Apple's upcoming ATT notifications will be somewhat more direct: The pop-ups will tell users that an app is trying to track them, and let them either allow or deny tracking permissions. The notification will also give developers room to include a short statement where they can say why they want tracking permissions.
This doesn't mean that Facebook is simply giving up, though. According to inside sources, the company is preparing a massive antitrust lawsuit against Apple, and will claim that Apple is engaging in anticompetitive behavior by enforcing App Store rules that its own apps don't have to conform to. This comes on the heels of public remarks made by Facebook CEO Mark Zuckerberg, in which he cited Apple's iMessage software as a direct competitor to Facebook's WhatsApp messenger.
Facebook's criticisms notwithstanding, Apple has made some significant moves aimed at helping online advertisers. The company recently introduced two new resources for advertisers, the SKAdNetwork 2.2 API and an upcoming iOS feature called Private Click Measurement. Apple says that these tools will allow developers and advertisers to measure the effectiveness of their ads, but in a way that respects user privacy.
That brings us to the end of this week's Checklist. If you have a security or privacy question that you'd like answered on an upcoming podcast, take a moment to write to us!