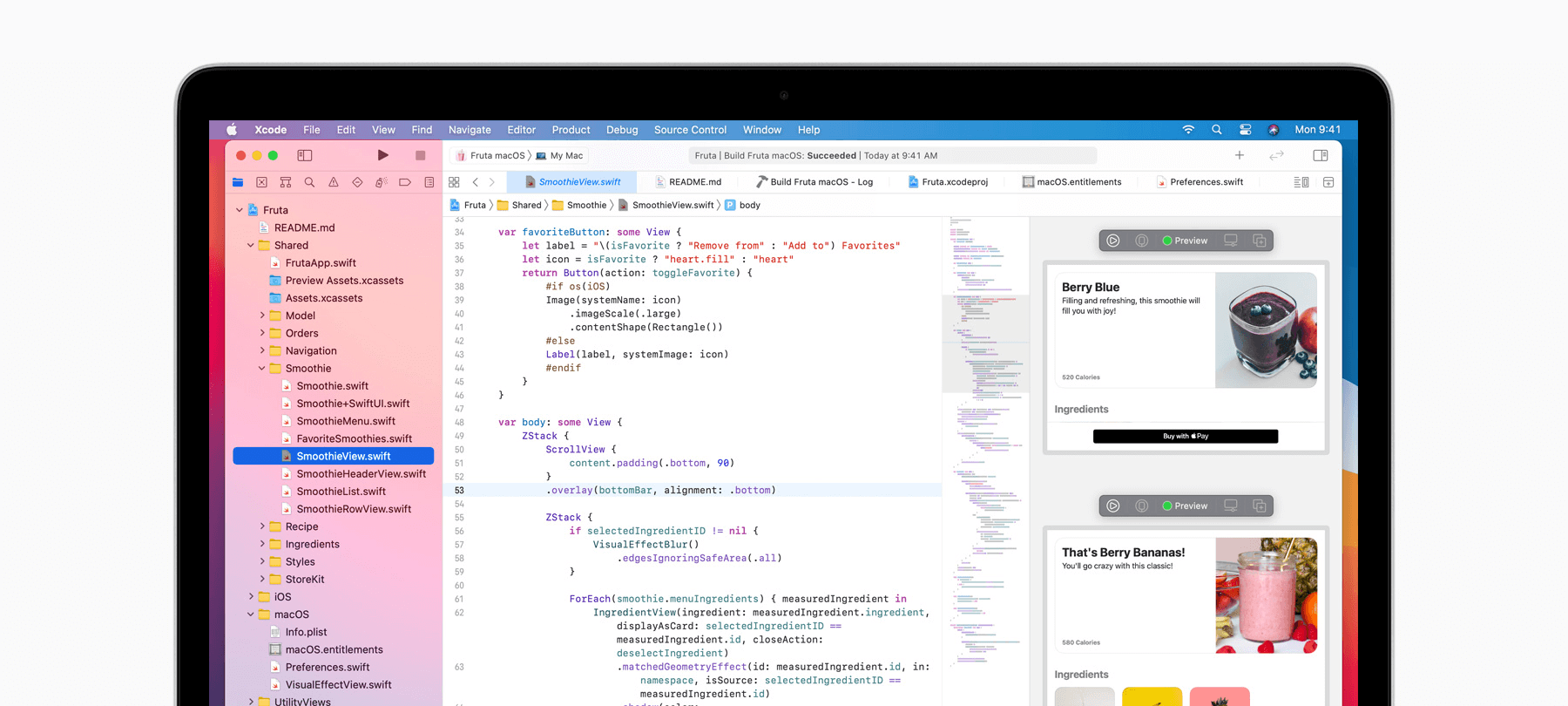 Highlights from the 2020 Worldwide Developers Conference
Apple's 2020 Worldwide Developers Conference got underway on Monday with a livestreamed keynote address. The company announced major updates to its operating systems, apps, and hardware. Here are some of the highlights:
macOS 11
You read that right. After years of macOS 10.X, Apple has changed the number of its flagship operating system to 11. They did, however, stick with the current convention naming OS versions for places in California, dubbing macOS 11 "Big Sur" after a famously scenic stretch of Pacific coastline.
Big Sur brings a host of UX and design changes, with a reimagined interface that features an elegant new top-to-bottom sidebar for Finder and other apps, redesigned toolbars and buttons, and various changes to widgets and controls.
Safari also receives a major overhaul in macOS 11, with enhancements to performance and privacy. Apple says that the new Safari will be able to match or exceed Chrome's speed (with frequently visited sites loading up to 50% faster on Safari).
But perhaps even more importantly, Safari will also help users protect their privacy better than ever before. The new Privacy Report feature, accessible from the Safari toolbar, will display detailed information about website tracking.
Maps has also been upgraded in Big Sur, bringing it closer to the rich, full-featured map experience available on iOS. Users of Maps on macOS will now have quick access to favorite locations, indoor maps of large venues like airports and shopping malls, and support for environmentally friendly trip planning.
Messages appears to be greatly improved, with the ability to pin favorite conversations to the top of the messages list for easy access, streamlined and easier to use group messaging, and a more organized format for search results. There are also some fun new features that may help inject a bit of life into messages: Animated elements like confetti and balloons, a better photo picker to find images and GIFs more quickly, and the ability to create custom Memoji directly on a Mac.
Apple silicon was by far the biggest technical change to the Mac announced during the keynote. After years of using Intel processors in Macs, Apple says that they will now begin to transition to their own proprietary processors (as they already have for iPhones, iPads, and Apple Watch). The new hardware will be based on the same ARM processor architecture already used in the "A" series chips that power iPhones and iPads. Apple says that the move will result in vastly improved performance and efficiency, as well as a unified hardware ecosystem that will make it easier for software developers to optimize apps across devices.
The first ARM-based Macs are expected to hit stores by the end of 2020, with the full transition away from Intel processors predicted to take around two years. Apple says that they will continue to release new versions of macOS that work with Intel-based Macs for many years to come.
iOS 14
The newest version of Apple's stalwart mobile operating system was also announced at WWDC 2020, with a heavy focus on UX, an overhaul to the app experience, and some important privacy improvements.
App Library will revolutionize the way that users find apps on their iPhones. The new feature organizes apps into intuitive categories at the end of the Home Screen pages, helping users to locate infrequently used apps quickly. It also includes an option to hide some Home Screen pages and access the apps that they contain through the App Library instead.
App Clips are basically fast-loading snippets of iOS apps that allow users to quickly complete a task without actually downloading an entire app onto their devices. They can be loaded via App Clip codes, standard QR codes, or NFC tags. App Clips can also be shared in Messages or accessed through Safari.
Widgets are now available for the iOS Home Screen, with users given the ability to select their preferred widget size. A related feature called Smart Stack leverages on-device intelligence to automatically display the most useful widgets at any given time based on context.
Picture-in-Picture signals an end to pausing videos in order to use another iOS app — users can now access the Home Screen and other apps while continuing to watch their video in a smaller window. The little window can be dragged around an iPhone screen or resized as needed.
Siri in iOS 14 has a much more compact interface, allowing users to interact with the virtual assistant without needing to leave the context of what they are doing.
Incoming FaceTime and voice calls get similar treatment, with compact and unobtrusive notifications that can be easily swiped away if need be.
Privacy is also improved in iOS 14, with all apps now unable to track users without first getting permission. Apple will also start requiring app developers to answer questions about their privacy practices, and their answers will be displayed in summary form on App Store product pages for users to review when they're considering a new app. Finally, location sharing in iOS 14 gets a little less creepy: It will now be possible to share an approximate location with an app instead of a precise location.
iPadOS 14
iPadOS 14 is all about productivity, with some useful new features sure to delight students and working professionals alike.
Scribble is a new way to use Apple Pencil to take notes, work on projects, or simply interact with an iPad. It automatically converts handwriting into typed text, allowing users to write in any text field (for example, when performing searches or replying to messages). Handwritten text can also be selected and pasted into other documents as typed text. The feature will support English, Traditional Chinese, and Simplified Chinese writing. It can also be set for use with mixed Chinese and English, meaning that users working in both languages won't have to switch settings constantly! In addition to text recognition, Scribble can work with images as well: Hand-drawn shapes used for illustrations or in notes can be instantly converted into geometrically perfect shapes with a simple gesture.
Search has been completely reworked, bringing a powerful system-wide search capability to the iPad. The feature can now be used to locate and launch apps, access contacts and quick information, and search within individual apps. The new Search can be launched from anywhere, without having to leave the current app to perform a search.
Incoming FaceTime and phone calls are now announced with simple banner notifications, rather than taking up the whole screen, allowing users to answer or dismiss calls without having to break the flow of their work.
Siri has also been redesigned to be less obtrusive, with the interface appearing in the bottom of the screen when activated.
watchOS 7
Apple Watch has a new operating system as well, building on its predecessor's health and wellness focus.
Fitness is replacing Activity in watchOS 7, with a redesigned and streamlined view of daily activity data.
Sleep tracking capabilities have been added to the new OS as well: watchOS 7 uses the Apple Watch's accelerometer to monitor micro-movements during the night, in order to determine if the wearer is awake or asleep. Each morning, users will be presented with data on their previous night's sleep, and will also be able to view weekly sleep trends.
Wind Down is intended to help people get better and more regular sleep. The feature allows users to design a customized bedtime routine using meditation and soothing sounds apps, and integrates with the Home app to deliver relaxing scenes each evening. Upon transition to Sleep Mode, Do Not Disturb is enabled and the watch face is automatically darkened for the night.
Handwashing is also addressed in watchOS 7, a clear response to the ongoing Covid-19 pandemic. Apple Watch can now detect handwashing motions and sounds; when users wash their hands, their watches will automatically begin a 20-second countdown (the medically recommended duration for proper handwashing) and will prompt them to continue washing their hands if they stop too soon.
tvOS 14
Apple TVs will be more useful than ever, thanks to the newest version of tvOS.
The Home app will now be available through Apple TV via a tvOS 14 feature called Home View (found in the Control Center). Users will now be able to use their Apple TV to view security camera feeds, see doorbell notifications, and more.
tvOS 14 also brings multi-user support for Apple Arcade, Apple's video game subscription service.
Lastly, in a bit of TV-related news sure to interest science fiction fans: Apple TV+ has adapted Issac Asimov's classic Foundation book series for the screen. You can watch the trailer here.
Looking ahead
tThe future looks bright for Apple users and for Apple developers. WWDC 2020 introduced a number of significant enhancements to Apple's core products, ranging from design upgrades and UX improvements to a whole new era in Mac hardware. In the coming months, we'll take a more detailed look at many of these changes — especially as they pertain to security and privacy — and will continue to update you as and when more information becomes available.